A tour of Frostrow, in the Yorkshire Dales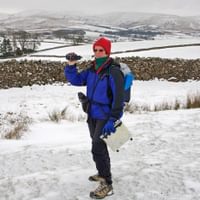 With fine weather, and a half day to spare, discovering some new paths in Dentdale and the surrounding hills was a great way to spend a sunny morning in the Yorkshire Dales.
It's all too easy to keep walking your favourite local routes, but modify things slightly, and you can end up miles from anywhere, with a range of new sights to enjoy.
Our morning walk from Sedbergh started on familiar paths, tracing the route of the Dales Way up over the hills to the south of Sedbergh, then dropping down to the flat valley floor of Dentdale. After crossing the River Dee on a sturdy footbridge that had survived unscathed from the winter floods, we enjoyed a few kilometres of flat walking beside the river, before a short incline to a gate, with an unusual and beautifully carved top rail to the adjoining fence.
Carved detail on a fence
A short stretch of road followed, then a steep and slightly soggy ancient footpath and enclosed track lead us uphill to Hole House Farm. From there we continued up 'Hill Lane' to the end of the lane where a farm sits on the edge of the moor, with fine views looking west over Dentdale to the Middleton fells and Whernside. The theme of enclosed ancient tracks continued as we left the hens in the farmyard behind, and continued to climb up onto the moorland which forms the northern rim of Dentdale, with the summit of Frostrow a couple of miles to our west. The views looking back south and to the west were great, and as we crested the top, the familiar great rounded humps of the Howgill fells came into view, but at an angle less familiar to us.
Our route down was a little squelchy, despite there having been very little rain for over two weeks. The path was clear however, and there was plenty of interest. Stopping for a quick drink and sandwich, we tried to find the line of the Dent Fault that runs in a roughly north-south direction across the lower western flank of Boar Fell, opposite Cautley. It's pretty unclear, even when looking from our elevated position, although some of the deep gills and landslides cutting into the hillside provide a hint that this area is unstable, and the faultline is still active.
Our final descent into Sedbergh was through tiny back lanes threading downhill past cottages, farms and converted barns, then a short stretch on the road before returning to the centre of town.
Looking northwest, with a view of the Howgills
To read more articles like this get our newsletter
The newsletter you will want to read! Join over 30,000 enthusiasts from around the world. If you don't love our mix of new books, articles, offers and competitions, you can unsubscribe at any time. We will never spam you, sell your data or send emails from third parties.