Alpine Flowers
How to recognise 230 alpine flowers
A pocket field guidebook for identifying 230 of the most commonly found alpine flowers of the Alps. Categorised by colour for quick identification, each alpine flower has a photograph and description of its key features. Flower names are given in English, French, German, Italian and Latin, with notes on curious facts and origins of names.
Seasons
Flowers don't begin appearing until early spring (March) at medium altitudes with the thaw under way. The whole brilliant show is in full swing up at high altitudes from June through to August/September, but many flowers also come out as late as October.
Overview

Table of Contents

Updates

Reviews

Downloads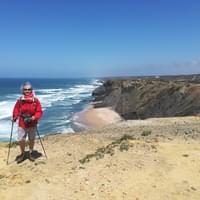 Gillian Price
Gillian Price has trekked throughout Asia and the Himalayas, but now lives in Venice and is exploring the mountains and flatter bits of Italy. Starting in the Italian Dolomites, Gillian has written outstanding Cicerone guides to walking all over Italy as well as Corsica and Corfu. An adamant promoter of public transport to minimise environmental impact, Gillian belongs to Mountain Wilderness and is an active member of the Venice branch of CAI, the Italian Alpine Club.
View author profile