An overnight off-piste adventure in the Vanoise
Earlier this year James, Dave and Paul ventured out to Val d'Isère to try some backcountry skiing and snowboarding. The lads from High Wycombe climb a summit, ski and board perfect powder snow and stay in a mountain hut. Dave also falls off a ski lift.
I fit my adventures around other people's schedules, my family life and my day job. My holidays are usually spent with family or friends, so massive solo adventures or ultra-challenges are out of the question. But with some planning and good luck you can still fit in worthwhile adventures by stealing from your holidays (a day here, an overnighter there), and often they can be fitted round a more conventional package holiday.
My friends Dave and Paul and I are not extreme sportsmen: no crazy lines or impossible couloirs for us. We don't have our own extreme video channel, but that doesn't stop us having a grand day out in the mountains with no-one else to spoil the snow.
For many years my mates and I have taken an annual 'boys' skiing trip' where we'd head off sans wives and girlfriends to a catered chalet in one of the high French resorts for a week of drinking, skiing and snowboarding. We used to enjoy the lift-accessible off-piste runs but these days, it seems everyone goes off-piste so the chances of skiing or boarding any kind of powder straight from a lift have become less and less. Worse, should we be blessed with any fresh snow, we usually find all the powder is gone within a couple of hours of fresh snowfall.
Increasing frustration at the lack of powder made us realise we were going to have to put some effort in to finding the good snow. If we wanted powder we were going to have to get well away from the lifts. Since heli-skiing is illegal in France, we couldn't just save up and throw money at the problem; we were going to have to go out and climb the mountains under our own steam to find the good powder lines. We spent a few trips learning the ropes, learned from mountain guides, other skiers, books and the Internet, and gradually equipped ourselves with touring skis, split-board snowboards, climbing skins and all the other equipment needed for a winter mountaineering trip.
Splitboards and touring skis
A splitboard is a type of snowboard that turns into skis for travelling upwards across deep snow. They can be fitted with 'skins' which is like putting carpet on the base of the ski to allow you to slide up gentle slopes without sliding back. These have revolutionised the back country experience for snowboarders: we can now join the touring skiers on journeys into the back country. Dave and I both have one.
Paul uses skis with a touring binding. This binding is hinged at the toe, and can unclip from the heel, and allows the skier to travel across and upwards. These too can be fitted with skins for climbing gentle slopes.
Planning
Since our trips are based out of a catered chalet at a ski resort, it limits the itineraries we can contemplate; the Haute Route is out, but many worthy objectives are still in, so we plan day routes that we can tackle from the resort. On previous trips we've climbed to the Col du Borgne out of Méribel and traversed the Glacier de Gébroulaz from Val Thorens.
In 2016, the boys' trip headed to Val d'Isère. From there you can easily access the neighbouring resorts of Tignes and Val Claret.
In the weeks before, we pored over maps and the Internet, collecting a list of plausible itineraries, objectives and good looking routes. The joy of Val is there are so many to choose from: if you type Val d'Isere off piste into a web search engine, you can spend many an evening working through the results. Although I plan and have a good idea of where I want to go, I always try to adopt a flexible approach to my outdoor adventures – which is just as well because the route we did wasn't one we planned.
The start
We'd thought about popping over to the Refuge du Col du Palet from Val Claret for a coffee one afternoon. Although this hut is in the Parc National de la Vanoise and not in a ski resort, it is in fact, less than one kilometre from one of the lifts serving Val Claret. The weather forecast was good, so rather than just a coffee visit, we decided to ski over to Val Claret, make the short off-piste descent to the hut, stay overnight, then next day skin to a col at 2800m near the Pointe du Chardonnay then return to Val Claret.
Booking the hut was as easy as anything: a couple of days before, once the weather forecast was set fair, I emailed the guardian and he confirmed our booking quickly afterwards.
Approach
After a very leisurely breakfast, Dave, Paul and I set off from Val to ski and board over to Val Claret. Dave's a great mate, but he carries too much stuff. By time we reached the second lift, he was moaning about his pack weight. Paul and I assisted by taking the rope, drinking his litre Thermos of coffee, and helping ourselves to much of the cake he had packed. We made him tip away two of his three litres of water.
The gateway to the hut is the Col du Palet which is reached from Val Claret using a lift of the same name. The only trouble is, it's a drag lift, a vicious one, and it's over a kilometre long. This is not good news when you're on a snowboard and carrying a pack because you are standing sideways with only one foot in a binding. You tend to flail around and be unstable on a drag lift. I went first, but the start was so violent it just threw me on the ground. Second time lucky though, and I was away up the bumpy and dimpled tow track. Paul followed on his skis right behind. After a lively tow to the top there was no sign of Dave. Despite many years of skiing and boarding he's hardly ever used a drag lift with a snowboard and his heavy pack meant he just kept falling off at the start. We radioed down to him, and he said he'd be up, so we sat in the sun and waited.
Eventually we saw him being towed up with no great panache or drama, but then, 200m from the top and for no apparent reason he simply pinged off the tow and was dumped unceremoniously in the snow. Since he could neither see nor hear our laughter, we radioed him to inform him of just how much we enjoyed his fall. It's impossible to get back on a drag lift after falling off, so Dave sullenly made the walk of shame to the top while other skiers towed serenely past him smirking at his misfortune; Paul and I ate chocolate.
The hut
From the top of the lift it was a short walk on reasonably consolidated snow to the crest, then a minute of pure joy on a fresh powder line down to the hut. At the hut we were pleased to learn we were the only overnight guests. This meant we were able to spread out in the huge bedroom built into the loft space. For Dave and Paul this was their first time in an Alpine hut and I enjoyed regaling them with tales of terrible nights in huts I'd used during my Alpine climbing years.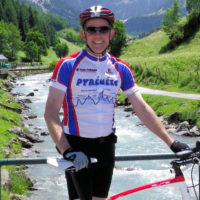 James Cox
James Cox is a full-time IT Consultant in the field of document management. As both a father and grand-father, he has substantial family commitments. But it's not all work and no play: he's a weekend warrior who heads out on his bike, on foot or by snowboard into the mountains.
View Articles by James Cox