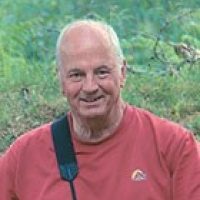 Phil Hinchliffe
Educated and trained as an Electrical Engineer, eventually gaining Fellowship of the Institution of Electrical Engineers and becoming a Senior Engineer in BBC Television.

As a youth, walked extensively in the hills and mountains of Northern England, Scotland and Wales. Have since trekked in the mountains of Norway, the Himalaya, Peruvian Andes and East Africa, making several high-altitude ascents. Walked in the Swiss Alps and Southern Ireland and renewed my acquaintanceship with Northern England and particularly the Western Highlands of Scotland. Having travelled the world, the Western Highlands of Scotland and, particularly, the Far West have become an abiding interest.
Also interested in photography, travel, music and the theatre.