Award-winning Alan Hinkes
We were thrilled to hear that Alan Hinkes' 8000m won the Outdoor Book of the Year in the TGO Awards. It was voted for by the general public so thank you if you helped it to happen. Over 10,000 people voted in the awards which featured best innovation, best blog, best pub and outdoor personality of the year.
The big reveal of the winners took place on the 19th November in a ceremony (and party) whilst people were arriving in Kendal for the Kendal Mountain Festival. If you attended the festival you may have seen Alan proudly signing copies of his book for pleased customers at our stall in the Basecamp Marquee.

Climbing the World's highest mountains
£22.50
In this book, renowned British mountaineer Alan Hinkes relates his experiences of climbing all 14 of the peaks over 8000m: the world's highest mountains. Alongside stunning photography, he describes his expeditions - many as Alpine-style ascents - capturing the beauty, harshness and danger of these mountains.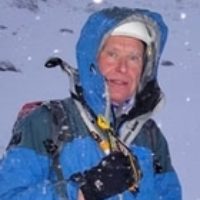 Alan Hinkes
Alan Hinkes is the first Briton to climb the world's highest mountains, part of an exclusive club of only 12 people alive who have achieved this feat. He began his mountaineering career whilst at Northallerton Grammar School, North Yorkshire. He progressed to the Alps with ascents of many difficult mountains, including the notorious North Face of the Eiger, eventually graduating to the Himalaya.
Alan currently works as an outdoor equipment technical consultant, writes for magazines such as Trail and lectures on his exploits. He is an accomplished cameraman (filming 11 documentaries), photographer, motivational speaker, environmentalist and mountain guide. He lives in North Yorkshire and enjoys being in the hills, rock climbing and fellwalking. You will regularly see him in the Lake District and Yorkshire tramping the fells and moors or clinging to a rock face.
View Articles and Books by Alan Hinkes