Cycling the Canal de la Garonne
From Bordeaux to Toulouse
A guidebook for cycling France's Canal de la Garonne, describing 290km of cycle route from Bordeaux to Toulouse, where it connects with the Canal du Midi. Describes a 135km excursion to the Atlantic Ocean, with detours to many historical towns and villages along the route. With information on accommodation, facilities and cycle shops on route.
Seasons
This route is best cycled in spring, summer or autumn. It may be cycled in winter too but the weather is less predictable.
Centres
Atlantic coast, Bordeaux, Sauveterre-de-Guyenne, La Reole, Marmande, Buzet-sur-Bäise, Porte-Ste-Marie, Agen, Moissac, Montech, Montauban and Toulouse
Difficulty
An easy and highly enjoyable cycle and suitable for lone cyclists, families, groups and those using e-bikes. Most of it is flat or has a very gradual incline.
Must See
Bustling Bordeaux and the rose city of Toulouse. Sauveterre-de-Guyenne, Marmande, Agen, Valence d'Agen, Moissac, Montech and Montauban. Beautiful Gascony countryside and the rivers Garonne, Bäise and Tarn.
Overview

Table of Contents

Updates

Reviews

Downloads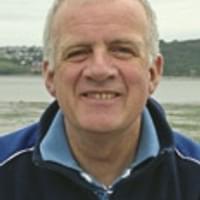 Declan Lyons
Declan Lyons has a lifelong passion for cycling and touring. He was bitten by the bug when, as a teenager in the 1960s, he explored the wilds of Connemara on a rusty three-speed Rudge bicycle. Since then he has toured extensively in Ireland and further afield, including regular trips from the Channel to the Mediterranean. Declan is an advocate of cycle touring – taking time on his cycles and relishing the nature, history and daily life all around. He has toured the region between the Atlantic and the Mediterranean extensively.
View author profile