The Tour of the Matterhorn: trekking around an Alpine icon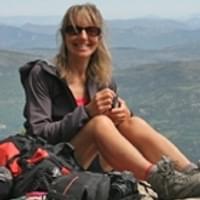 At 4478m, the Matterhorn represents the classic mountain. It is neither the highest Alpine summit, nor the most difficult, but it is a peak that is recognised worldwide. Its shape can be seen everywhere from chocolate boxes to corporate adverts. Even if you asked a child to draw a mountain, that's what they'd draw - a pointed pyramid reaching to the sky. The Matterhorn represents what is inaccessible, beautiful, the ultimate goal.
The Tour of the Matterhorn by Hilary Sharp will take you to the most stunning viewpoints that'll allow you to marvel at this unique summit.
The Tour of the Matterhorn gives walkers a brilliant opportunity to fully immerse themselves in the region in such a way that is impossible by anyone who only passes through by car or bus. This is an area of stark contrasts: from high peaks, glaciers and ice and snow buttresses to lush green meadows where cattle graze and where old fashioned to modern Alpine resorts intermingle. Walking through the mountains and the valleys as well as passing through the villages will give you a chance to discover what makes each valley unique, as well as experiencing the common cultures that unite the region.
The classic peak of the Matterhorn has inspired adventurers for generations, and this 145km tour does not disappoint. It is considerably more demanding than the popular Alpine route, the Tour of Mont Blanc, but it forms a great progression for those who have already sampled some Alpine hiking of this type before and wish to expand their experience.
The Tour of the Matterhorn has been divided into seven stages in this guidebook. They are logical stages rather than day stages, normally describing routes from one valley to another. It can be walked perfectly in 10 days but it is not a tour that should be rushed, it would be a shame to miss sampling all the spectacular views, cultures and regions. If you are short of time however, there are suggestions for shorter variants included in this guidebook - a much better alternative than trying to complete the entire route in a hurry.
The 145km route coincides with two other long-distance treks. From Zermatt to Arolla it follows the classic Chamonix to Zermatt Walker's Haute Route, and from Breuil-Cervinia to Grächen it takes the Tour of Monte Rosa. The total ascent is 9925m with a total descent of the same. The route stays mostly below 3000m so there should be no fear of effects of altitude sickness as this usually occurs above 3000m. The trails are quite rough and rocky in places, and occasionally the steeper sections have been equipped with metal rungs and/or cables. These sections are short and not difficult, although in rain or snow they would be a bit slippery.
To read more articles like this get our newsletter
Sign up today for a 20% discount on your next purchase. Join over 30,000 enthusiasts from around the world. If you don't love our mix of new books, articles, offers and competitions, you can unsubscribe at any time. We will never spam you, sell your data or send emails from third parties.