Fell Top Assessor: top job in the English Lake District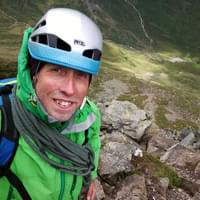 Graham Uney, one of the Lake District's two Fell Top Assessors, shares the secrets of the job that involves climbing Helvellyn every day right through the winter and keeping other mountaineers safe.
Early in December I became a Fell Top Assessor on Helvellyn in the Lake District National Park. Competition for the job was stiff: over a hundred applicants were narrowed down to five candidates for interview, and on that day we had a joint slog up and down Blencathra, followed by our individual interviews. I drove home to Wales unsure whether I'd performed well enough to be offered the job. But only four hours later, at home just north of Bala, the phone rang and I was asked if I'd like to come and work for the Lake District National Park Authority through the coming winter (it's a two-person job, working seven days on and seven days off), and for as many future winters as I could cope with. Of course I jumped at the chance.
So, what does a Fell Top Assessor actually do? The way I see it is that there are four quite distinct parts to my role. The most obvious one is climbing Helvellyn every day to take weather readings from the summit, and to assess the snow pack. I then head back to the office at our ranger base in Glenridding to file the report online.
Chatting with and advising other hillgoers and members of the public while I'm out there fills quite a bit of each day too, and this is one aspect of the role that I get a real kick out of. It's great to hear people talk about what they love about the Lake District, or why they want to climb Helvellyn, but it's also good too when they ask for advice on the best routes to take up and down the mountain in the current conditions.
Being a Fell Top Assessor also gives me an opportunity to promote my work and the Lake District National Park as a whole through the media. Radio and television interviews, press days with journalists from international and local newspapers, as well as magazines from all around the world give me a chance to get the mountain safety message across to a wide audience, but also to meet some really interesting people.
And finally, the fourth part of my role is in monitoring and maintaining the most popular footpaths on Helvellyn. Sure, if the paths are snow-covered then there is a limit to what I can do, but if conditions allow, drainage channels need to be kept free from rocks, vegetation and other debris to stop the paths from becoming drainage channels themselves.
Do you have to go up and down the same way every day?
I have a wide variety of different routes I take on Helvellyn, partly to keep my own interest levels up, but also so that I can build up a really strong picture of what the snow pack is doing in different places. I can also monitor the footpaths much better if I go a different way each day. So, in addition to the very popular winter mountaineering routes of Striding Edge and Swirral Edge, I also use the East Ridge of Nethermost Pike and The Tongue on Dollywaggon Pike as alternative approaches from the east side. Then there are the longer routes up the Greenside zigzags and over Whiteside to Lower Man than Helvellyn itself, or the lovely walk up Grisedale to the Tarn, then the ascent up over Dollywaggon and Nethermost Pikes to approach Helvellyn from the south.
Over on the Thirlmere side of the mountain I use the popular routes from Wythburn and Swirls, but also have a handful of my own 'secret' ways up the mountain too. Of course the weather is also different each day, as are the snow conditions, and I meet lots of people out on the fell each day too, so every day of my life is actually very, very different. The only part of each day that is at all similar to every other, is the ten minute period on the summit plateau when I raise my arm aloft, clutching my weather recording instrument, and get the current wind speed, maximum wind speed, ambient temperature, and temperature with wind chill.
What use is a forecast that only tells us what the weather did yesterday?
Well, first of all, we don't actually produce a weather forecast. It's a report on current fell top conditions, and this is backed up by the weather forecast produced by the met office for the next day. The two together help people build up a picture of what the conditions will be like during their ascent. So, if we say in our report that there has been a massive dump of fresh snow, and the met office report is for gale force westerly winds, you can bet your life that all that fresh snow will be blown onto slopes in the lee of the mountains, and will gather in deep drifts on the east facing slopes. It's these two things combined that give real value to our own report.
A mountain-top automated weather station couldn't do what we do either. Yes, it could give us wind speeds and temperatures, but couldn't tell anyone whether the summit plateau is completely devoid of snow because it's been scoured by the wind, or whether it's a large sheet of ice. A weather station also couldn't tell anyone whether the exits from the plateau onto Striding Edge or Swirral Edge are ice bound or whether ice axe and crampons are needed. A weather station also wouldn't be that good at chatting to folk on the mountain, or at escorting journalists up and down either!
What do you do for the rest of the year?
When I'm not on Helvellyn I run a mountain skills and guiding business in Snowdonia National Park, called Wild Walks Wales. When I landed the Fell Top Assessor job lots of people naturally said, 'Wow, that's amazing! You'll be climbing a mountain every day!' Well, yes the job is amazing, but I already climb mountains most days anyway, either guiding people up the Welsh classic peaks such as Cadair Idris, Aran Fawddwy, Tryfan, or Snowdon itself, or while running navigation or mountain skills courses. So, when I'm not on Helvellyn, I'll probably be up a mountain somewhere else.
It's not always easy on Helvellyn though. I've had days where I've crawled in 85mph winds down from the summit, heading west so as to avoid being blown off the eastern cliffs, then finding a long snow shoot to glissade down to get lower and out of the wind. I was recently blown off my feet in a 65mph gust worrying close to the top of Swirral Edge. And then there are the wet days. It's not always crisp snow and blue skies. I've had days when I've turned my office in Glenridding into a fuggy drying room, and days where kit just hasn't dried properly from one day to the next. There have been two occasions where I've had to cut a long line of steps off Swirral Edge to rescue people cragfast on steep icy slopes who haven't had ice axes or crampons.
One day I had to have a chat with a team from a top mountain bike manufacturer who were trying to push their bikes up Swirral Edge to make a promotional video of a ride down Sticks Pass. The two lads with bikes thought it was hilarious, but their film crew didn't look at all happy on Swirral Edge in full winter conditions without ice axes or crampons.
The two of us Fell Top Assessors aren't there to police the mountain. We'll offer advice, and help where needed, and seriously want people to enjoy being in the fells at this the most exciting time of year. So, if you see us out there and want to chat, that's what we're there for. We do hope that you take heed of our advice in our reports when we say ice axe and crampons are essential – we don't carry spares with us just in case we meet someone who hasn't got them!
My message would be: 'Be inspired by the mountains in winter. Get out there and explore. Have great days out. Have fun. But, first go on a course to learn skills in the use of ice axe and crampons, and in navigation, then make sure you go into the winter hills with the correct kit and clothing to keep you safe whatever the weather. And don't be afraid to turn back!'
For more advice on staying safe on the Lake District fells, download this Mountain Safety Leaflet, devised and sponsored by Cicerone in collaboration with the Lake District Mountain Search and Rescue teams.

The Lake District Weatherline service weather and mountain conditions reports.
There's also a telephone messaging service on 0844 8462444.
Graham Uney's mountain guiding and skills business www.wildwalkswales.co.uk.
To read more articles like this get our newsletter
Sign up today for a 20% discount on your next purchase. Join over 30,000 enthusiasts from around the world. If you don't love our mix of new books, articles, offers and competitions, you can unsubscribe at any time. We will never spam you, sell your data or send emails from third parties.