Fastpacking for Beginners event on the North Downs Way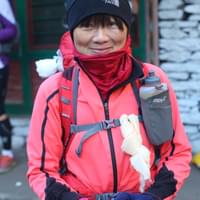 When Lily Dyu co-hosted the Fastpacking for Beginners event on the North Downs, it was a chance to offer practical tips and advice to fellow enthusiasts, while she got her own lesson on how to run with your dog.
Despite 12 months researching and writing my Fastpacking book, I'd never once considered the practicalities of fastpacking with your dog. But I now know you may need to post dog food ahead for collection if you're exploring remote areas. Remember to carry extra water for your canine companion. And when planning a realistic schedule, you'll need to consider the endurance of your four-legged trail buddy. I learned all of this from Ian (and his dog, Zen) – two of the participants on our Fastpacking for Beginners event.

One Saturday, 12 of us met up at Guilford Station, standing out in our colourful running gear among crowds of yellow and blue heading into central London for the People's March. Rick Pearson (an editor at Runners World, sub-3hr marathon runner and fellow multi-day enthusiast) and I were co-hosting a Fastpacking for Beginners day. This would be a 14-mile run along a beautiful stretch of the North Downs Way, with a couple of stops to talk about fastpacking, plus a wildcamping demo. We would finish at Denbies Vineyard near Box Hill, with the chance to rehydrate with a pint at the Surrey Hills Brewery.
Rick is an ambassador for the North Downs Way National Trail and it was a chance to showcase both the route and an activity we both love.We were blessed with a lovely group of runners with various levels of fastpacking experience, all curious to learn more about this fast-growing sport and pick up a few practical tips.Plus, we had the company of Zen who was out for a long trot with his owner.
'Fastpacking style'
From the city centre we soon joined a leafy riverside path that led us onto the North Downs Way proper. Although I've fastpacked the South Downs Way, I'd never been to this area before and it was a fantastic opportunity to run somewhere new. The full route runs 130 miles (208km) from Farnham, passing through the Surrey and Kent Downs Areas of Outstanding Natural Beauty, with an optional section to Canterbury, before finishing on the White Cliffs of Dover. It largely follows the ancient Pilgrim's Way through pretty countryside and is one of the easier national trails.
It has excellent rail access from the capital and is also home to several trail races – a half marathon, full marathon and a 100-mile ultra (which Rick will tackle this summer).
Both Rick and I were carrying packs with our full fastpacking gear – everything needed for a wild camping trip (apart from food). Our main pack weight comprised tent, mat and sleeping bag, along with full waterproofs and spare warm layers. Without food and water, my pack weighed 5–6kg. We opted to cover the 14 miles 'fastpacking style' by walking the hills (mostly short, sharp climbs) and running the flats and descents and re-grouping regularly. Some of the longer climbs were a chance for people to try the running poles that Rick and I were carrying.
After an hour, we stopped briefly outside St Martha's Church where I talked about the different styles of fastpacking – wild camping, hut-hopping, bothying – and how I got started by using bag transfer while running between hostels and guesthouses on a national trail. I also gave an overview of great fastpacking destinations in the UK, Europe and further afield.
With sweeping views of the Surrey Hills this was a much nicer setting for a talk compared with 'Death-by-Powerpoint' in a windowless room (I've done a few of those in my previous life).
I loved the intimate trails of the North Downs Way. We ran along the top of a wooded escarpment, budding with the pale green of spring, passing countless pillboxes (military look out points) and Saturday morning runners on the way. The easy terrain allowed me to exercise my secret super-power of running and chatting and, in addition to the practicalities of fastpacking with your pet, I learned about run-hike-swim adventures, the London Loop hiking trail (described as the M25 for walkers) and the Smog Graham Round (a route taking in the highest point of each London borough).
Keeping your load light
After three hours, and towards the end of our planned route, we found an open, grassy spot to deliver our wild camping demo. I emptied the contents of my pack and discussed each item, giving tips on essentials and how to keep your load light. Rick popped up his one-man tent and talked us through his overnight camping set-up. There was also a chance to try running with my 'fully loaded' fastpacking pack and to compare our rucksacks (Rick was sporting a svelte Ultimate Direction pack, while I carried a 32-litre OMM pack with a map pouch). I also answered questions about women-specific gear and waterproofs.
After four hours or so, we enjoyed a lovely descent down to Denbies Vineyard, the end of our run. The farm shop and brewery were great places to refuel before heading to nearby railway stations and bus stops. Here, we also had the pleasure of meeting Sophie Power (whose photo from the UTMB went viral last year and kick-started a conversation about running and new motherhood). Her husband, John, had been one of our fastpacking group and, after swapping parenting shifts, she dashed along our route in reverse with the late afternoon trails to herself.
From the feedback we had, we were thrilled to hear that everyone enjoyed the day. Travelling at your own pace through beautiful surroundings. Stopping to take in the view. Deepening friendships with your trail companions as you run. For me this was very much the spirit of fastpacking, plus of course using running to explore and enjoy new places (I'll definitely return to run more of the North Downs Way). I came home inspired by the people I met, and I've since heard of some of their planned fastpacking adventures, such as the Beacons Way, a celebratory multi-day Bob Graham and revisiting the Tour Mont Blanc, fast and light.
I fear that Zen may not have been so positive about our day together. Our last stop for the wild camping demo may have been too long for him as he got stiff and was limping slightly towards the end. Can a dog get DOMS? Another thing to research for that new chapter for the second edition – Fastpacking on FourLegs.
To read more articles like this get our newsletter
Sign up today for a 20% discount on your next purchase. Join over 30,000 enthusiasts from around the world. If you don't love our mix of new books, articles, offers and competitions, you can unsubscribe at any time. We will never spam you, sell your data or send emails from third parties.