Cumbria is a fantastic part of the country for outdoor adventures, as many of our readers know. But how do you take those first steps and get onto the fells? We asked Sian, our Head of Production, how she got started after moving up from Oxfordshire to start work at Cicerone at the beginning of 2016.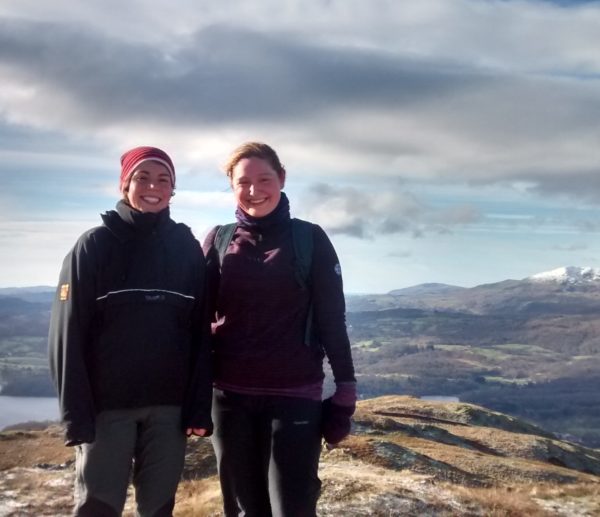 Moving to Cumbria might have been one of the best decisions I've ever made. I arrived from a busy town in the south of England, full of people and cars, eager to get out into the countryside for some peace and quiet. I was looking forward to doing a bit of exploring but the idea of setting off to climb some far-flung hill was, quite frankly, terrifying.
I'd heard plenty of stories about walkers being rescued from mountain tops by the emergency services, and I didn't want that walker to be me.
---
The first step was to find a friend
Ideally, a friend who knew what they were doing. Luckily, working at Cicerone meant plenty of candidates. I was promised a 'slow, easy walk' by a colleague who claimed to be too injured to go fast. I agreed, but made it very clear that I was extremely unfit and that this shouldn't be held against me.
We set off up Wansfell Pike from Ambleside on a cold, sunny Saturday. Someone had 'helpfully' built a long stone staircase (my least favourite kind of path) leading all the way to the summit. My body, used to walking short distances on nice flat tarmac, rebelled. I had to keep telling myself that it would all be worth it, and that no one would care if I was a sweaty mess at the end. To make matters worse, we were passed by a couple of lycra-clad fellrunners skipping up the hill like mountain goats. I put my head down and pushed on – I had to keep up with my 'injured' colleague, after all.
Reaching the summit after a painful climb was a huge relief. My first Lakeland fell! The views were amazing and I regretted not having brought my camera with me (I'd thought the extra weight would be a bad idea). It was the first time I'd seen 'typical' Lake District scenery first hand, and it was stunning: the top of a fell is a wonderful place to be. The cold wind eventually forced us to retreat so we started the gentle descent to Ambleside via Troutbeck. I finished the day with much more confidence than when I'd started and was amazed to find we'd actually walked 6 miles. It certainly hadn't been as bad as I'd expected.
Some basic training
I kept walking with other people but was very aware of how much I depended on them to get me home in one piece. After a slightly worrying walk up Coniston Old Man, where I spent most of my time hoping nothing would happen to my walking companion (Sue: 'We'll climb this snowy bit of hill and join the path running across that snowy bit of hill,' – me: 'What path? All I can see is snow!') I decided I needed to become a bit more self-sufficient.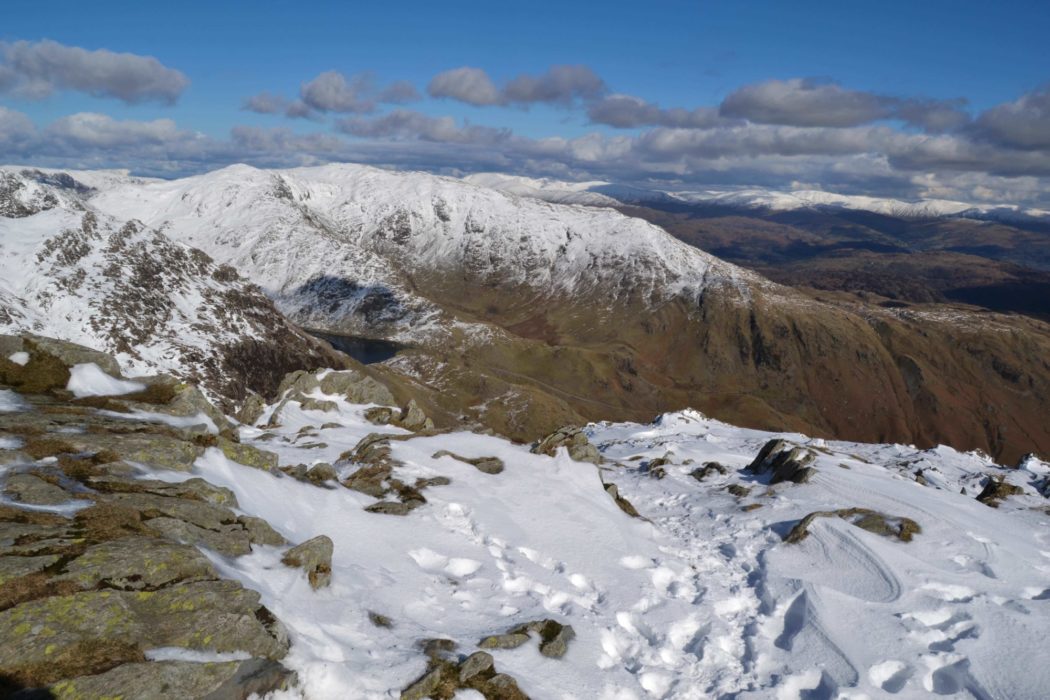 Some basic training was a great investment of time and money. There were plenty of hillcraft and navigation courses available locally, but to make things a bit more interesting I booked a weekend at the Plas y Brenin National Mountain Centre in Snowdonia. The course, 'Head for the Hills', was exactly what I'd been looking for, very practical and designed for complete beginners to hillwalking. The sun was shining, our leader pointed us up Crimpiau and off we went, taking it in turns to navigate. We planned routes, followed paths, walked to bearings, tackled a pathless climb and got ourselves safely home again. Along the way I gave the rest of the group a crash course in how to pronounce Welsh place names – more difficult than the mapreading for most.
Day two was truly miserable (I'm turning out to be a fair-weather walker). The main thing I learnt was that my trusty old waterproofs were no longer waterproof and I spent most of the walk soaked to my skin and freezing cold. I couldn't get off that hill quickly enough!
Shopping list: new waterproofs, drybags.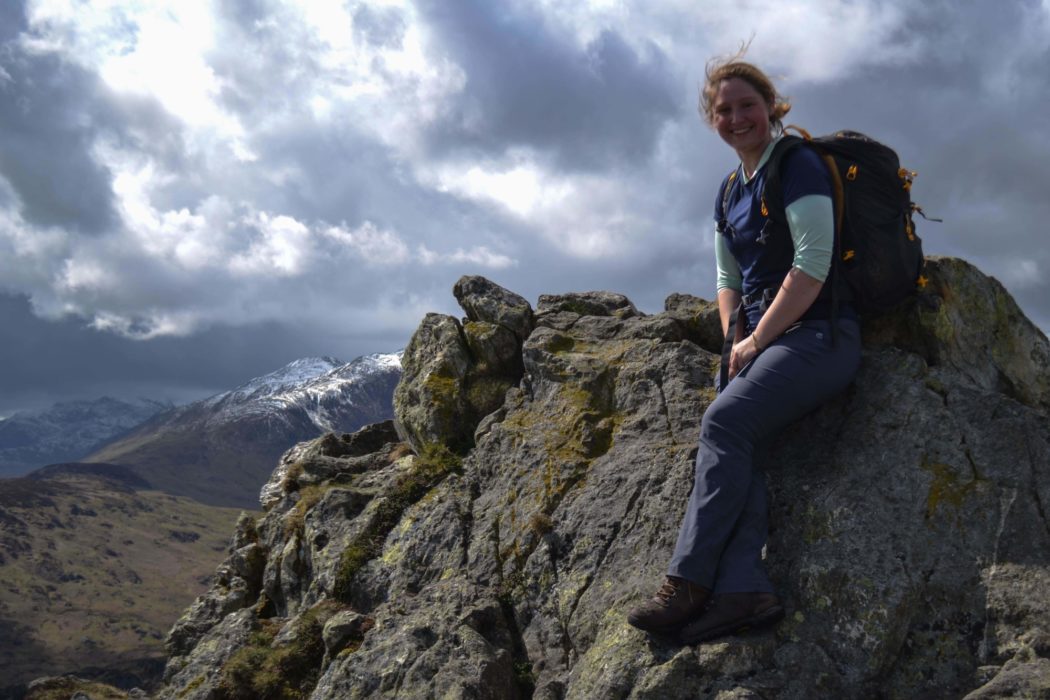 I turned to guidebooks
Back at home, it was time to put my training to the test.
Unfortunately, I have no sense of direction. I always 'drive' a route on Google Street View before going anywhere new, and still occasionally use a SatNav to get through the Kendal one-way system. I'd apply the same technique to my walk planning but Google haven't seen fit to take photos of every footpath in the Lake District and make them available to 'walk' online. I've had to adapt.
First, I bought the four 1:25,000 OS maps of the Lakes (which come with a free download so that you can access the map on your phone – perfect for a bit of lazy navigation).
Then I turned to guidebooks, the kind with 'low level', 'short' and 'family' in the titles such as Lake District: Low Level and Lake Walks. I picked a walk from Monk Coniston to Tarn Hows and roped in a friend. We took it in turns to navigate, each working our way through a page of description before handing over to the other. Barring some confusion about exactly which right hand turn we were supposed to take (solved by some handy signposts pointing us back to Monk Coniston), the walk was a success. We made it back well within the suggested walking time and, more importantly for the National Park, the time available on our parking ticket.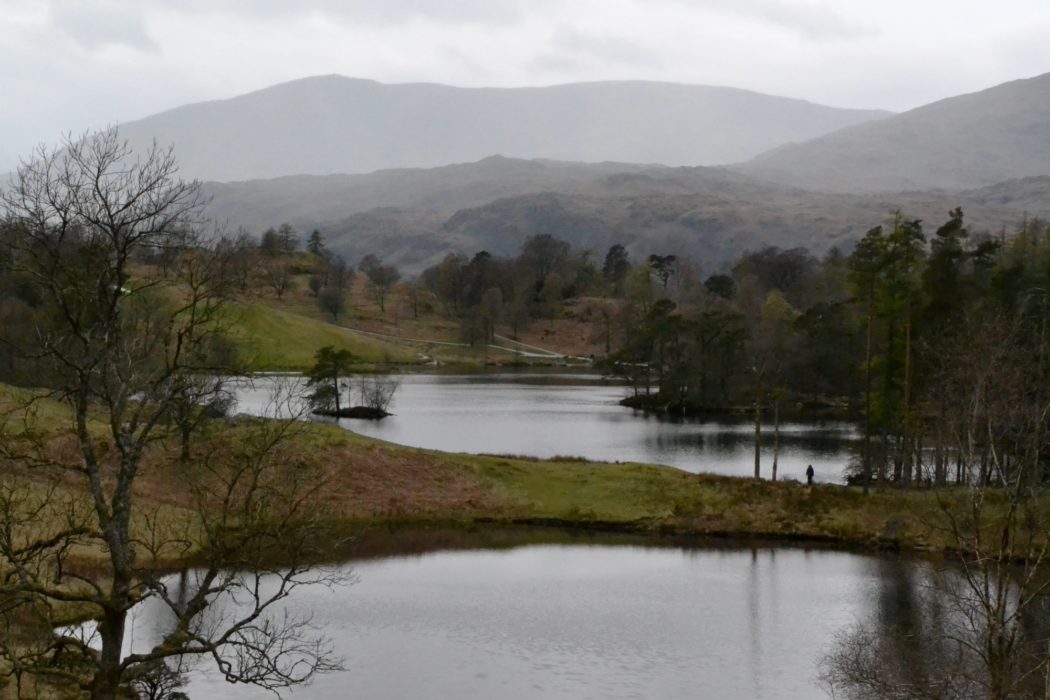 A solo hill
After some more successful days in the hills with company (including a boat trip from Patterdale to climb Place Fell from Howtown and a midsummer walk up Lingmoor followed by a swim in Blea Tarn) I had my sights set on a solo hill. I'd fancied climbing Catbells for a while – it's often suggested as a good 'beginner' fell and offers the opportunity to combine a walk with a boat ride on the Keswick Launch. I planned a route, told someone where I was going and how long I'd be, and set off.
It turned out that navigation wasn't that much of a challenge. All I had to do was follow the clear path and the hundreds of walkers strung out along it like tiny, brightly coloured ants. Walking such a popular route by myself was surprisingly fun. I took the time to stop and admire the view (catch my breath) as often as I liked and chatted with anyone walking at about my pace. I wasn't lost and there were plenty of people to help in an emergency or to take a picture of me grinning like an idiot at the summit.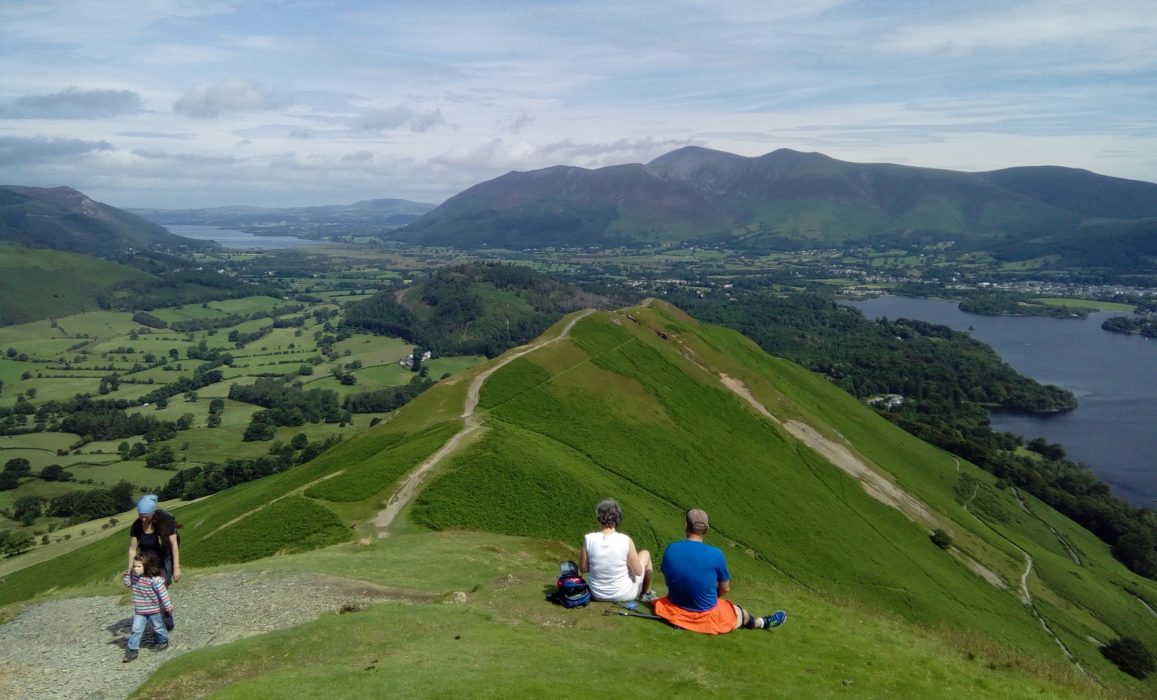 Despite the straightforward route and the crowds, there were still some interesting bits. I certainly hadn't expected the scrambly section half way up, where the path suddenly turned into a rocky outcrop. Neither had some of my fellow walkers – more than one group turned back at that point.
I was still feeling good when I reached the top. Rather than taking the path straight back down to the shores of Derwentwater, I decided to nip over to Maiden Moor and get another Wainwright ticked off. After leaving the top of Catbells the crowds thinned out, and I walked most of the way to Maiden Moor alone. This was the biggest navigational challenge of the day. Where, exactly, is the top of Maiden Moor? I'm still not convinced I found it but having walked a circuit of the area marked on the map and stopped by every cairn I could see I'm sure I could claim to have been there.
A quick descent and a brisk walk along the low-level 'Miles without Stiles' path took me back to the jetty, and a short boat ride later I was back at the car. The only downside of a solo walk? You have to do all of the driving yourself!
Life beyond the Lakeland fells
Although I'm quickly growing to love them, I've also realised there's life beyond the Lakeland fells. In particular, there are some small hills surrounding Cicerone HQ which make for short but satisfying walks. Farleton Knott was a particular favourite this year – a steep climb to the top with views for miles in every direction. I would not, however, recommend our route down – the descent of the huge scree slope was fun for the dogs but not for this human.
Looking a bit further afield, I decided to walk a section of the Pennine Way. Starting from the car park in Dufton, I followed a small road and then a signposted path which climbed gradually to reach higher ground. Despite the signposts I somehow ended up on a path that wasn't the Pennine Way, dropping down the side of a steep slope. I'm not quite sure how I managed that, but was still quite proud of the fact that I spotted the mistake before I got too far off track. I've made some progress since the beginning of the year!
I was aiming for High Cup Nick, a spectacular piece of geology, where the ground falls away and you find yourself looking along the length of a deep U-shaped valley. Most walkers climb down a steep path from the head of the valley and follow High Cup Gill back to Dufton, but I wasn't keen. I had an injured ankle and couldn't see the path, even standing right at the edge of the cliff. Common sense took over and I turned back the way I'd come.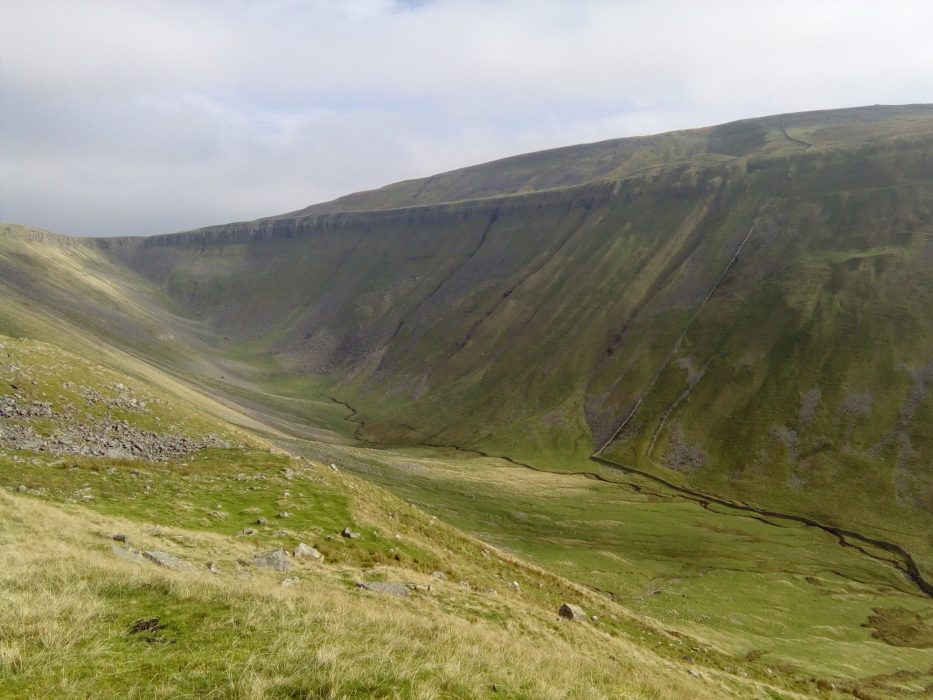 This year has been a great introduction to exploring the fells. I'm now more confident and better prepared than I was at the beginning of the year, and probably quite a bit fitter too! I've had support and encouragement from friends, family, colleagues and, on occasion, complete strangers who have helped me to plan and walk, fed me when I forgot my lunch and taken photos to prove I actually got to the top.
I hope this article has provided a bit of inspiration and encouragement for anyone else wanting to get out and about – I look forward to meeting you on a hill one day.