GR20 - The High Level Route Just Got Higher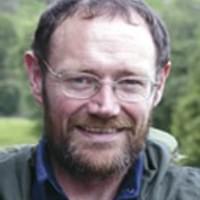 The new rough tough high level variant route on the GR20. Paddy Dillon's guidebook will include the new route by the time the 2016 season begins in June.
Following a fatal accident on Corsica's popular GR20, reported in an earlier blog post, I thought it best to visit the island in person and check a variant route that had been put in place. September should have been a quiet time on the trail, but it was actually very busy. In fact, it was busier than I have ever seen it even in the peak trekking months of July and August. That turned out to be a blessing, because it meant that I could ask lots of people what they thought about the variant route, and their responses were interesting.
The first person I asked was a young Englishman, who said that it was exceptionally difficult, and that it almost broke him. However, others seemed to be of the opinion that although it was very rough and tough, it was also achievable and even enjoyable. One experienced and adventurous Icelandic woman told me that she didn't think it was as tough as some other parts of the trail. Given that the authorities had also put a bus transfer in place, completely avoiding the variant route, it was interesting to note that maybe half of all the trekkers on the GR20 chose to catch the bus round!
The best thing was to check things for myself. The guidebook already includes half the variant route. Ever since I first trekked the route back in the year 2000, I included an arduous ascent of Monte Cinto, which is the highest mountain in Corsica. I described it as a there-and-back route from Haut Asco. I mentioned that people needed to follow red paint marks, but these have now been over-painted with double-yellow paint stripes. I also mentioned areas of bare rock that had to be scrambled across, and I was rather surprised to find that five short lengths of chain had been installed to assist on these. At a much higher level, I warned about a couple of dangerously rocky stretches, but two more short lengths of chain have been installed, so it's now easier and safer to climb to a high ridge at Pointe des Eboulis. In fact, given that people only rarely climbed this route in the past, and given that thousands of trekkers have climbed it in the past three months, it's no surprise to find that the path to the ridge is now very clear and obvious.
The highest parts of the GR20 seldom exceed 2000m, but the variant route reaches 2600m at Pointe des Eboulis. This would be a very exposed place to be in bad weather, so anyone contemplating the variant route must check the weather in advance, and keep a 'weather eye' open throughout this stage. In previous years, it would have been unusual to meet more than a couple of people up there, but now you can expect to meet several dozen, if not a hundred other trekkers. Pointe des Eboulis is about 1km of very rugged scrambling away from the summit of Monte Cinto, which is Corsica's highest peak, at 2706m. Interestingly, on a good day it's now quite common for at least half the trekkers to drop their packs at Pointe des Eboulis, scramble to Monte Cinto and back, then continue their trek.
The new variant route is clearly marked along a broad ridge of broken rock, soon drifting onto steep, rocky slopes overlooking Lac du Cinto. The double-yellow paint stripes help enormously with route-finding, but the slopes need great care, and there are no helpful chains. On the lengthy traverse, I encountered commercial trekking groups, small groups of friends, couples and individuals. The most interesting thing is that most trekkers were walking in complete silence, presumably watching for every footstep and handhold on the way to the rocky gap of Bocca Crucetta.
The descent from Bocca Crucetta is a long, clear, well-marked winding path on an immense scree slope. When the scree ends, the route runs on and off bare rock, deep into a valley where occasional scrambling is required. There are a couple of places where some trekkers might appreciate a chain being installed, but there aren't any. It's worth looking ahead down the valley, which appears to be mostly bare rock, but at some point the big wooden chalet-style Refuge de Tighjettu should be spotted, then at least you know where it will all finish.
So that's the new variant route. It's rough. It's tough. It climbs higher than any other part of the GR20. It needs care, and it needs to be done in good weather. However, despite all this, thousands of trekkers have already managed it and still had enough stamina to complete the rest of the GR20. If the Cirque de la Solitude doesn't open in 2016, then this variant allows you to continue your trek. Presumably, the bus service will remain available, if only because it must be proving to be a real money-spinner for the drivers!
The GR20 guidebook will include the new variant route by the time the 2016 season begins in June.
To read more articles like this get our newsletter
Sign up today for a 20% discount on your next purchase. Join over 30,000 enthusiasts from around the world. If you don't love our mix of new books, articles, offers and competitions, you can unsubscribe at any time. We will never spam you, sell your data or send emails from third parties.