How to choose the right headtorch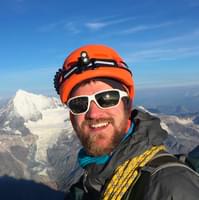 With the clocks about to change in the UK and autumn settling in, Joe Williams takes a timely look at what makes a good headtorch, whether you're a walker, trekker, climber or runner.
If there's a risk that you might be in the great outdoors in the dark, or if you are planning some night time or overnight activities, it's crucial to get the right headtorch for the job.
Top tip:
If you are confident that you'll need a headtorch only in absolute emergencies, or just for the purpose of finding the toilet block in an alpine hut, then you can opt for something much smaller and lighter. The Petzl e-lite is 26g and only 50 lumens, while their Bindi is 35g and gives up to 200 lumens, making it a very useable light.
Headtorches for walkers and trekkers
Power: 200-300 lumens will be your sweet spot here, but make sure it's got lower power options. You'll need to be able to use it for a spot of night navigation if your walk runs over, or if you forget that the clocks have gone back. If you are overnighting in a tent, hut or bunkhouse, a low-power level is good for reading and other close-distance activities.
Beam type: A moderately broad flood-type pattern for general use, with the option for a spot just in case you are doing some proper night navigation with it.
Size and weight: Moderately compact and 70-100g is ideal. Additionally, look for good waterproof features and a robust design.
Comfort: A simple wide strap with the battery and lamp together in a single unit. Make sure it's adjustable enough to go on your bare head as well as over a thick winter beanie.
Recommended models: Petzl Actik Core, Black Diamond Storm, Alpkit Viper III
Top tips:
For spring and autumn mountain cragging, it can be a great idea to clip a little headtorch to the back of your harness just in case your partner takes a while on pitch 3 and you have to find the abseil anchors in the dark!
Look after your batteries in winter. Performance often declines in very cold temperatures, so keep your lamp and spare batteries warm when not using. Alternatively, look for a model that has a remote battery pack so that you can keep it in a pocket when using in exceptionally cold conditions (think -20C).
Headtorches for climbers and alpinists
Power: This really depends on the kind of climber you are. If you're a boulderer or trad climber, then you won't need much juice; just enough to get you off the hill in case it gets dark.
Winter and alpine climbers will need two power settings: 1. Enough to illuminate the immediate ground in front when walking in or on the climb. 2. Enough to scout out the route ahead, or enough to identify the base of the route when approaching it.
You might need only 100 lumens (or fewer) for the first job, but the second job is much easier with around 500 lumens.
Beam type: Broad, flood-type for the first function, and a defined spot will do for the second. The Reactive Lighting system from Petzl takes some of the manual button-pressing out of this. Their mobile app, which customises power – low for close-up work and very high for long-range scanning – is ideal.
Size and weight: Weight is the enemy, so many alpinists might choose to sacrifice a bit of power for a lighter pack. Keep it compact, but size isn't such a concern.
Comfort: A mountaineer's headtorch will often be used over a warm hat or mounted on a helmet, so make sure you check that the torch can be easily mounted on your helmet without it falling off. Some models are much better than others in this regard.
Recommended models: Black Diamond Icon, Petzl Reactik+ or Nao, Alpkit Quak (powerful, can use USB rechargeable batteries as well as AAs, drop proof and a bargain!)

Top tips:
The Reactive Lighting system is great but note that it can get slightly confused by reflective markers in races, and when in fog or heavy rain.
If running an ultra, make sure you have enough spare batteries to get you through one or two whole nights (depending on how long the race is).
Wearing a second headtorch around your waist alleviates the 'flat' effect of a single light, allowing you to see objects on the trail more three-dimensionally.
Headtorches for runners
Power: Runners typically need the most powerful headtorch they can lay their hands on. Fast (or even moderate) running, especially downhill, demands that you can see where your feet are and clearly see what's coming well ahead. 300 lumens is fine, 500 is good, but 750 or more is awesome.
Beam type: A broad, flood-type light pattern is idea for trail runners. You want a wide area of ground in front of you to be well lit so that you can spot all the rocks, roots and undulations of the trail ahead. Using a system like Petzl's Reactive Lighting gives you a power and beam pattern that senses whether you're looking at the map up close (less power), or at the path junction further ahead (more power).
Size and weight: You need this to be as compact and light as possible. Compact so that it fits in your race vest/bum bag easily, and light so it doesn't weigh you down.
Comfort: No-bounce is fundamental if you are going to be doing any kind of sustained night-time running. Check before buying as some are better than others. Wearing a buff underneath can help this and reduce sore-spots that could give you a headache.
Recommended models: Petzl Nao+, Suprabeam V4Pro, Ledlenser H14R.2, Silva Trail Speed 3XT

A word on headtorch batteries
These days headtorches generally come with a rechargeable battery, specifically designed for that torch. These are easily recharged by USB whether you're at home, in the office or in the car. However, if you are not going to have the opportunity to recharge for an extended period of time, it might be worth looking for a lamp that also uses AAA or AA batteries so you can bring spares with you.
Battery life is also a concern when choosing a lamp. Do you need something that you can use on full power all night? (Probably not.) Have an honest think about how much power you need for how long between charges.
Think about the consequences of what might happen if your battery dies on you. If you are on a short evening walk, not far from the car, then you can probably feel your way home with your mobile phone's torch. But if you're on a big alpine ridge or halfway through the night during an ultramarathon, then you must make sure you have a spare battery. Finally, if having no light would put you in very serious circumstances, then take a full spare headtorch (and a spare battery for that).
To read more articles like this get our newsletter
Sign up today for a 20% discount on your next purchase. Join over 30,000 enthusiasts from around the world. If you don't love our mix of new books, articles, offers and competitions, you can unsubscribe at any time. We will never spam you, sell your data or send emails from third parties.