How to eat well in the wild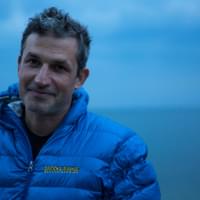 For a long time, the options for hiking food have been limited to a range of mediocre freeze-dried meals packed with taste enhancers and artificial preservatives. John Fisher, founder of Outdoorfood, is paving a new way for wild eating with his range of healthy, nutritious Firepot meals.
Food is essential to any long hike. It has the power to comfort us, warm us, give us energy and boost our mood. Victorian hikers understood this well – they would carry legs of lamb and bottles of Champagne on their expeditions through the Alps. Even great explorers like Ernest Shackleton knew the importance of a tasty meal, packing over 700 kilograms of the 'finest York hams' on his expedition through Antarctica in 1907.
Fast forward to the modern day and our hiking fare doesn't compare. The industry relies on freeze-dried food – lightweight meals that just need hot water to cook. They're far more convenient than their Victorian counterpart, but often at the expense of nutrition and flavour. One example on our shelves today – a freeze-dried Chilli con Carne – contains just 16 per cent beef. Another example is a Chilli con Carne flavoured with pineapple, E-numbers and palm oil.
Psychological effects
It's understandable why the industry has turned out this way. Demet Güzey, author of Food on Foot: A History of Eating on the Trail and in the Wild, says: "People don't think about the positive psychological effects of a good meal, but only whether the food will fill them up and be light to carry." Yet, her findings suggest that people regret this when they are out in the wilderness. She points to the Appalachian Trail in the US, which has several posts where people can leave food they no longer want for other hikers. There's never anything nutritious or tasty left behind, just bland, high-energy meals.
John Fisher founded Outdoorfood in 2017 in a converted barn in Dorset. John – former owner of a London-based digital marketing agency – had experienced the negative effects of a freeze-dried diet himself on numerous trips to Greenland (he's an avid hiker, so would often find himself relying on such meals for weeks at a time). He couldn't understand why there wasn't a healthy, good-quality option in the expedition food market – one that was still light to carry and provided the right number of calories, but also tasted good and wasn't packed with artificial preservatives. "It didn't make sense to me. As a society, we care more than ever about the quality, nutrition, appearance and provenance of our food at home," John says. "But this same thought didn't seem to extend to 'wild eating'."
Trial and error
After selling his internet business in 2015, he started experimenting with his own equivalent of freeze-dried food – cooking in the same way he would at home, then dehydrating it in a small household dehydrator. There was a lot of trial and error, but he finally narrowed down a selection of dishes that worked – dishes his two kids said tasted like 'proper home-cooking', using the same quality ingredients you'd find in the kitchen fridge. After testing his food on a number of private expeditions, he realised he was on to something. He registered the company name Outdoorfood in 2016 and set about creating Firepot meals – the kind of healthy, tasty food he'd been craving on hikes for years.
The processes John uses are by no means new – dehydration can be dated as far back as 1250BC, when the Inuits would dry their fish for preservation in the Arctic. But in creating Outdoorfood, John has found a way to modernise the technique. He engineered his own unique dehydration system, using warm air to suck the moisture out of a meal. This gives the food a two-year shelf-life, an average weight of 125g per portion and requires only hot water to rehydrate it. But, more importantly, in starting this business, John has found a way to make expedition food exciting again. These meals have already supported people on adventures, from Everest to the South Pole, the Atlantic and the Sahara Desert. It might not be Champagne or legs of lamb, but it's definitely something to look forward to out there in the mountains.
To read more articles like this get our newsletter
Sign up today for a 20% discount on your next purchase. Join over 30,000 enthusiasts from around the world. If you don't love our mix of new books, articles, offers and competitions, you can unsubscribe at any time. We will never spam you, sell your data or send emails from third parties.