In a spin - a poem by Kev Reynolds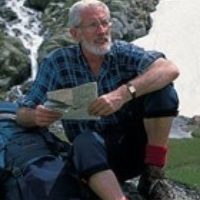 Even with a guidebook in your hand you can still get lost, or think you are, as Kev Reynolds bemoans in this poem
In a spin
A map, a compass and a GPS,

a gizmo on my smartphone

and I'm still in such a mess.

I've read the blessed guidebook

from the front page to the back
and I still don't know which way to go,
my wife gives me such flak.
There's a signpost in the farmyard,
a waymark on the gate,
there are signs on every fencepost
and the guidebook's up to date.

But footpaths stray both here and there,
I don't know which is mine.
I guess I ought to try each one,
but there's really not much time.
This walk's become a nightmare,
I was lost right from the start.
I should have told her right away,
but hadn't got the heart.
So we're going round in circles
wondering what to do,
and the only good thing I can say
is we have a splendid view.
There's sun on distant water -
A river? Or the sea?
My guidebook gives no hint of this,
so which one can it be?
I think I see a village
a mile or two away,
but what's it doing over there?
The guidebook doesn't say.
I'm lost, I tell you, truly lost
where did I park the car?
If I knew the answer

I'd have an idea where we are.
But everything's a mystery,
my head is in a spin
so my navigation gizmos
are now destined for the bin.
My wife then takes the guidebook
and holds it to the light.
The face that's been despairing
suddenly comes bright,
for the pages I'd been studying
are all dog-eared and bent.
'This guide's to Walking in Sussex,' she says
'what we need's Walking in Kent.'
To read more articles like this get our newsletter
Subscribe for Cicerone's latest news, articles, offers and competitions. We send an email every couple of weeks and you may unsubscribe at any time. We never send emails on behalf of third parties.