Italy's Sibillini National Park
Walking and Trekking Guide
Walking and trekking guidebook to Italy's Sibillini National Park in the Apennines. 21 day walks and an 8-stage multi-day trek, the 120km Grande Anello dei Sibillini are explored alongside sketch maps and plenty of practical information. Easily reached from airports on the Adriatic coast and Rome, the Sibillini straddles the Marche and Umbria.
Seasons
Refuges open from mid-April to mid-October; August and midsummer weekends very busy; higher ridges may have snow until June; excellent winter walking with snowshoes or touring skis, best with a local guide
Centres
Amandola, Balzo, Castelluccio, Norcia, Nursia, Preci, Castelsantangelo, Visso, Ancona, Pescara, Perugia
Difficulty
Something for all abilities, low-level strolls, ridges and walkers' peaks; the GAS requires no mountaineering expertise
Must See
The Grande Anello dei Sibillini 8-day trek, Sibillini National Park, Monte Vettore, Monte Sibilla, Piano Grande, Monte Bove
Overview

Table of Contents

Maps

Updates

Reviews

Downloads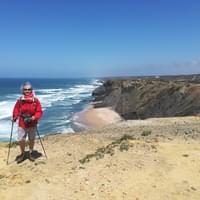 Gillian Price
Gillian Price has trekked throughout Asia and the Himalayas, but now lives in Venice and is exploring the mountains and flatter bits of Italy. Starting in the Italian Dolomites, Gillian has written outstanding Cicerone guides to walking all over Italy as well as Corsica and Corfu. An adamant promoter of public transport to minimise environmental impact, Gillian belongs to Mountain Wilderness and is an active member of the Venice branch of CAI, the Italian Alpine Club.
View author profile