Kev gets sent to Coventry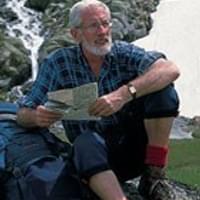 There have been some lovely reviews posted of one of Kev's latest guidebooks published by Cicerone, but we thought this one was well worth sharing with you all.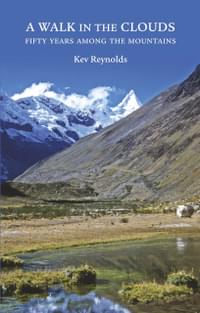 "There are many words of praise on the Internet for Kev Reynold's new book so I don't propose to review it in the usual way. Instead, I sent A Walk in the Clouds to Coventry. Kev Reynolds had a new role...in Coventry Hospital with my anxious husband who was an inpatient for the night. A rather different assignment to accompany our treks in the Alps where his excellent Cicerone guidebooks have survived being soaked, sat on, torn apart and generally mistreated.

The aforementioned husband looked dolefully ay my choice of his reading matter. He thought he had something better in his overnight bag. Kev Reynolds won.
What a great book that evokes so many memories of expeditions into the mountains. The short chapters and delightful prose both inspired and cheered the hopefully restored partner and he couldn't stop talking about it when he arrived home. He especially liked the chapter about squalid mountain huts.
Eventually, I had to prize the book from his clutches to read it myself. That is praise indeed from a book addict. A Walk in the Clouds is a dip into the author's experiences over fifty years in the Alps, Pyrenees, Dolomites, Atlas Mountains and Himalayas as well as a smattering of other wild places. There are not many nail biting incidents but it is an appreciation of the amazing world out there.
I would like to take this opportunity to thank you, Mr Reynolds, for sharing your thoughts and memories as a guidebook writer."
The review was published in the lastest issue of Strider, the journal of the Long Distance Walkers Association.
You can also enjoy a range of videos and podcasts of Kev:
Podcasts
Listen to how Kev came to write this unusual Cicerone title.
Hear about Kev's first mountain adventure outside the UK, and the outcome of it.
Extracts - Kev reads a few stories from the book:
Video
Jonathan and Kev chat about their trip to the Ecrins, on the GR54 Tour of the Oisans.
See Kev at work, and find out why he says he is the man with the World's best job.
To read more articles like this get our newsletter
Sign up today for a 20% discount on your next purchase. Join over 30,000 enthusiasts from around the world. If you don't love our mix of new books, articles, offers and competitions, you can unsubscribe at any time. We will never spam you, sell your data or send emails from third parties.