We have resumed delivery for International orders but there may be delays due to Coronavirus. Thank you for your patience.
Subscribe to our Newsletter
---
Join over 30,000 outdoor enthusiasts to discover what's new at Cicerone. The newsletter comes out every two weeks, and you can see the most recent newsletter included below, to get an idea of what it's like. We don't fill your 'inbox'!
With a mix of news about guidebooks, trip reports, expert advice, events and podcasts, we also occasionally arrange some exclusive offers and competitions. We really value your opinion too, so we may sometimes ask if you would like to give us your thoughts on Cicerone's new titles and development ideas.
Join our mailing list
The newsletter you will want to read! Join over 30,000 enthusiasts from around the world. If you don't love our mix of new books, articles, offers and competitions, you can unsubscribe at any time. We will never spam you, sell your data or send emails from third parties.
Our Latest Newsletter
February News: New guidebooks | Lake District | France | Italy
Hello everyone,
We hope you are keeping safe and well. We're focussing this month on the Lake District as we have a couple of new guidebooks to the area for when we can visit again. There's so much to do in the Lake District, from hill-bagging to ghyll scrambling, trail running, cycling or even a long-distance walk. We have a selection of podcasts, articles and videos for you about the Lake District as well as our Live Event with Mark Richards and Cumbria Tourism on the 2nd March.
Further afield, we have new guidebooks to routes in France and Italy and some beautiful guides to Austria, Switzerland and Corsica now available to pre-order. If you hadn't heard of the Salzkammergut you're going to want to go when you see how gorgeous it is. It's also, fittingly, known as the Austrian Lake District!
Have a lovely week,
Hannah
New guidebooks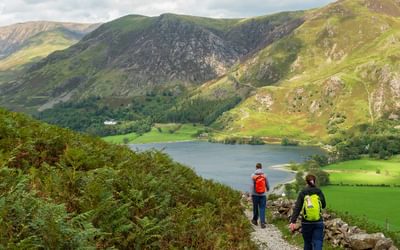 Focus · 13 Feb 2021
Fells and lakes of the Lake District
The Lake District National Park is central to the county of Cumbria in north-west England. For outdoor activities there is a wide range of choice, from easy lakeside walks, walking routes on the high fells including the best-known tops of Scafell...
Next Live Event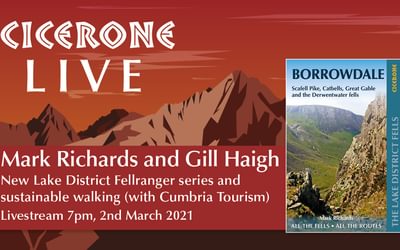 Live · 2 Mar 2021 7:00pm
Mark Richards and Gill Haigh on the Fellranger series and sustainable walking
In our March Cicerone Live event, join Mark Richards, author of Cicerone's Fellranger series, and Gill Haigh, Managing Director of Cumbria Tourism, to celebrate the completion of...
New on the podcast
New titles and books now available to preorder
We're really excited about the following books which will be publishing soon. You can pre-order them now to get them as soon as they arrive.
News · 16 Jul 2020
Can I go walking in Europe? Walking and trekking in summer and autumn 2021
Walking, trekking and other outdoor activity holidays in Europe, and Brexit and coronavirus-related restrictions. This page will help you find up-to-date information for walking,...
Have you used one of our guidebooks recently?
Help your fellow adventurers by leaving a review of your guidebook on our website. We'd love to know what you think, and any constructive criticism will go towards improving future editions of the book.