Subscribe to our Newsletter
---
Subscribe to our newsletter to receive details of our new guidebooks, articles, events and special offers straight to your inbox. Our most recent newsletter is included below, so you can see what you've missed.
Join our mailing list
Subscribe for Cicerone's latest news, articles, offers and competitions. We send an email every couple of weeks and you may unsubscribe at any time. We never send emails on behalf of third parties.
Our Latest Newsletter
November News: New guidebooks | Cicerone Podcast | Live Events | offers
Hello everyone,
We hope you are keeping safe and well. We appreciate how difficult it sometimes may feel not to have the freedom to explore, but by all accounts there may be a chink of light at the end of the tunnel some time during 2021. We hope so. Now is the time for planning!
We have plenty of material to get your plans started, and to entertain you in the meantime, including our new podcast and live events.
Our next live event will be on 1st December with Alan Hinkes, so put 7.00pm on 1st December in your diary now.

There are plenty of new titles on the way, including the final two in the series of eight new style Fellranger guides to be published In February. Take a look at the list of books for pre-ordering below which will arrive in January and February.

For further reading, recent articles include a spotlight on Stanfords – the best known and loved map and travel store, a 'hidden gem' of a walk in the North Wessex Downs, a sample scramble in the Lake District, a long-distance walk around Italy's Lake Como, and an offer from Rohan.

Have a great week,

Hannah
New guidebooks
Our podcast has got off to a flying start, with over 1300 of you listening in, and we had over 500 people watching the recent live event with special guest Raynor Winn of The Salt Path fame, along with author Paddy Dillon. You can watch again on YouTube or listen to them on our Podcast from Wednesday.
Our next live event will be at 7.00pm on 1st December with Alan Hinkes. Alan needs little introduction... One of Britain's greatest mountaineers of all time, his achievements climbing all of the world's 8000m mountains are just one aspect of his life as a teacher, instructor, ambassador and public speaker.
We will share the details of everything we have coming up and if you have any questions or comments please email us on live@cicerone.co.uk.
Live · 1 Dec 2020
Alan Hinkes on '8000 metres: Climbing the World's highest mountains'
In our December Cicerone Live event, join Cicerone and Alan Hinkes to discover the realities of climbing the world's highest mountains.
8000 metres
Climbing the World's highest mountains
£22.50
In this book, renowned British mountaineer Alan Hinkes relates his experiences of climbing all 14 of the peaks over 8000m: the world's highest mountains. Alongside stunning photography, he describes his expeditions - many as Alpine-style ascents - capturing the beauty, harshness and danger of these mountains.
More information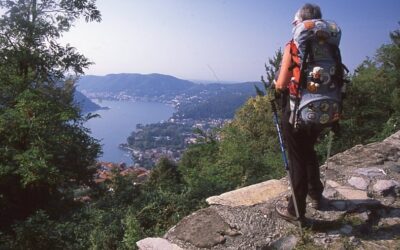 Article · 14 Nov 2020
A long-distance walk around Lake Como in Italy
Using routes from Gillian Price's 'Walking Lake Como and Maggiore', ferry crossings and their own ingenuity, Carol and Jim Watson enjoyed a long-distance walk around one of...
There is still time to donate your old outdoor clothing to Rohan this November to receive 20% off your next purchase*. Gift Your Gear can help more charities to get outdoors.
Rohan are now accepting postal donations – for more details visit Rohan.co.uk/giftyourgear
Christmas ordering

Official Royal Mail last post dates for Christmas are: 2nd Class- Friday 18th December, 1st Class - Monday 21st December

All web orders intended for Christmas will need to be placed by the end of Tuesday 15th December. While our warehouse will be able to meet the Royal Mail last post dates, it has become apparent that Royal Mail have been under pressure recently to deliver within normal timescales, due to Covid 19-related staff shortages. Our advice is to shop early for Christmas!
New titles and books now available to preorder
For Lake District fell walkers there are two 'new style' Fellranger guidebooks, Keswick and Buttermere now published, and the final two in this fantastic series of eight guides will be published in February. These will help you explore the fells around Coniston and Borrowdale, and are available to pre-order now.
We're really excited about the following books which will be publishing soon. You can pre-order them now to get them as soon as they arrive.
Have you used one of our guidebooks recently?
Help your fellow adventurers by leaving a review of your guidebook on our website. We'd love to know what you think, and any constructive criticism will go towards improving future editions of the book.