Delivery & Returns
Free 1st Class postage on UK orders. European postage is £3 per item. Worldwide postage is £5 per item. If you're not happy with your purchase for any reason, we'll give you a full refund.
More information...
A comprehensive handbook covering the finest walks, scrambles, climbs and ski tours in Scotland, with a variety of wild landscapes ranging from the Southern Uplands to the great granite plateaus of the Cairngorms and jagged arêtes of the Cuillin on the Isle of Skye. All the information the independent mountain lover needs for any activity.
Must See
Ben Nevis, the Cairngorms, Loch Lomond, Torridon, the Isle of Skye and much, much more; all the major peaks, passes and lochs covered
Overview

This comprehensive book is an excellent planning resource for those who wish to venture into the Scottish mountains. Whether you are planning a walk, scramble, climb or ski tour this larger format guide has all the information the independent mountain lover needs.

The guide covers all the mountainous areas of Scotland from south to north, divided into seven regions. Each regional chapter covers individual glens important for mountain-goers, groups of hills that form coherent massifs and individual hills of significance. However, this is not a route guide and detailed descriptions are not provided. The aim of the book is to inspire and entertain as well as inform; to show first-time visitors just what the Scottish mountains have to offer and provide a new perspective for those who have been before.
In the descriptions author Chris Townsend has given his opinions as to the relative qualities of the walks, glens, lochs, mountains and the landscape in general and highlighted those he thinks are the best the area has to offer. Includes:

Descriptions of all the Scottish mountains, area-by-area from south to north, to help you identify the best locations for hill walking, mountaineering, climbing and ski touring
Classic ascents and walks described, from scrambles up Ben Nevis to ski tours in the Cairngorms
A planning tool for long-distance treks

Table of Contents

Introduction

About this Book

Practicalities

When to Go

Weather

Getting There

Getting Around

Accommodation

Maps and Guidebooks Equipment for Hillwalkers

The Mountains

Topography and Geology

History, Culture and the Rise of Mountaineering

Scottish Mountain Names

National Parks and other Protected Areas

Plant and Animal Life

Mountain Activities

Peakbagging, Hillwalking and Scrambling

Long Distance Routes

Rock Climbing

Winter Mountaineering

Ski Touring and Ski Mountaineering

Responsible Mountaineering

Avalanches

Mountain Rescue

Access

Environmental Ethics

Leave no Litter

Paths

Cross Country

Wild Camping

Camp Fires and Stoves

Sanitation

Plant and Animal Life

CHAPTER 1: The Southern Uplands

1:1 The Southern Upland Way

1:2 The Galloway Hills

1:3 The Carsphairn Hills

1:4 The Lowther Hills

1:5 The Tweedsmuir Hills

1:6 The Moorfoot and Lammermuir Hills

1:7 Outliers

Access, Bases, Maps and Guides

CHAPTER 2: The Southern Highlands

2:1 The Campsie Fells

2:2 The Ochils

2:3 The Rob Roy Way

2:4 The West Highland Way

2:5 Ben Lomond and Loch Lomond

2:6 The Arrochar Alps

2:7 The Ben Lui Hills

2:8 The Trossachs

2:9 Ben More, Stob Binnein and the Crianlarich and Balquhidder Hills

2:10 The Loch Earn and Crieff Hills

2:11 The Glen Lochay Hills

2:12 The Bridge of Orchy Hills

2:13 Ben Lawers and the Tarmachans

2:14 Glen Lyon, Schiehallion and Aberfeldy

Access, Bases, Maps and Guides

CHAPTER 3: The Central Highlands

3:1 Ben Cruachan and Glen Strae

3:2 Glen Etive

3:3 The Black Mount

3:4 The West Highland Way

3:5 Glen Coe

3:6 Beinn a'Bheithir and Glen Creran

3:7 Rannoch Moor

3:8 The Mamores

3:9 Ben Nevis

3:10 The Aonachs and the Grey Corries

3:11 Loch Treig

3:12 Loch Ossian

3:13 The Ben Alder and Laggan Hills

3:14 The West Drumochter Hills

3:15 The Monadh Liath

3:16 Creag Meagaidh and the Loch Laggan Hills

3:17 Glen Roy

3:18 Long Walks

Access, Bases, Maps and Guides

CHAPTER 4: The Cairngorms

4:1 East Drumochter, The Gaick and Minigaig

4:2 Glen Tilt

4:3 Pitlochry and Killiecrankie

4:4 Glen Shee and the Cairnwell Pass

4:5 The Angus Glens: Glen Clova, Glen Doll and Glen Esk

4:6 Deeside

4:7 Strathspey

4:8 The Lairig an Laoigh Area

4:9 The Ben Macdui and Cairngorm plateau

4:10 Lairig Ghru

4:11 Glen Feshie

4:12 The Speyside Way

Access, Bases, Maps and Guides

CHAPTER 5: The Western Highlands

5:1 Ardgour, Morvern, Sunart and Moidart

5:2 Glenfinnan and Loch Eil

5:3 The Great Glen

5:4 Loch Arkaig, Glen Kingie, Glen Pean and Glen Dessary

5:5 Knoydart

5:6 The Glenelg Peninsula

5:7 North Loch Quoich and South Glen Shiel

5:8 Kintail and North Glen Shiel

5:9 Glen Affric and North Strath Cluanie

5:10 Glen Cannich, Glen Strathfarrar, Loch Monar, Strathconon and Glen Carron

5:11 The Cape Wrath Trail: Fort William to Achnashellach

Access, Bases, Maps and Guides

CHAPTER 6: The Northern Highlands

6:1 Applecross and Coulin

6:2 Torridon

6:3 Letterewe, Fisherfield and Dundonnell: Loch Maree to Loch Broom

6:4 The Fannaichs

6:5 Beinn Dearg and Easter Ross

6:6 Coigach and Assynt

6:7 The Far North

6:8 The Cape Wrath Trail: Achnashellach to Cape Wrath

6:9 The Sutherland Trail: Lochinver to Tongue

Access, Bases, Maps and Guides

CHAPTER 7: The Islands

7:1 Arran

7:2 Jura

7:3 Mull

7:4 Rum

7:5 Skye

7:6 Harris

7:7 South Uist

Access, Bases, Maps and Guides

APPENDIX A Glossary of Common Mountain Words in Gaelic and Scots

APPENDIX B Bibliography and Further Reading

APPENDIX C Current List of Munros

APPENDIX D Current List of Corbetts

Appendix E Index of Maps

INDEX

Maps

A summary box at the end of each chapter gives information on access and accommodation plus recommended maps, guidebooks and other relevant literature.

Updates

October 2014

Updates

Updates (to 2010 guide)

Acknowledgements Thanks to our mountain-running reader from Stirling for pointing out the following error:


Page 96 Map: King's Seat Hill (648m) should be positioned on the peak approx. 2cm north-east of it's current position.




April 2012

Acknowledgements Thanks to Stuart Fisher and Thomas Murray for pointing out errors in the first print run.

Page 13 Col 1 Line 4: "A mere" should be "Roughly"

Page 13 Col 1 Line 5: "441" should be "450"

Page 13 Col 1 Line 6: "248" should be "246"

Page 13 Col 1 Line 7: before "Scotland" add "mainland"

Page 18 Col 1 Line 13: "59°" should be "61°"

Page 159 lines 4–5: "old rotting pier" should be "a pier used for taking out timber"

Page 206 Loch Ossian, first paragraph, line 7: should read "at the west end of the loch"

Page 230 and 325 the maps should read "Well of the Seven Heads"

Page 305 Col 2 Para 2 Line 12: before "Point of Ardnamuchan" add "Corrachadh Mor close to the"

Page 308 Map Creach Bheinn should be 853 not 583

Page 317 Glenfinnan, first paragraph, line 7: "A803" should be "A830"

Page 321 col 2 Streap line 16: "a few hundred metres before the bothy" should be "(a few hundred yards further along the track is the site of the Gleann Dubh Lighe bothy, which burnt down in 2011)."

Page 326 The Great Glen Geography and Geology, line 6: "south-west" should be "north-east"

Page 329 Col 2 Ben Tee line 1: "774m" should be "904m"

Page 344 Col 1 Meall nan Eun line 1: "928m" should be "667m"

Page 410 Col 2 6:3 Para 2, line 2: after "this region" add "though in 2011 surveyors for the Munro Society measured Beinn a'Chlaidheimh as just below Munro height, making it a Corbett. However, the Scottish Mountaineering Club are waiting for the Ordnance Survey to update its maps before officially confirming this so it's still a Munro in Munro's Tables."

Page 410 Col 2 6:3 Para 2, line 17: after "916m": add "in Munro's Tables but resurveyed in 2011 as 913.96m".

Page 410 Col 2 6:3 Para 2, line 21: "910", should be "906"

Page 417 col 2 The Gleann na Muice Ridge, 7 lines from the bottom: "lonf" should be "long"

Page 417 col 2 The Fisherfield Six line 1: "Munros" should be "hills"

Page 428 Col 2 The hills around Beinn Dearg, lines 2–3: delete "no other hill this far north breaches 1000m"

Page 452 Col 2 Ben Stack line 1: "is the most northerly Graham" should be "is one of the most northerly Grahams"

Page 452 Col 2 Meall Horn and Sabhal Beag line 3, after Sabhal Beag add ", the most northerly Graham,"

Page 480 "Biod Buidhe" should be "Bioda Buidhe"

Page 498 Sgurr na Banachdich col 2 lines 8–9: "easternmost" (twice) should be "westernmost"

October 2010

Correction

The caption for the frontispiece photograph opposite the Acknowledgments, should be "Sgurr nan Clach Geala from Carn na Criche in the Fannaichs".

Update

Re Introduction, page 41, para 2 and Chapter 4, Introduction, page 240, para 2


The Cairngorms National Park was enlarged to 4,528 km2 in September 2010 and now includes Blair Atholl, Glen Tilt, Beinn a'Ghlo, Glen Shee and Killiekrankie in the south-west of the region.

Reviews

'Set to become the definitive resource on the mountains of Scotland, Chris Townsend has produced a volume that in its own way is an object of beauty and desire. An absolute essential for anyone with even a passing interest in Scotland's mountains and the default bookshelf reference work for at least a generation.'

myoutdoors.co.uk

'The content of this book has been put together in a wonderfully effective manner. But the layout of the guide is superb as well. This is a book that should grace the bookcases of all hillwalkers and mountaineers that love the hills of Scotland.

I'm loving the detail here and I'm already using the book to plan a couple of trips to Scotland, including a route for next year's TGO Challenge. I could go on and on but thing I'd better stop here.'

www.andyhowell.info

'This terrifically comprehensive guide to Scotland's upland areas is the product of six years work by Chris Townsend, the outdoor writer and president of the Mountaineering Council of Scotland. And he's not president for nothing. Dividing the country into seven mountainous regions, he describes every summit approach and mountain pass as though introducing you to his extended family. Every major long-distance path and all 283 Munros are covered, together with recommended routes and highlights. It's an invaluable planning tool and inspiration for Scottish hillwalkers.'

Walk magazine, Winter 2010

Six years in the writing, Chris Townsend's Scotland is a hugely impressive piece of work. A man known for his long-distance walking exploits probably needed the same kind of fortitude to pull together this particular tour de force.

Coming in at over 500 pages, it is not something to carry into the hills, but is instead a valuable resource book for anyone wishing to explore Scotland's wild places. His passion for Scotland's mountains seeps from every page, as does the wealth of information on almost every ridge and bump the country has to offer. Inspirational stuff.'

Scotland Outdoors magazine, Winter 2010

---

What it does do brilliantly, is give you an idea of what's in the area, what your route options are and their highlights and attractions plus how long they're likely to take. It's a great way of short-cutting the learning process and, from a distance, of deciding whether you want to visit a particular area.

Last but very definitely not least, the numerous colour images of the hills serve up information and inspiration in equal measure and really whet the appetite.

Overall, Scotland is one of those books that you'll find yourself dipping into again and again both for concrete planning and for general inspiration. It's not just for novices either, there's so much to do in Scotland, that it's a brilliant way of researching the potential of areas you might know of, but don't know well, or just areas you've never heard of, full stop.

A cracking book that should be on every mountain walker and mountaineer's book shelf.

Jon Duran Outdoorsmagic.co.uk December 2010

---

As someone who has never been to Scotland, this is an excellent resource to plan a trip. We live in a time and age where we often forgo books and maps for the internet and mobile apps, but seldom that, what you find for free from the net, is of high (enough) quality. So if one is serious about a trip to Scotland, be it for the TGO Challenge, a solo traverse of the Cairngorms or any other trip, this tome of knowledge is required reading.

After I got the book I wasn't able to put it back down. Chris manages to capture your interest with his writing style, and first after I went through the whole Introduction chapter I took a break. In the introduction you'll find pretty much everything you need to know if you plan to walk the glens and mountains of Scotland, from how to get there, how to behave in a bothy, where you can find accomodation and what gear would be smart to bring....

...In conclusion, if you plan on any rock/ ice climbing, mountaineering, ski touring or hill walking in Scotland, for a daytrip or for a week or more, you should get this book. The knowledge and insider information in this book, together with the stunning photos and maps for planning, make the book mandatory for all those who plan to spend time outdoors in Scotland.

Hendrik Morkel January 2011

---

"This book has been over six years in the writing..." states the author in the acknowledgments. Well, that's rubbish for a start, and we're only on Page Seven of this 550+-page tome.
If you've read this issue's editorial, you'll be aware that Chris and I are old(ish) friends. I can therefore, I feel, vouch for the fact that this book is the fruit of a lifetime's experience, knowledge and love of the Scottish hills. As a guide for mountaineers, walkers and backcountry skiers, it's invaluable; as a reference for those who love some of the world's finest mountains, it's priceless; as close to definitive as you could wish for, and actually difficult to believe that every detailed sentence, every glorious photograph, is the work of one man.

The hills are conveniently split into geographical chapters – similar but not identical to the regions used by the Scottish Mountaineering Club's well- known District Guides – then further subdivided, with descriptions of hills, suggested walks, scrambles, climbs and ski tours, with the prime focus being on walking. Kudos to Cicerone for publishing a book with such a broad scope and for identifying its potential all those years ago, when work began.
If you're looking for poetic descriptions and flamboyant prose, then this is the wrong place. This is a reference book first and foremost, and the text is matter-of-fact; you don't though have to read far between the lines to work out that only someone with a deep love and knowledge for this country could devote so much effort to revealing its secrets to others.

John Manning, Outdoor Focus Winter 2010/2011 (The magazine for the Outdoor Writers' and Photographers' Guild)

Scotland is mostly mountains and water. If you are on one you can usually see the other. This is rather different from Cicerone's usual pocket books, being twice the size and three times the thickness. Its commanding title is justified as far as mountains are concerned as it describes every major mountain in Scotland, many hundreds of them, and also
the long distance footpaths.

The author has climbed them all, some with Hamish Brown and Simon Willis, who have written for Canoeist. The highest of these peaks are the 283 Munros, those over 914.4m
high, which have been done this year in 39 days and 12 hours by Stephen Pyke, who used a bicycle and a canoe to reach some of them.

The folklore and history is interesting. Indeed, the potted history of rural Scotland is as good as you will fi nd anywhere. Important ascents are recorded. Surprisingly, not only does Prince Charlie feature but Queen Victoria does so more than once. First ascents are usually noted and English translations given of Gaelic names. Maps make it very much easier to spot peaks and their heights than can be done by looking at the tangle of contour lines on OS maps.

Finally, the book is designed with flaps to be used as page markers, one with the map symbols. This is a book for mountain visitors, rather more numerous than just mountaineers. Even if you don't climb mountains there is an enormous amount of information of interest here for when you paddle past them.

Canoeist magazine, December 2010

It's difficult to think of anyone better qualified than Chris Townsend to write a comprehensive guide to the hills of Scotland. The sheet amount of information is mind-boggling, with enough suggested hill walks to last a lifetime. It's good to see that some fascinating walks at lower levels included too.

The design is fairly traditional, but is enlivened by some excellent photography. Rather than relying on sunny days, many of the shots convey the changing atmosphere of the hills in different weather conditions. The maps are clear and the text is bang up to date.

Chris Townsend has somehow managed to shoe-horn a lifetime's experience of Scotland into this book, and his love of the landscape shines through. Chris's views on modern conservation, footpath building and windfarms are expressed with a light touch, leaving the reader wanting to think and find out more for themselves.

If santa didn't bring you this already, it's an essential purchase.

Scottish Mountaineer, February 2011

What struck me first were the wonderful photos, which either bring back memories or encourage one to visit that area. The book is also full of good advice.

There are plenty of informative maps and the book covers every area of Scotland. The front cover photo invites one to open the book and see more, and to go there if you have not already, and once opened, the book is difficult to put down.

Chris says it too him six years to write this book, which is not surprising when you see how much has gone into it, and I suspect that many hills will have been revisited to get photos in good light and conditions – it is excellent.

Backpack, Spring 2011

Chris Townsend's magnificent new book is a kind of milestone. It is part of a much praised resource series called 'World Mountain Ranges' and it is a truly a brilliantly researched volume.

As well as being suitable for short outing it can be a planning tool for long distance treks. It is an ideal book for visitors to Scotland. There are excellent illustrations which catch the mood of the outdoor and hill world.

Scots Independent, March 2011

'…illustrated with stunning photographic images.

I quite often find that 'best of' compilation-type guide books just don't make the grade. Chris Townsend's…[guide] is indeed a very useful and well researched resource and, if travelling, a handy single guide to carry. I am pleased to report that it bucks the trend and really does make the grade!'

Mountain Rescue, July 2011

'the author's intimate knowledge of [the hills'] topography, geology and general character comes across with clarity and enthusiasm.'

Strider, April 2011

Downloads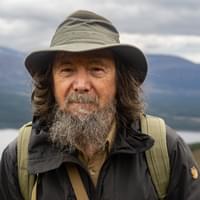 Chris Townsend
Chris Townsend is an outdoor writer and photographer whose 25 books include Scotland in Cicerone's World Mountain ranges series, the award-winning The Backpacker's Handbook; Rattlesnakes and Bald Eagles, the story of his hike along the 2600-mile Pacific Crest Trail; The Munros and Tops, an account of his continuous round of all the 3000ft summits in Scotland – the first time this walk has been done; and Along the Divide, the story of his walk along the Scottish watershed. A passionate long-distance walker, Chris's other epic walks include the 3100-mile Continental Divide Trail, the 1200-mile Pacific Northwest Trail, the 800-mile Arizona Trail, 1600 miles along the whole length of the Canadian Rockies (another first), 1000 miles south–north through the Yukon Territory and 1300 miles south-north through Norway and Sweden.
View author profile