The classic Haute Route (Tell Us Your Story)
The morning couldn't come quick enough; a pleasant evening meal shared with our dorm fellows was followed by an Olympic display of torrential snoring putting pay to our best laid plans to get a good night sleep before our defining day ladders or not?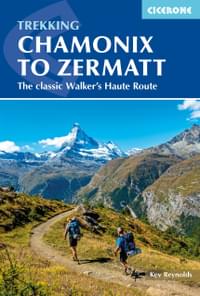 Chamonix to Zermatt
The classic Walker's Haute Route
£14.95
Guidebook to the Walker's Haute Route from Chamonix to Zermatt. The 225km route typically takes 2 weeks to walk. Described in 14 stages, the route crosses 11 passes between Mont Blanc and the Matterhorn and involves more than 14,000m of ascent and descent. A complete guide for planning and walking the route, with accommodation information.
More information
So we were up with the paragliders. Breakfast was hurriedly eaten. There was a tangible sense of excitement for our respective days ahead. Knowing glances of acknowledgement transcended our language divide as we parted ways with our weather-beaten, winged, friends.
To beat the morning chill I walked ahead and scaled Col des Roux in double quick time; first over the Col I was fortunate to spy an Ibex although it had effortlessly moved out of sight before Caroline arrived.
The early light framed our day's objective, a fantastic walk along Lac Des Dix, before ascending into the upper valley above the gorge carved out by the retreating Glacier de Cheilon.
The walk passed quickly, overtiredness, nervousness and comparatively easy walking along the lake all playing their part. With marmots lazily sunning themselves on their lake-side verandas, we were briefly exhilarated when navigating a herd of cows on the path.
To get out of the valley and on to Arolla, two options:
Col du Riedmatten (2919m) "the final climb up the gully can be aggravated by loose grit and requires some effort." (Page 108, Cicerone author Kev's Chamonix to Zermatt guidebook).
Pas du Chevres (2855) "near vertical ladders bolted to the rockface – not to be attempted by anyone suffering vertigo." (Page 108, Kev's guide).
I felt the sighting of an Ibex had been a sign - Chevres it would be! Caroline agreed.
Not knowing how exactly to get to the base of the infamous 'ladders', which are located at the top of a loose scree slope, we made a bad choice. We followed a couple in their 60's purporting to be mountain experts; they duly led us directly up the face of the scree. We were relieved to reach the ladders.
"Concentrate. Three points of contact at all time. Don't look down. Keep moving. Breathe".
Some of the rungs were close to the rock face, providing little space for clunky boots. Stepping to another ladder about 18inches to the right, at height, to ascend the final few metres took my remaining bottle and drank it dry.
As Caroline emerged at the top, I hugged her and brought her away from the edge. I sat and cried. We felt alive. Surveying our final destination in the distance (the Matterhorn) we ate a few celebratory frog sweets and posed for a photo.
I was so relieved that I didn't realise I'd put my fleece on back to front.
We descended to Arolla through alpine meadows, stopping and relaxing in the late afternoon sun, thoroughly shattered and exhilarated. We treated ourselves to a hotel room, a rest day and a Maxibon. Magic.
This 'tell us your story' article was sent in by Chris O'Brien. If you'd like to share a story with us then please do - we love to hear how you've been using your guidebooks.
To read more articles like this get our newsletter
Sign up today for a 20% discount on your next purchase. Join over 30,000 enthusiasts from around the world. If you don't love our mix of new books, articles, offers and competitions, you can unsubscribe at any time. We will never spam you, sell your data or send emails from third parties.