The Iveragh Spine Route or the Paddy Dillon Challenge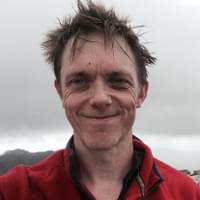 The fashion for challenge walks has most definitely reached Ireland, and the search for ever-more-lengthy upland routes is inspiring many. Down in the south-west multiple mountainous peninsulas poke into the Atlantic, and a vintage guidebook points towards a mammoth itinerary along the backbone of one of them. Peter Walkers asks "Are there any walkers and runners ready for what could be Ireland's greatest challenge?".
One of my favourite notions from the world of walking literature is that only a few of us can resist the temptation of a really long walk from time to time. The image of endless effortless flowing o'er hill and glen is an increasingly popular intoxication, with devotees of the genre being taken the length and breadth of Ireland by an increasingly congested calendar, and with some of the more famous events selling out within minutes. There's now even a club in Ireland (Na Sléibhte) specifically catering to fans of such extended agonies and ecstasies.
But while Ireland is a land with a decent selection of wondrous mountain terrain, overall it's not actually especially mountainous; something that becomes fairly apparent when one tries to devise upland outings of any sort of length. But it's particularly problematic when you're trying to create something to test the best (if indeed hillwalkers can be judged by such unsubtle parameters)... for the ultra-athlete it's really tricky to come up with a mountain route that doesn't run out of mountains much too quickly. You're just getting going... and they're gone. Even in the more obviously contour-contorted areas the ranges seem to be separate rather than linked, as if the ancient Irish deities were absolute dab hands at Tetris.
An inspirational guidebook with 'absolutely shocking maps'.
My hillwalking apprenticeship was served over the water, for I am English, and for years the hills of Ireland were something imagined: experienced on the page rather than underfoot. Initially this was within the covers of the classic Diadem coffee table books of the 1980...The Big Walks, Classic Walks, Wild Walks. But around 20 years ago I picked up my first '100% Irish' guidebook, namely Paddy Dillon's 'Mountains of Ireland', offering as it did routes up all of Ireland's 2000ft summits. It was slightly haphazard (summits being included or excluded based on the author's opinions rather than any sort of defined separation criteria). It had absolutely shocking maps, barely even appropriate for illustration, never mind navigation. But what it did have was a definite sense of the person who wrote it, a guidebook writer whose guidance seemed real rather than tied to the page. . And it's never (yet) been revised, leaving it as very much an analogue guidebook in a digital age. It's very much a personal favourite, and buried within one of its chapters is the following passage...
'I also feel like issuing a challenge to the toughest mountain walkers in Ireland. This is a long, hard expedition, starting with the ascent of Coomcallee. I'm suggesting that a rugged, high-level trek could be enjoyed over all the mountain summits from Walks 37, 36, 35, 34, 33, 32, 31 & 30. Facilities on this mountain traverse are extremely limited – the only point of refreshment being at Moll's Gap. This is perhaps the longest, hardest high-level route which could be attempted in Ireland. Check it out on a map – even if the idea doesn't appeal to you.' – Paddy Dillon, 'The Mountains of Ireland', Cicerone 1992.
So, a route from the south-western tip of Iveragh all the way to Crohane, arguably the final curtain call of this corner of Ireland's proper mountain drama. Surely that would be testing enough…? The route has attracted interest on MountainViews before. In particular, Conor Murphy, MountainViews member and luminary amongst the trail running community in the south-west, had pieced together a version of it back in the days when walking was his preferred method of travelling on foot. Over time he basically did all of it, but generally his infectious enthusiasm for the enterprise found a hillwalking community fully vaccinated against its charms. But times are different now…Conor and myself are a bit more hopeful of an audience.
The Rules
Something as monumental as this and covering such complex terrain has to have some underlying rules to prevent it from seeming too contrived. What follows is simply my interpretation of Paddy's original text…others may feel free to come to a different understanding! I decided that given Paddy suggests a route covering 'all the mountain summits from Walks 37, 36, 35, 34, 33, 32, 31 & 30' from his book, my itinerary had to include all those listed summits. In general, they do line up fairly conveniently but there are several of 'out and back' sections; in particular, going from Stumpa Duloigh to Broaghnabinnia and back might seem a bit unwelcome to some. [ED: This deviation from the line of the ridge is pointless and is simply a result of stringing together a walk from existing shorter walks.]
Once you establish that all those summits must be crossed then it's just a question of determining how best to link them… To resolve this I have connected them using obvious ridges and watersheds between drainage areas. (As a rule this does look obvious on the map). On that subject the maps you'll need are OSI 1:50,000 Sheets 83, 78 and 79.
The route does sensibly split into three sections, with roads crossing the route at Ballaghbeama Gap and Moll's Gap, and will be described as such. Summits listed by Paddy are underlined…other MountainViews summits have grid references. Well, I say 'sensibly'… "I would go as far as to say that each section is most likely harder than an individual Maumturks! The first and third definitely . . . . and within the second leg the "Out and back to Broaghnabinnia" could easily be soul-destroying!" – Jim Holmes, MountainViews' Czar of the Challenge Walk.
Section One: Waterville to Ballaghbeama
I decided to start the route to the north of Coomcallee: Paddy's Walk 37 starts to the south but going from the north makes it easier to make this section linear, plus the initial ascent isn't as steep. A minor road runs up to Lough Iscanamacteery…there is some (but limited) parking here, around GR V597698. Aim south across rutted ground (there is a track some of the way) and follow a ridge curving up to the summit of Glanbeg (GR V578684). Immediately the views of lough and mountain and sea are a marvel, and a nicely proportioned ridge leads down and up and onwards to An Bheann Mhór (GR V593683, Coomcallee W Top in the book). A broad, shallow and peat-hagged gap is crossed to Beann na Stiocairí (GR V598682) before easier going to Coomcallee itself (GR V623677).
There's now the first properly complex section (the words 'worth a recce' make their first appearance at this point!) across a gap and up to the shoulder of Coomnahorna (whose summit isn't visited on this route…feel free to detour) and along more intricate ups and downs to Slievenashaska (GR V642708) (whose S Top isn't on the ridgeline, in case anyone was wondering why it's missed out). A substantial gap is crossed to reach Cnoc Breasail (GR V653724), and finally a bit of easier ground is gained on Knocknagantee (GR V667729).
Now we have to take in a couple more of Paddy's summits away from the obvious line of the walk. Fortunately most of the walk over to Knockmoyle (GR V665749) is on grass. The next bit to Coomura Mountain (GR V677751) has a col that is much more complex than the map would have you believe, and the detour ends by returning to that col and contouring round the wonderland around Coomalougha Lough to reach Coomnacronia (GR V679733, Coomanassig in the book). A broad ridge leads on to An Corrán (GR V696737, Finnararagh in the book and on the map).
Now is one of the very best stretches of the whole route, a fantastic ridge, rough underfoot but somehow it just flows. First up is Sallagh South-West Top (GR V701744), then Caora Bhán (GR V705746), then the tops of Beann: Beann Far SW Top (GR V713754), Beann SW Top (GR V718760, Beann West Top in the book), a drop down to the next col then a contouring line to visit Beann South Top (GR V728756) and a final climb up to the main summit of Beann (GR V726764). This would be a fantastic belvedere almost anywhere else…here, it's overshadowed by the fairytale Toblerone lump that comes next…
But first more lovely ridge to Beann North East Top (GR V731771, Beann North Top in the book) before a rocky drop down to a col (past the Noel Lynch monument, a sobering reminder of the potential seriousness of these mountains). Now comes the brutal little(ish) ascent to the crowning point of this section, the haughtily promiscuous (it seems visible from everywhere in the Dunkerrons) pyramid of Mullaghanattin (GR V739773)…note that the direct ridgeline is precipitously steep, and the sensible will take to the more amenable slope on the right. Finally a declining ridge is followed over Mullaghanattin East Top (GR V749775) and there's a final very steep and rough (worth a look in advance) drop down to Ballaghbeama Gap.
Distance: 32km Ascent: 2600m
Section Two: Ballaghbeama to Moll's Gap
It'll be hard to leave the relative sanctuary of those few yards of unyielding tarmac, but the next section starts with a zig-zag (there's a lot of benches of rock here) ascent to Knockaunanattin W Top (GR V756787). A lake-dappled ridgeline leads on to Knockaunanattin itself (GR V769790) and continues over Stumpa Dúloigh SW Top (GR V778789, Stumpa West Top in the book) to Stumpa Dúloigh itself (GR V786793).
And now a decision to separate the men/women from the boys/girls…according to the rules, you must now divert to Broaghnabinnia (GR V801813) before returning to Stumpa. The descent to the col is long and sometimes very steep, the ascent is steep too (a diversion away from the blunt ridgeline to the right being necessary, and the return is exactly the same, but in reverse. What can I say? Rules are rules…
Fortunately what follows is one of the easiest stretches of the whole enterprise, a lovely turfy ridge heads across the shallowest of depressions to Stumpa Dúloigh SE Top (GR V790791). The ridge is followed for about another 1km before a curving course is taken down to the col at the head of the Owenreagh River (another road here, for all those asphalt fans out there). A long, steepening slope above Lough Fadda is climbed to gain Knocklomena (GR V797765). In order to stick to the watershed Lough Fadda must be passed on its north side; the descent steepens to pass through rock bands at its foot before continuing to be rugged on the way up Bascadh West Top (GR V814765) and on to Bascadh itself (GR V823765). Another steep rocky summit is crossed at Cnoc na gCapall (GR V834767, Knocknacappul in the book).
The final high top in this section is Boughil (GR V842765), and it's a struggle to keep grass underfoot across the gap…there is a fence to guide. From here the lure of cakes and knitwear at Avoca should be sufficient to tempt you down to the road at the north end of Lough Barfinnihy, following the afore-mentioned fence as it frantically clings to the mountainside. The road does lead straight to Moll's Gap, but you should make the short climb over Doire Gharb (GR V857770) on the way.
Distance: 22.5km Ascent: 2410m
Section Three: Moll's Gap to Loch Guitane
The last stretch has a somewhat indeterminate start owing to access issues for the first summit of Derrygariff (GR V873774)…local knowledge suggests keeping south and east of the fence leading to the summit from the road. It also has stretches where another thing that's borderline indeterminate is the ridgeline itself, with areas where the fact that the water on either side flows in different directions has to be taken on trust. From here there's a heathery skirting of Eirk Lough and Foardal to the three subsidiary summits of Peakeen; the Far North-West Top (GR V888768), the North-West Top (GR V889766) and the West Top (GR V889764) before a more substantial gap to the main summit of Peakeen (GR V903764), a very craggy summit which might thwart a direct approach.
Now a steep descent brings you to the Kerry Way, the closest this section has to an easy escape. A similarly steep climb takes you up Knockanaguish (GR V919768) before some cross-country yomping visits first Knockrower (GR V937784) and a contour round to Knockbrack (GR V953779), one of Paddy's tops away from what passes for the ridgeline and with a lovely rockery for a summit. Onwards and upwards over Dromderalough (GR V960790), its NE Top (GR V969795) and a steady climb to the fabled Mangerton (GR V980807). Alas there's another out and back to Mangerton North Top (GR V984818) but the ridge above the Punchbowl has sufficient aesthetic appeal to partially numb aching limbs.
Back at Mangerton you're into some glorious open walking country, if only you weren't too shattered to enjoy it. The south edge of Glennacappul leads you on to Stoompa (GR V006817), and if you're collecting Vandeleur Lynams (or just bonkers, as it's not part of my intended route) you could nip out and back to its East Top).
Now comes possibly the psychological crux of the whole journey, returning south to regain the distinctly blunt ridgeline and ensuing steep descent, before the viciously rough crossing of the volcanic plug of Bennaunmore (GR V035819), an area which couldn't be much tougher if it was still active (recce advised). Crossing the col north of Lough Nabroda and a steep pull up to Crohane SW Top (GR V043820) puts the climax within reach. Initially easy going then a final stiff grassy pull brings you to the summit of Crohane (GR V049829). Drop down north and it's not too far to a track which could only be lost by someone hallucinating from exhaustion, so with that in mind, take care. And now a final triumphant trot/crawl down to the road end at (GR V043852). Those who successfully get there can (to quote the great climbing guidebook author Paul Williams) justifiably award themselves 'a pat on the back'…
Distance: 37km Ascent: 2630m
Total walk (no diversions): 91.5km, 7640m ascent.
So there it is, the longest continuous mountain walk in Ireland, the length of the Dunkerrons and most of the Mangerton range, with 48 MountainViews summits crossed.
You could do it piecemeal over a number of visits, bite-sized chunks of roughness and disorientation. You could do it in a single push, carrying the world on your back, sleeping under the stars (or more likely under various types of nimbus cloud), maybe fuelling the last leg with cakes from Avoca.

But…realistically, that means that the 'only' requirements for success are experience, decent fitness, and a fair amount of bloody-mindedness. A lot of folk have acquired those characteristics over the years, so how can we make this longest walk into the greatest challenge?
Allow me to speculate…might it be possible to do this all in a single day? "2 legs of Paddy's walk in a day would be doable with a good bit of planning and some support. Someone might take on the 3 stages, but it won't be me." – Gerard Sheehy, Na Sléibhte Hillwalking Club, organiser of the Fei Sheehy Challenge.
The longest, hardest high level RUN in Ireland?
Britain's three home nations all have classic one-day mountain challenges, routes where only mountain hardness and outstanding endurance athleticism permit success. In Scotland it's the Ramsay Round, 93km with 8700m of climbing over 23 Munros. In Wales it's the Paddy Buckley Round, 100km and 8700m of ascent over 47 Snowdonian summits. And most famous of all, the Bob Graham Round in the Lake District, 106km with 8200m of ascent over 42 peaks. Why not (putting aside obvious reasons like lack of fitness and excess of sanity) attempt to complete Paddy Dillon's route within 24 hours? The Paddy Dillon Challenge, if you will?
The Paddy Dillon Challenge
Ireland does already have 24 hour challenges: the Mournes have the Rankin Round, and Wicklow has the cunningly monikered Wicklow Round. But compared to the Dillon route these are crown green bowling venues with all the navigational challenge of a bus lane in Dublin. Statistically the three British routes are longer, but even the roughest of those (the Buckley round) has long stretches on trails with nice friendly navigation. There's precious little of that in the Irish South-West; the mountains are much more rugged (and/or boggy), much less frequented, most of the ground is likely to be unfamiliar (and thus in desperate need of preliminary reconnaissance to avoid wasted time), and aborting an attempt may leave you a long way from escape. Tactics will be crucial.
Which way to do it? Does the motivation of ending at the coast trump the probability that that would have your travelling against the prevailing weather? What time of year to do it? The long hours of summer seem obvious, but might other times get better conditions underfoot? What time would you start, given that some of the route would inevitably need to be covered in darkness? The actual execution of the journey might take less than 24 hours, but the preparation might take months. At some level it would be a lonely, personal undertaking…but on another it's almost unthinkable that it wouldn't need the help of others, be it providing knowledge and advice or being the on-the-ground support.
These are all questions and ponderings for the dedicated athlete, and in his excitement at the possibilities Conor has dangled the prize of being first to accomplish the route inside 24 hours via various running forums. I won't embarrass or pressurise the very impressive individuals who have expressed an interest in giving it a try…but watch this space. Maybe…
"I wish I was young again as what a challenge… I suppose it could be a piece of heaven or a piece of hell depending on the weather you get on the occasion, but I think there is nothing more appealing to those of us with that adventurous spirit than to have something put out there and be told that it's presumed not possible because that's all the motivation that is needed to fire up the interest in the heart of a warrior, this route would be the all-round package as it requires physical and mental strength along with a serious amount of strategic planning of pace, navigation and diet plus the agility and confidence of a mountain goat to skilfully manoeuvre this rugged landscape at pace, everyone who completes this route is undoubtedly a person of special talents and a hero in my book." – John Lenihan, former World Mountain Running Champion (among a huge list of achievements).
So, is this the longest, hardest high-level route in Ireland? Have we (in the shape of a 25 year old book, an English IT bloke and a trail-running lawyer with a baffling obsession with trance music) conclusively closed the book on the subject of challenge walking and trail running on this island? Let's leave the final word with the man who inspired the route in the first place. "Why end on Crohane? You could continue towards The Paps and away into West Cork." Oh Paddy…you are a card.
Peter Walker, April 2018
NB: This article was originally published by MountainViews and they have kindly allowed us to reproduce it here.
To read more articles like this get our newsletter
Sign up today for a 20% discount on your next purchase. Join over 30,000 enthusiasts from around the world. If you don't love our mix of new books, articles, offers and competitions, you can unsubscribe at any time. We will never spam you, sell your data or send emails from third parties.