Notify me
Enter your email address to be notified when this title becomes available.
A guidebook for trekking the Pyrenean Haute Route, which zig-zags across the Franco-Spanish border and stays close to the main ridge in the highest and most spectacular central Pyrenees. It covers 800km with a total of 40km ascent, so is only suitable for experienced mountain walkers. The route is split over 45 stages and is largely unwaymarked.
Seasons
Best months: July and August. August can be extremely warm, however, and thunderstorms are an everyday hazard! In June most high mountain passes are still covered with snow but it's a good time for both the first section and, from mid-June on, the final section (if you avoid Pic Carlit). Late August and the first days of September often bring a short period of extremely bad weather but afterwards the first half of September can be exceptionally beautiful. There will be frost at night from the second half of September. Snowfall in the high mountains is not uncommon in September. Be ready for anything!
Centres
Runs from Hendaye to Banyuls-sur-Mer, with nearest major towns: Bayonne, Pau, Tarbes, Foix, Perpignan and Toulouse
Difficulty
Each day walk and variant is graded on a scale of 1 to 4, from E for exceptionally challenging (moderate scrambling, exposure, glaciers) to 3 for short, easy, waymarked routes. Most are graded 2 and represent a good day's walk with significant ascent and descent but no major obstacles in good weather.
Must See
The 10 summits: Grande Fache, Vignemale, La Taillon, Pimene, Pic Perdiguere, Pico de Aneto, Montardo d'Aran, Mont Roig, Pic de Certascan and Pica d'Estats; the national parks: Parc National des Pyrénées Occidentales and Parc National d'Aigüestortes i Estany de Sant Maurici; mountain lakes, cirques, canyons, peaks and pine forests.
Availability
Out of Stock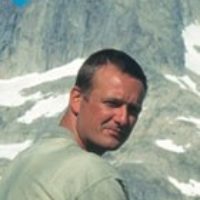 Ton Joosten
Ton Joosten has written six books on the Pyrenees which he has explored extensively over the last 20 years, walking all the long-distance trails, all major peaks and the national parks in both France and Spain, and has written on the best walking regions. When not exploring, Ton lives in Holland.
View Guidebooks by Ton Joosten