We have resumed delivery for International orders but there may be delays due to Coronavirus. Thank you for your patience.
The Way of St James - Le Puy to the Pyrenees
GR65: The Chemin de Saint Jacques
Guidebook to the Way of St James pilgrim route, describing the 730km French section of the Camino de Santiago route from Le Puy-en-Valey in central France to Saint-Jean-Pied-de-Port in the Pyrenees, including pilgrimage history, points of interest, links to other routes and accommodation. Suitable for all abilities but basic fitness is required.
Seasons
not recommended in winter but can be safely undertaken, adequately prepared, any time between late March and mid-late October
Centres
from Le Puy-en-Velay passes through Conques, Figeac, Cahors, Moissac, Aire-sur-l'Adour to Saint-Jean-Pied-de-Port
Difficulty
far from flat but requires no specialist equipment and can be undertaken, with appropriate preparation, by anyone of average health and fitness
Must See
starts in the volcanic Velay region of France, passes through the Margeride, over the Aubrac plateau, the causse before Cahors and the flat Landes region before reaching the foothills of the Pyrenees and the Basque country; interesting churches, cathedrals, historic monunments and vernacular architecture along the way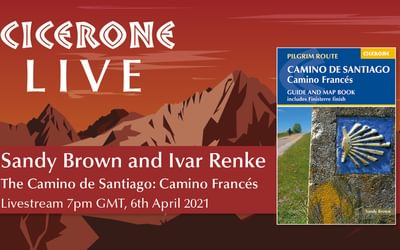 Live · 6 Apr 2021 7:00pm
The Camino de Santiago: Camino Francés with Sandy Brown and Ivar Renke
In our April Cicerone Live event, join Cicerone, Sandy Brown and Ivar Renke to explore the Camino de Santiago: Camino Francés.
Overview

Updates

Reviews

Downloads
Alison Raju
Alison Raju is a former teacher of French, German and Spanish to adults and is the author of three other guides published by Cicerone Press: 'Way of Saint James (Camino de Santiago): Pyrenees - Santiago - Finisterre', 'Vía de la Plata (Seville to Santiago)' and 'The Pilgrim Road to Nidaros (Way of St. Olav): Oslo - Trondheim'.
View author profile