Through the Italian Alps
The GTA - The Grande Traversata delle Alpi
A guidebook to the 663km Grande Traversata Delle Alpi trek through the western Italian Alps traversing the Ligurian, Maritime, Cottian, Graian and Pennine Alps to finish near Monte Rosa. The guide splits the route into 47 day stages of 4 to 23km. In total there is 44,000m of ascent/descent, so a good level of fitness and experience is required.
Seasons
Late June to mid-September. There may be some spring snow early on, but the treks goes from south to north so this is minimised.
Centres
Starts Viozene north of Genoa, finishes near Monte Rosa. Visits no main towns but public transport to Turin then Aosta always possible to leave the route.
Difficulty
At 630km (400 miles) split into 47 stages it is a long way and passes through some tough but rewarding alpine terrain. Can be split for those with less time. A stern undertaking.
Must See
Argentera, Monte Viso, the Gran Paradiso and the south faces of the Pennine Alps. Crosses half a dozen national parks and nature reserves.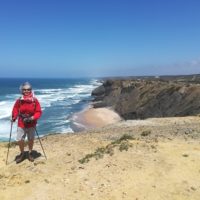 Gillian Price
Gillian Price has trekked throughout Asia and the Himalayas, but now lives in Venice and is exploring the mountains and flatter bits of Italy. Starting in the Italian Dolomites, Gillian has written outstanding Cicerone guides to walking all over Italy as well as Corsica and Corfu. An adamant promoter of public transport to minimise environmental impact, Gillian belongs to Mountain Wilderness and is an active member of the Venice branch of CAI, the Italian Alpine Club.
View Articles and Books by Gillian Price