Coronavirus status – our office is currently closed and staff are furloughed. You can still buy books and ebooks, but any essential messages should be to info@cicerone.co.uk. Please do not phone. Thank you!
Through the Italian Alps
The GTA - The Grande Traversata delle Alpi
Notify me
Enter your email address to be notified when this title becomes available.
Availability
Out of Stock
Delivery & Returns
Free 1st Class postage on UK orders. European postage from £2 per item. Worldwide postage from £3 per item. If you're not happy with your purchase for any reason, we'll give you a full refund.
More information...
A guidebook to the 663km Grande Traversata Delle Alpi trek through the western Italian Alps traversing the Ligurian, Maritime, Cottian, Graian and Pennine Alps to finish near Monte Rosa. The guide splits the route into 47 day stages of 4 to 23km. In total there is 44,000m of ascent/descent, so a good level of fitness and experience is required.
Seasons
Late June to mid-September. There may be some spring snow early on, but the treks goes from south to north so this is minimised.
Centres
Starts Viozene north of Genoa, finishes near Monte Rosa. Visits no main towns but public transport to Turin then Aosta always possible to leave the route.
Difficulty
At 630km (400 miles) split into 47 stages it is a long way and passes through some tough but rewarding alpine terrain. Can be split for those with less time. A stern undertaking.
Must See
Argentera, Monte Viso, the Gran Paradiso and the south faces of the Pennine Alps. Crosses half a dozen national parks and nature reserves.
Availability
Out of Stock
Overview

The Granda Traversata delle Alpi (GTA) is an immensely rewarding 630km long-distance route across the western Italian Alps, and is an exciting proposition, traversing the Ligurian, Maritime, Cottian, Graian and Pennine Alps to finish near Monte Rosa, punctuated en route by stunning peaks including the Argentera, Monviso and Gran Paradiso. Starting close to the Mediterranean, the guide describes the GTA in 47 day stages of between 4 and 23km, with a total of over 44,000m of ascent as it curves its way high over the fertile Piedmont plain traversing the eastern (Italian side) of the Alps, heading northwards to a brilliant conclusion near the base of Monte Rosa. A network of hospitable high-altitude refuges alternated with village-based hostels and comfortable inns guarantee walkers memorable meals and a good night's rest. The sole requisites for potential trekkers are a taste for adventure and average fitness; no special mountaineering expertise is necessary. Excellent public transport links make multiple shorter chunks feasible to fit in with individual holiday requirements.

Table of Contents

Contents
Introduction
The GTA Trek
Italy's Western Alps
Piedmont
Walking the GTA
When to Go
Getting There
Local Transport
How to Use this Guide
Dos and Don'ts
Emergencies
Waymarking and Maps
What to Take
Accommodation
Telephones
Food and Drink
Vegetation
Wildlife
Part I: The Ligurian and Maritime Alps
Stage 1 Viozene to Rifugio Garelli
Stage 2 Rifugio Garelli to Limonetto
Stage 3 Limonetto to Palanfré
Stage 4 Palanfré to Trinità
Stage 5 Trinità to San Giacomo
Stage 6 San Giacomo to Rifugio Genova
Stage 7 Rifugio Genova to Terme di Valdieri
Stage 8 Terme di Valdieri to Rifugio Malinvern
Stage 9 Rifugio Malinvern to Sant'Anna di Vinadio
Stage 10 Sant'Anna di Vinadio to Strepeis
Stage 11 Strepeis to Pontebernardo
Part II: The Cottian Alps
Stage 12 Pontebernardo to Rifugio Gardetta
Stage 13 Rifugio Gardetta to Rifugio Campo Base
Stage 14 Rifugio Campo Base to Rifugio Pian Melezé
Stage 15 Rifugio Pian Melezé to Pontechianale
Stage 16 Pontechianale to Rifugio Q. Sella
Stage 17 Rifugio Q. Sella to Rifugio Barbara Lowrie
Stage 18 Rifugio Barbara Lowrie to Villanova
Stage 19 Villanova to Ghigo di Prali
Stage 20 Ghigo di Prali to Balsiglia
Stage 21 Balsiglia to Usseaux
Stage 22 Usseaux to Rifugio D. Arlaud
Stage 23 Rifugio D. Arlaud to Susa
Part III: The Graian Alps
Stage 24 Susa to Rifugio Il Truc
Stage 25 Il Truc to Usseglio
Stage 26 Usseglio to Balme
Stage 27 Balme to Pialpetta
Stage 28 Pialpetta to Fonti Minerali
Stage 29 Fonti Minerali to Noasca
Stage 30 Noasca to San Lorenzo
Stage 31 San Lorenzo to Talosio
Stage 32 Talosio to Ronco Canavese
Stage 33 Ronco Canavese to Piamprato
Stage 34 Piamprato to Fondo
Stage 35 Fondo to Le Cavanne
Stage 36 Le Cavanne to Quincinetto
Part IV: The Pennine Alps
Stage 37 Quincinetto to Maletto
Stage 38 Maletto to Rifugio Coda
Stage 39 Rifugio Coda to Locanda Galleria Rosazza
Stage 40 Locanda Galleria Rosazza to Rifugio Selle
Stage 41 Rifugio Selle to Rifugio Rivetti
Stage 42 Rifugio Rivetti to Sant'Antonio
Stage 43 Sant'Antonio to Rima
Stage 44 Rima to Carcoforo
Stage 45 Carcoforo to Santa Maria
Stage 46 Santa Maria to Campello Monti
Stage 47 Campello Monti to Molini di Calasca

Route Summary
Appendix I Tourist Information
Appendix II Main Peaks along the GTA
Appendix III Italian–English Glossary
Appendix IV Further Reading


Maps

Stages 1–8 IGC 'Alpi Marittime e Liguri' 1:50,000 sheet 8

Stages 1–2 Blu Edizioni 'Alpi Liguri, Parco Naturale Alta Valle Pesio e Tanaro' 1:25,000, cartoguida 2

Stages 3–8 Blu Edizioni 'Parco Naturale delle Alpi Marittime' 1:25,000, cartoguida 1

Stages 9–14 IGC 'Valli Maira Grana Stura' 1:50,000 sheet 7

Stages 14–19 IGC 'Monviso' 1:50,000 sheet 6

Stages 19–24 IGC 'Valli di Susa, Chisone e Germanasca' 1:50,000 sheet 1

Stages 24–28 IGC 'Valli di Lanzo e Moncenisio' 1:50,000 sheet 2

Stages 29–33 IGC 'Il Parco Nazionale del Gran Paradiso' 1:50,000 sheet 3

Stages 33–41 IGC 'Ivrea, Biella, Bassa Valle d'Aosta' 1:50,000 sheet 9

Stages 41–46 IGC 'Monte Rosa, Alagna e Macugnaga' 1:50,000 sheet 10

Updates

August 2018

Updates

There's been an increase in cases of TBE (tick-borne encephalitis) across Europe, Italy included. Walkers should be aware that they may pick up ticks while walking through grass and woodland up to approx 1500 metres altitude. Not all ticks carry the disease but better safe than sorry. Simple precautions and plenty of useful information is available on the website: https://ecdc.europa.eu/en/tick-borne-encephalitis. Vaccination is also an option.


July 2018



Page 157 – Alpe Charamonte is only now occupied in August.Page 157

Page 158 – Le Cavanne is now Agriturismo Le Capanne (note spelling).

Page 159 – Hotel Priale is now closed after the tragic death of its owner. The accepted place to stay in Quincinetto is now B&B Casa Val, with several local restaurants nearby.

Page 162 – Maletto is no longer offering accommodation. People therefore generally follow the signs to the very nice Agriturismo Belvedere instead.

Page 169 – In Rozazza one can stay at an old school that provides inexpensive accommodation run by a lovely motherly Polish woman, the Vecchio Scuole on Via Luigi.

Page 180 – Rima now has a nice new Posto Tappa. Keys can be collected at the bar/restaurant on the main square.

Page 185 – Rifugio Alpe Baranca is now a lot bigger.

Page 187 – There are now several options at Rimella, including Rifgio dei Walser at S. Gottardo, at the upper end of the sprawling series of villages.

Page 190 – Both Biv Pian del Lago and Alpe del Lago now have a small number of blankets.

Page 192 – Locanda del Tiglio no longer sells groceries.



(Thanks to John Young)

April 2018

p70 The Posto Tappa at Terme di Valdieri has been renovated as Casa Savoia sleeps 24, open beginning June to end Sept, tel 327 0116543 casasavoiaterme@gmail.com

Oct 2017

page 190

Stage 47: Bivacco Pian del Lago now has blankets + pillows and a gas stove. It does not have a WC. Later, Bivacco Alpe del Lago is no longer "grotty" and, except for not having a gardien, is probably the best bivacco on the GTA. It has mattresses, blankets, pillows, a wood stove as well as a gas stove, and a full supply of cooking equipment. It has lighting (solar) and an excellent WC.

(thanks to Peter Forrest)

July 2015

pp61-62 the descent path from Colle Vailetto is well maintained


p74 Rifugio Malinvern tel changed to 0171 1936018 or mob 340 2768964 www.rifugiomalinvern.it
p99 Chalet Seggiovia tel 0175 950410 www.chaletseggiovia.com
p107 buses run via Bobbio Pellice to Pinerolo where the railway starts (Thanks to Christine Major)

Stage 20: The owner of the posto tappa (Agriturismo La Miando) at Didiero/Salza will transfer walkers between Balsiglia and Didiero in his car. This avoids an 8Km walk along the road between Didiero and Balsiglia either before or after the long stage 21.
Contact Tel. +34 3488145311 E-mail agriturismolamiando@gmail.com (Thanks to David Folkes)

Stage 37
Maletto no longer has accommodation so detour to Agriturismo Belvedere at Trovinasse tel 0125 658731 sleeps 18, open June to Sept + weekends at other times

Stage 45
Just out of Santa Maria is The Yellow House B&B tel 346 0206177 shivaneve@hotmail.it Meals down the road at La Piana (Osteria La Piana)

July 2014

p148 Talosio, grocery store has closed down. For bus connection to Pont Canavese, phone the night before or taxi (See bar).
p151 GTA marked on east side of river from Scandosio to Cugnone and Pianetto to Piamprato.
p159 The "rotting bridge" has been repaired.
(Thanks to Greg Pettingill)

p114 Agriturismo La Miando has changed its contact details; email agriturismolamiando@gmail.com
Tel number to change to mobs 3488145311 or 339276321

June 2014

Many Thanks to Geoff Caplan for his information on wild camping on this route.

WILD CAMPING AND THE GTA

Some notes on my experience covering the first 30 stages of the GTA using a tent. If you have the experience this can be an economical and highly enjoyable way to tackle the route. It also offers the opportunity to walk into October, when many huts are closed and the hills are quiet.

1. LEGALITY

Legally the wild camping situation is complex as the route passes through many different types of administration. But it practice the same rules you would use in a UK National Park seem to work out fine: (1) Choose isolated or secluded spots (2) Pitch late
(3) Strike early (4) Don't light fires anywhere close to woodland (in some areas this is illegal). Camping near to huts seems to be acceptable if you ask permission and if suitable pitches are available. I found the herders friendly, provided you stay away from their huts.

I only had one issue, when a Forest Ranger stumbled across my discreet camp while searching for poachers and politely asked me to move. But after a quick negotiation he relented and allowed me to stay.

2. FINDING PITCHES

Because of the steepness you can often walk for many hours between viable sites. Be wary of passing a good spot from mid-afternoon onwards unless the map suggests promising territory ahead. I always found a pitch, but it was sometimes a close-run thing, so be prepared to bivvy if you get into trouble. Sites are not always close to water, so plan ahead and carry what you will need.

Outside of the few official sites it's difficult to find suitable spots in the valleys. I resorted to a couple of stealth camps, but didn't enjoy the experience. The biggest challenge is getting through the Susa valley, where accommodation is expensive. But I found abandoned cultivation terraces a few hundred meters up beyond the town.

On the lower slopes there are often herds, and the good sites can be heavily churned up and soiled (and cow-bells are loud!). The best sites and most memorable camps were often quite high. For the 29 nights on the trail my accommodation was: 20 x wild camps; 2 x valley stealth camps; 3 x official campsites; 2 x CIA bivaccos; 1 x CIA winter room; 1 x Posto Tappa (in apocalyptic weather!).

3. RESUPPLY & WATER

I walked mid-September to mid-October, so most huts were closed and many village shops were only open part-time. After mid-October most village shops close for the winter. It can be difficult to coordinate valley crossings with opening hours, so I carried a buffer of 3-4 days extra food for flexibility. Choice can be limited, and don't expect to find freeze-dried food pouches. On the hill I generally subsisted on artisan cheese and salami (wonderful and widely available), powdered soup, pasta, rice, bread and chocolate. During the season you could buy food at the huts, for a price.

For fuel I strongly recommend meths, which is widely available in shops, pharmacies, huts and farms. Camping gas is rarely stocked.

Much of the water is soiled by livestock so a safe water filter is pretty much essential. I used a Travel Tap.

4. EQUIPMENT

Unless you are super-fit, I strongly recommend going ultra-light if you want to enjoy your walking. For the best sites take a shelter suitable for high camping and sleeping equipment rated to -5C. I took the MLD TrailStar tarp tent. At only 500 grams it is absolutely bomb-proof and spacious enough to cook in safely. Highly recommended. You'll often have to camp amongst dung so take a suitable groundsheet if you are tarping. Ground conditions can be tough: I used Groundhog pegs and they were well worth the extra weight compared to Ti crooks. I took an insect-proof nest but didn't encounter any biting insects, even in the valleys, though this may vary by time of year. Obviously, don't camp light and high unless you have the experience: severe weather can blow up very quickly.

5. LANGUAGE

Little English is spoken in this region, and camping requires more interaction with the locals than hut-hopping. So I learned some Italian for the trip, and it proved extremely useful on many occasions. Plus it greatly enhanced my ability to interact with the local culture.

Nov 2013

Stage 30: changes to route between Fé and Perebella, now well waymarked throughout so no longer any need to take the bus.p144 When crossing the Orco and heading for the uphill turn LEFT and not right for Fe. At the first junction after about 50m turn right behind the school and follow the waymarks to a sign onto the "broad embankment " in the guide. From here clear new waymarks take you up past Coste. The path has been cleared and marked above here and cannot be missed but it's still hard work!p145 After Sant'Anna when you reach the rusting sheds follow the "tempting track" of the book rather than ignore it. The book route is now almost impossible to find. Follow the waymarks for 10-15min and you reach a sign that directs you down a clear and recently cleared path to Perebella.
Thanks to Andrew Holmes

July 2013

pp43+46 the Himalayan bridge has been replaced by a modern structure
Thanks to Andrew Holmes

April 2013

Thanks to Greg Pettingill

p126 - Rifugio Il Truc will not be open for the summer of 2013 season. You can however use Rifugio La Riposa, rifugiolariposa@yahoo.it

March 2013

Thanks to Stuart and Marie Scott

p53 Limonetto posto tappa is closed but the welcoming Ange Blanc restaurant (www.langeblanc.it, tel 0171928221) has rooms (sleeps 8) open May–Oct. It is located on the GTA route a short distance above the village on the last stretch of road.

p128 Capanna Ravetto is now open for walkers. Sleeps 30, open mid July to end August. September weekends only. Tel mob 338 9007813. If no signal tel 011 6270441 (custodian's home number) requests can be passed on the hut.

p130 The middle section of the route from Usseglio to Colle di Costa Fiorita is reportedly not in good condition

p156 the path up from Piani di Cappia is now clearly marked

November 2012

Thanks to Ivan and Sue

p46 Rifugio Mongioe www.rifugio-mongioie.com
Rifugio Garelli tel no changed to 0171 738078

p57 Palanfré accommodation <>www.palanfre.it extra tel 340 6973954

p78 www.santuariosantanna.eu
14 is now well signed

p99 Taverna al Sole is closed

p107 <>www.rifugiobarbara.it

p... Susa: 10 mins out of town B&B Rocciamelone www.bbrocciamelone.it tel 3925863805

p126www.rifugioiltruc.com

p...www.albergorocciamelone.com Good accommodation and meals at Les Montagnards <>www.lesmontagnards.it tel 0123 233073

p139www.fontiminerali.com

p...www.albergocentrale.ronco.com<... Quincinetto: a 15min walk from town is B&B Cascina Salet www.cascinasalet.com tel 340 5564970

thanks to Peter Forrest

p132 Biv Gandolfo now has blankets

p146 San Lorenzo: meals and limited accommodation (book ahead as is family home) at Trattoria Da Livio tel 0124 800213 cell 340 1260343

p151 Albergo Centrale no longer takes credit cards

p167 if you opt for the tunnel, take a head torch as there is no lighting


August 2012

Stage 17, p105 the path from Pian del Re is now well marked.

Stage 17, p106 Below Colle della Gianna the GTA is now signed to take the left fork via Colle Proussera to Rif Barbara Lowrie.

Stage 18, p108 Rifugio Barrant was closed in July 2011

Stage 18/19, p110 the phone number for the Posto Tappa in Villanova is now 0121 957850

July 2012

p115 Accommodation and meals are also available at the lovely Foresteria Massello located close to Campo La Salza. www.foresteriamassello.it tel 0121 808678

September 2011

The route between Fé and Perebella, now well waymarked throughout so no longer any need to take the bus.

p144 When crossing the Orco and heading for the uphill turn LEFT and not right for Fe. At the first junction after about 50m turn right behind the school and follow the waymarks to a sign onto the "broad embankment " in the guide. From here clear new waymarks take you up past Coste. The path has been cleared and marked above here and cannot be missed but it's still hard work!

p145 After Sant'Anna when you reach the rusting sheds follow the "tempting track" of the book rather than ignore it. The book route is now almost impossible to find. Follow the waymarks for 10-15min and you reach a sign that directs you down a clear and recently cleared path to Perebella.

Thanks to Andrew Holmes

p132 A summer bus runs W (not E) to Pian della Mussa.


p136 the owner of Ristorante Setugrino at Pialpetta will evidently drive walkers up to Rivotti for a modest fee, thus shortening the day.

p141 Albergo Gran Paradiso at Noasca reportedly has a charming receptionist now.

(Thanks to Peter Forrest)

September 2010

Reader's comment: thanks to Andrew Holmes

Maps. There is a new series of maps produced at1:25000 by fraternalieditoreltd (www.fraternalieditore.it) for much of the Piedmont mountain areas. These are hugely superior to IGC maps of the same scale especially in the accuracy of path information.

Stage 7 The bus link to Terme Di Valdieri is direct to Cuneo and not Borgo San Dalmazzo as stated.

Stage 19 Ghigo Di Prali has two accommodation choices and Pensione Miramonti 0121807920 is very good value and friendly.

Stage 20 There is a new accommodation option 40 minutes below Balsiglia which is the community owned La Foresteria Di Massello 0121808678. This offers dormitory or individual rooms in a new building with good food and very good rates. Good library with wildlife videos! The manager will run you to Balsiglia.

Stage 21 The "limited groceries" entry for Usseaux should read "no groceries" No longer any shop.

August 2010

Part II

Stage 16
Rif Sella www.rifugiosella.it

Stage 17
p106 the final stretch to Rif Barbara Lowrie is overgrown and totally obstructed in several places by fallen trees.

Stage 18
Rif Jervis www.rifugiojervis.it

Stage 20
p115 Signora Tron will provide meals (phone ahead 349 1813364)

Stage 22
Usseaux posto tappa www.pzit-rei.it

Stage 23
Sentiero Balcone from Salbertrand to Susa is reportedly overgrown.
Susa hotel www.hotelsusa.it

Thanks to Peter Forrest (July 2010)

January 2010

p49 Rifugio Mondovi was extensively renovated in 2008

p53 Colle di Tenda - nearby Bar Le Marmotte does delicious meals and snacks and will ring down to the Edelweiss guesthouse who come and pick up guests.

p57 In the vicinity of Gias della Barma (1640m) keep on the L bank opposite the massive limestone slab of Costa Lausea pitted with tiny nummulite fossils. You wind down the steep valley to huts and and a fountain.
At Palanfré - there is no longer a shuttle bus to Vernante

p60 Trinità - Locanda del Sorriso www.locandadelsorriso.com
<... Genova www.rifugiogenova.it

Morelli-Buzzi has changed management - and is still hospitable

p71 The beech wood was damaged by avalanches in the winter of 2008-09 due to unusually heavy snowfalls.
On Piano del Valasco - Rifugio Valasco <>www.rifugiovalasco.it tel cell 348 3230266

p78 Sant'Anna di Vinadio www.santuariosantanna.it Renovations mean a good choice of accommodation is now available.

p110 Villanova Posta Tappa has been revamped and is brighter

p120 Rifugio Arlaud www.rifugioarlaud.it stays open until 23/9

p130 Stage 25: Albergo La Furnasa at Villaretto (Usseglio) has been recommended (Via 24 maggio 16, tel 0123 83854)

p166 Rifugio Rosazza www.rifugiorosazza.altervista.... tel cell 339 4602133

Readers' comments:

From Kath Irving & Bill Dale (2008)
Stage 17 to Rif. Barbara Lowrie. We found this a hard day. The descent from Colle della Gianna (p. 106) was through a recent vast cascade of white rocks and boulders. The red/white marks are there and a path is becoming re-established but it was very slow going.
Stage 19 to Ghigo. There are some changes to the route here. After the GTA turns off at the bend in the track at the beginning, it goes up through the wood but only for a short distance. It emerges on to an enormous new bulldozed track, with no signs at all. We turned right, which was the right decision, and followed the track to some derelict houses where it stopped and we picked up a mark. The marks sent us uphill to the left on a narrow path through grass with the odd faded mark, to a grassy ridge and an old hut and then on to the established 4WD track. This wound uphill to a new T junction - with not a sign in sight anywhere! We turned left and continued to twist our way up to Collette Faure. A marked path lead down from here but very soon it joined a new bulldozed track. This could only be the one that went right at the T junction. So had we turned right there, we would have wound round to the same point but missing out Collette Faure. This new track really is a scar on the landscape, although hopefully it will soften in time. There are no marks and it continues right up to the deserted village Bergerie Giulian, where it stops and the marks start again to lead you uphill through a farm area and on towards the col.

From Peter Forrest (Nov 2009)
It is just possible to get to Viozene and then Rifugio Mongioie in a day's travel from the UK using the Ryanair flight from Stansted, although it's a convoluted journey (plane/bus/train/bus/taxi/walk).
The train-line from Turin airport to Turin centre is currently closed due to major infrastructure works. However, the better option anyway is to take the bus from the stand opposite the taxi rank. This cheap and frequent service runs direct to Porta Nuova station.
The single-track railway from Ceva to Ormea does not run for much of the summer: only during school term-time and on special days. There is, however, a replacement bus service.
This arrives at Ormea too late to catch the last bus to Viozene. It is c.30 euros by taxi to Viozene (tel no as per the guide). From Viozene it is but a short walk to Rifugio Mongioie, arriving c.12hrs after check-in at Stansted.
p47 The pretty Himalayan-style bridge shown on p43 of the GTA Guide was brought down by an avalanche 2 winters ago and crossing involves an interesting scramble across the rocks and stream, the latter probably being tricky early in the season. A mountain ranger advised that the bridge's rebuilding is uncertain.

Many thanks also to Martin & Sue Banfield - as well as the above readers naturally - for taking the time to let me know of changes. (Apologies if I've forgotten anyone!)

July 2008

Limone
p53+199 tel no for Limone Tourist Office changed to 0171 925280

San Giacomo
p62 The Foresteria at San Giacomo is now operating with evening meals provided by the restaurant though the camping ground remains valid as well

Piano di Valasco
p71 On Piano di Valasco the casa di caccia hunting pavilion has been transformed into Rifugio Valasco open 15/6-15/9 rooms with private bath + dorms tel C/O Rif. Questa 0171 97338

October 2007

p57 Palanfré: Albergo del Parco tel. mobile 334 3052503

p62 San Giacomo: while the Foresteria is closed, walkers get a warm welcome from Luca at the camping ground tel. mobile 349 7305438. A large tent and home cooking is provided. Baita Monte Gelas doesn't do dinners for the time being.
A summer shuttle bus goes to Entracque.

p66 exit route to Lago della Rovina - a summer shuttle bus provides a link with Entracque.

p72 Rif Questa now has an inside toilet!

p76 from Rif Malinvern the path begins a short way down the track from the hut.

p84 Sambuco: the Posta Tappa is no longer at hotel/restaurant Osteria della Pace but now C/O Racletterie La Meridiana (via Umberto 35) tel. 0171 96650, sleeps 15.

p84 Pontebernardo has an interesting museum of pastoral life in a building next to the church.

Reviews

The route is magnificent and should be high up on the list of things to do for the serious trekker. The practical text is intermingled with intriguing info (tinted), that is a dream to use and enjoy. Very good value.

The Aitchison-Jones Walker's Handbook 2007

The location cannot fail to impress. A mere 50 kilometres inland from the beaches of the Mediterranean coast where the air is heavy with the scent of sun cream, the light grey barrier of the Maritime Alps soars thousands of metres above sea level, their airy peaks festooned with wisps of mist. At the feet of the mountains lie sparkling alpine lakes amidst meadows of wildflowers. And the breathtaking valleys are home to hundreds of wild animals.

Italy Magazine, August 2009


Where to Buy

Downloads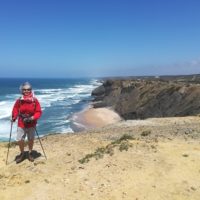 Gillian Price
Gillian Price has trekked throughout Asia and the Himalayas, but now lives in Venice and is exploring the mountains and flatter bits of Italy. Starting in the Italian Dolomites, Gillian has written outstanding Cicerone guides to walking all over Italy as well as Corsica and Corfu. An adamant promoter of public transport to minimise environmental impact, Gillian belongs to Mountain Wilderness and is an active member of the Venice branch of CAI, the Italian Alpine Club.
View author profile