Towards Everest: The Sunrises and Sunsets of Solukhumbu
The Solukhumbu of the Nepalese Himalaya is one of captivating beauty for the trekker. Experienced guide and guidebook author Radek Kucharski takes us through some of his favourite places and viewpoints along the trek to Everest.
The Everest trek offers a different experience compared to the treks you can do in Ladakh – which I'll admit, is my favourite Himalayan region. Sure, Solukhumbu is not the place for a wild adventure or a village trek where you would be one of few tourists and gain real insight into local life, staying with families and helping with the everyday field work, but it is certainly high on my list of favourite trekking destinations.
I feel good there. I love the new energy I gain crossing the tree line. I love the fresh thin air, the scenery and the vistas, the hospitable, always smiling Sherpas and all the hard working porters you meet on the way who are always ready to share greetings and smiles. Above that, I love the warm, golden rays of the sun lighting the world's highest mountain peaks in the evenings and mornings.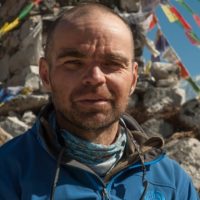 Radek Kucharski
Radek Kucharski was born in Poland. After graduating in Geography he worked for a small GIS company for over 12 years, which he would periodically leave every few years for months-long trekking trips to Asia. He trekked in Nepal, Iran, Pakistan and India, getting to know the landscapes, the people, their cultures and himself. After his first visit in 2004, Ladakh instantly became his favourite destination, and he made a promise to himself to return with the task of collecting data for a guidebook. A few years later he began this work.
Since that first visit to the Ladakh Range he has also changed profession. Now working as a tourist guide, which he has been doing since 2010, Radek lives in Warsaw and guides groups to India, Nepal and Scandinavia for one of Poland's leading adventure travel agencies.
View Articles and Books by Radek Kucharski