Trail and Fell Running in the Yorkshire Dales
40 runs in the National Park, including the Three Peaks
Guidebook to 40 of the best trail and fell runs in the Yorkshire Dales National Park. Ranging from 5 to 24 miles, the graded runs start from bases such as Ribblehead, Dent, Sedbergh, Malham and Grassington and take in the region's diverse delights, from castles and waterfalls to iconic mountains such as Whernside, Ingleborough and Pen Y Ghent.
Seasons
All routes included are runnable throughout the year. Some of the routes are best done in the spring when they come alive with the sounds of red grouse, curlews and lapwings.
Centres
The main bases for the routes include: Grassington, Hawes, Settle, Sedbergh, Ingleton and Dent.
Difficulty
The routes are graded into five levels, ranging from well signposted tracks with straightforward navigation, to more difficult routes covering harder terrain, steeper gradients and requiring greater navigational ability. There are sections covering equipment and mountain safety that are applicable to all the routes.
Must See
The Yorkshire Dales offers fantastic running. Encompassing the classic 'Three Peaks' of Pen Y Ghent, Ingleborough and Whernside, the beautiful Wharfedale and Swaledale. Runs include the magnificent limestone scenery of Malham Cove and Gordale Scar, carved by the last ice age. Many of the runs follow ancient drove tracks, Roman roads and pass through a landscape rich in history.
Overview

Table of Contents

Updates

Reviews

Downloads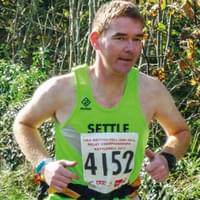 Pete Ellwood
Pete Ellwood is an experienced fell runner, running and racing in the hills for over thirty years. He has lived in the North all his life and, from his teenage years, has attempted to spend every possible waking hour on the hills and mountains. Pete holds a long service award for volunteering as a member of a Mountain Rescue Team and 'compleated' the Munroes in 2003. He regularly competes in fell races and mountain marathons in the North of England and Scotland, winning a class of the Saunders Mountain Marathon in 2013.

Pete lives on the edge of the Yorkshire Dales with his wife, two boys and a daily view of Ingleborough to keep him company.
View author profile