Coronavirus status – our office is currently closed and staff are furloughed. You can still buy books and ebooks, but any essential messages should be to info@cicerone.co.uk. Please do not phone. Thank you!
Trekking in Southern Norway
The 10 best multi-day trekking routes
Pre-order
- Publishing 15 June 2020
This book is available to pre-order. Payment will be taken upfront and your book will be despatched from our warehouse as soon as it becomes available around the 15 June 2020.
Notify me
Enter your email address to be notified when this title becomes available.
Guidebook describing 10 short treks in southern Norway, plus a handful of variants. The hut-to-hut routes, of 3 to 8 days, cover Jotunheimen, Rondane, Dovrefjell, Trollheimen and Ryfylke, and an ascent of Galdhopiggen, Norway's highest peak at 2469m, is included. Suitable for competent hikers with experience of navigation and mountain weather.
Seasons
The hiking season in mid-Norway runs from mid-July to the end of September (from early July in the Lysefjord area). Snow cover is likely outside of this season.
Centres
Stavanger, Otta, Hjerkinn, Kongsvoll and Oppdal are the key bases
Difficulty
The treks require a good level of fitness, some experience of mountain hiking, the occasional head for heights and good waterproof hiking gear. All stages are graded according to the Norwegian Trekking Association's grading system, with most falling into the challenging and very challenging categories.
Must See
Norway's highest peaks, Galdhøpiggen and Glittertinden, in Jotunheimen's wild glacial landscapes; the harsh beauty of Snøhetta and Dovrefjell; Rondane's rugged moonscapes; the shimmering Lysefjord; world-famous 'vertigo hikes' including the Besseggen ridge and Kjeragbolten; the 4444-step staircase at Flørli; Trollheimen's lush valleys and unforgiving peaks; the unrivalled hospitality of Norway's mountain huts
Availability
Not Yet Published
Overview

Table of Contents

Updates

Reviews

Downloads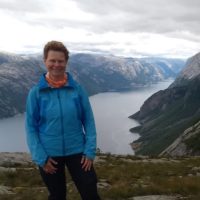 Ute Koninx
Ute Koninx is a practised world traveller and outdoor enthusiast, and has lived in seven countries on four continents. She developed a love for the Norwegian outdoors whilst living in the country between 2009 and 2015, and has since returned every year for her work as a tour guide as well as further explorations and research.
View author profile