Trekking the Camino Aragon
Last year we found a brochure offering a pilgrimage on the 200km Aragon Route, a side arm of the Camino de Santiago or Way of St James in Spain. Most pilgrims take the Camino Frances from St Jean Pied de Port to Santiago de Compostela. The Camino Aragon runs further east beyond Pau, over the Somport Pass along the River Aragon to Jaca, where the river turns west. The Camino Frances is joined at Puenta la Reine. We saw ourselves as walkers rather than pilgrims. The scenery was truly magnificent, the villages ancient and inspiring and we had real luck with mostly dry, clear weather.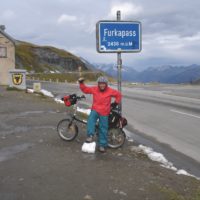 Judith Forsyth
Judith Forsyth (née Instone) was born in Worsley, Manchester in 1942. After university she taught geography for over 20 years at Manchester High School for Girls. Judith took an active part in the life of the school organising field trips and expeditions, and enjoyed a sabbatical six month long stay in India. She left to marry and moved to Germany. Once there, she lectured at an American university and was a freelance editor for a scientific publisher. A keen hillwalker and cyclist she enjoys the German way of life especially touring by bike and on foot through the country and its neighbours.
View Articles by Judith Forsyth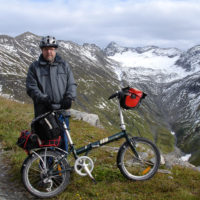 Neil Forsyth
Judith and Neil Forsyth are both Lancastrians, born in the early 1940s and learned to cycle at an early age. Their bicycles were much used, until they stopped cycling in their 20s.

Judith worked as a teacher for 20 years before moving to Germany to marry Neil. He left Britain some years earlier to work for a German engineering company. He was reintroduced to cycling by colleagues at weekends. Once in Germany she too, learned the delights of continental cycling. Together they explored much of southern Germany, eastern France and Switzerland by bicycle. They gained a reputation for British eccentricity with their neighbours by Alpine cycling on Brompton folding bikes. They are both very fond of Switzerland, especially its superbly laid out and signposted cycle routes.
View Articles by Neil Forsyth