Walking in Corsica
Long-distance and short walks
This guidebook gives details of 3 long-distance walking routes in Corsica - Mare e Monti, Mare-Mare Nord and Mare-Mare Sud - which cross the island, and also describes 18 day-walks in prime spots both in the rugged mountains of the interior and the softer southern coastal fringe. Good local information.
Seasons
Any time of year for the coastal routes, but avoid July and August - too hot and very busy! March to May is best for flowers; May to September best for the mountains.
Centres
Calvi, Cargese, Calenzana, Moriani, Corte, Porto-Vecchio, Propriano, Ajaccio and Bonifacio.
Difficulty
Mainly fairly easy to moderate walking, with two shorter walks of a more challenging nature.
Must See
Views of the Aiguilles de Bavella, ancient bridges and villages, mountain and coastal scenery to take your breath away.
Overview

Table of Contents

Maps

Updates

Reviews

Downloads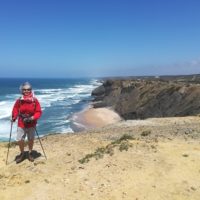 Gillian Price
Gillian Price has trekked throughout Asia and the Himalayas, but now lives in Venice and is exploring the mountains and flatter bits of Italy. Starting in the Italian Dolomites, Gillian has written outstanding Cicerone guides to walking all over Italy as well as Corsica and Corfu. An adamant promoter of public transport to minimise environmental impact, Gillian belongs to Mountain Wilderness and is an active member of the Venice branch of CAI, the Italian Alpine Club.
View author profile