Walking in the Dordogne
35 walking routes in the Dordogne - Sarlat, Bergerac, Lalinde and Souillac
This guidebook describes 35 walking routes in France's beautiful Dordogne region, based around Sarlat and Souillac regions (Perigord Noir) and Bergerac (Perigord Poupre). The walks range from short walks to mountain circuits, and explore the spectacular gorges, chateaux and medieval villages of the region.
Seasons
Any time of the year, but either May and June (also good for flowers), or September and October (for the grape harvest) are best. High summer is very hot and crowded.
Centres
Bergerac and Lalinde in Perigord Poupre; Sarlat in Perigord Noir; and Souillac in the Lot.
Difficulty
35 straightforward half and full-day walks for all abilities, on well-marked paths or roads. Graded easy or medium, with no steep ascents or descents.
Must See
The Dordogne river with dramatic horseshoe meanders and quiet stretches for boat trips on traditional gabarres; the cliffs of the Vézère with caves and overhangs where early man made his home; the arid causses and subterranean gauffres in the south; medieval castles and towns, Renaissance-style chateaus, Romanesque churches.
Overview

Table of Contents

Updates

Reviews

Downloads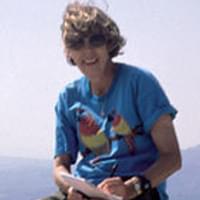 Janette Norton
Janette Norton lived in France, near Geneva, for over 30 years with her physicist husband, Alan, raising four children and working in the marketing field. Her love of mountain walking dated from the time she was a guide in her twenties, and the proximity of the Alps and Jura to her home inspired her to continue her passion. After her children grew up, she branched out to explore other areas of France.
View author profile
Alan Norton
Alan Norton studied Physics at Edinburgh and Oxford Universities before moving to Geneva to work at CERN on Particle Physics research. Since retirement, he has continued to participate in CERN experiments as a professor at the Italian University of Ferrara. As leisure activities, he has completed many mountain running events at the rear of the field, and helped Janette with walking and map preparation for her guides.
View author profile
Pamela Harris
Pamela Harris graduated from Reading University and then moved to Switzerland, where she taught English and Classical studies at international schools in the Geneva area. A long-time member of both the Alpine Club and the Swiss Alpine Club, she has walked and climbed extensively in the mountains of Europe and the Himalayas, and organises walking holidays in both areas for these clubs.
View author profile