Walking in Torridon
Easy, long and high-level walks including the ascent of 9 Munros
This guidebook contains 52 day walks in Torridon, a remote and much-loved area of the Scottish Highlands. Based around Shieldaig and Slioch, the routes are split into 3 sections: easy walks, long and high level walks and mountain ascents over 2000ft including 9 Munros, and 5 outline suggestions for major ridge walks.
Seasons
It is possible to walk in the mountains of Torridon year-round; winter on the west coast is often fairly mild, although equipment is needed for snow and ice; high summer is full of midges
Centres
Shieldaig, Slioch and Torridon
Difficulty
walks of all grades; most avoid anything particularly difficult or technical
Must See
Munros, sea lochs and wilderness!
Overview

Table of Contents

Maps

Updates

Reviews

Downloads
Chris Lowe
Chris Lowe – naturalist, photographer, author of Torridon, the Nature of the Place – was born in Oxford in 1947. After 22 years in aviation he concentrated on his nature reserve in Northamptonshire, and his writing. His second book, The Crofters' Sea, was nearly complete at the time of his death in 2008.
View author profile
Peter Barton
Peter Barton was born in London in 1921 and served in the army throughout the war. He attended a London art school, subsequently studied medicine and dentistry, and became an oral and maxillo-facial surgeon in Oxford. In 1983 he resigned his surgical appointment in order to live and paint full-time in the Torridon region and explore its mountains.
View author profile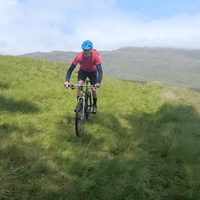 Jim Sutherland
Jim Sutherland has been guiding in the Scottish Highlands for a great many years, and has a love of the hills that can only be born out of a lifetime of learning and getting to know them intimately.
View author profile