Walking the Via Francigena Pilgrim Route - Part 2
Lausanne and the Great St Bernard Pass to Lucca
Guidebook to the Via Francigena pilgrim route from Lausanne to Lucca. Starting at Lake Geneva (Lac Léman), the 725km route crosses the Alps at historic Great Saint Bernard Pass, descends the Po Valley, then climbs to cross the Cisa Pass into Tuscany. Described in 32 stages, with information on facilities and pilgrim hostels.
Seasons
Suitable for walking in spring, summer and autumn. The Great Saint Bernard Pass is fully open to hikers only in August and September.
Centres
Lausanne, Martigny, Great Saint Bernard Pass, Aosta, Ivrea, Vercelli, Pavia, Piacenza, Pontremoli, Pietrasanta, Lucca.
Difficulty
Each stage is graded for difficulty (1-4). A few mountainous stages include steep and slippery slopes. No special gear is required to walk the Via Francigena in season, but off-season crossings of the Great Saint Bernard Pass require winter mountain gear and careful attention to changing mountain conditions.
Must See
Dazzling Lake Geneva, the 1500-year-old Abbey of Saint-Maurice, the spectacular 2469m Great Saint Bernard Pass across the Alps, the emerald peaks of Italy's Aosta Valley, well-preserved medieval cities of Vercelli, Pavia and Piacenza, spectacular views from the Monte Valoria at the Cisa Pass, resorts of the Lunigiana coastline and the charming walled city of Lucca.
Overview

Table of Contents

Updates

Reviews

Downloads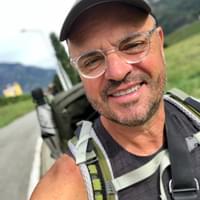 Sandy Brown (Rev)
Sanford 'Sandy' Brown is an author, community activist, long-distance walker, and ordained minister from Seattle, Washington. In 2020, Sandy joined Cicerone Press as Associate Publisher for Caminos and Pilgrimages.

After reading 'The Pilgrimage', by Paolo Coelho in 1992, he planned his 2008 trek on the Camino de Santiago and since then has walked over 9000 kilometres on pilgrim trails in Europe. He records his pilgrim adventures in his popular blog, www.caminoist.org.
View author profile