Walks and Treks in the Maritime Alps
The Mercantour and Alpi Marittime Parks
This guidebook describes 18 day walks and 6 long distance routes. The treks include a 5-day traverse of the French Mercantour National Park and a 7-day traverse of the Alpi Maritime Park, and the walks range from 6 to 20km in length. The routes are suitable for novices and experienced trekkers alike.
Seasons
mid-June to late September is guaranteed for snow-free paths and open huts; July and August spell wildflowers galore; October means crystal-clear visibility and having the whole place to yourself.
Centres
France: Tende, Castérino, St-Martin-Vésubie, Le Boréon Italy: Terme di Valdieri, Entracque, Vernante
Difficulty
from easy strolls along mountain streams on broad tracks, through to multi-day treks across arduous passes with elementary rock passages.
Must See
wildlife (magnficent ibex, chamois and marmots) and wildflowers; high-altitude lakes (Fremamorta, Lac Nègre); Argentera, Gelas and Clapier all over 3000m; prehistoric rock engravings are visitable from Castérino; old-style spa resort Terme di Valdieri with paved tracks dating back to the 19th-century royal game reserve; Col de Tende and Col de Fenestre.
Overview

Table of Contents

Updates

Reviews

Downloads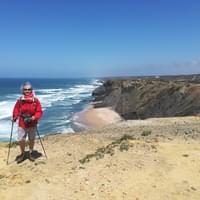 Gillian Price
Gillian Price has trekked throughout Asia and the Himalayas, but now lives in Venice and is exploring the mountains and flatter bits of Italy. Starting in the Italian Dolomites, Gillian has written outstanding Cicerone guides to walking all over Italy as well as Corsica and Corfu. An adamant promoter of public transport to minimise environmental impact, Gillian belongs to Mountain Wilderness and is an active member of the Venice branch of CAI, the Italian Alpine Club.
View author profile