The GR5 attracts all types of walkers, and providing they pitch in at a pace that suits them, they manage it fine. Author of our GR5 guide Paddy Dillon describes some of the typical characters you might meet along the route...
The Flying Dutchman (or Belgian) will scoff at your short walk over the Alps, and tell you that you are doing it all wrong, as you should have started in Holland.

The Super-Fit Walker will be trekking solo across the Alps in three weeks or less, and won't have a bead of sweat on them, nor will they be out of breath.
The Wild Camper objects to spending money, and camps in areas where it's forbidden, thinking that anyone spending a night indoors is a softy.
The Retired Couple will be taking twice as long as everyone else, having promised themselves this trip for decades, and intend enjoying every minute.
The 'Last of the Summer Wine' English party are also retired, but generally have previous Alpine experience, even if they haven't mastered French yet.
The Family Group, with mum, dad, the children and maybe the odd aunt or uncle, will be tackling the GR5 over a period of years. The children are beginning to wonder if a beach holiday would be better, but mum and dad say they can have that when they get to the Mediterranean.
So, you'll be in good company on this trek, and with our fully updated new edition of The GR5 Trail you'll have a reliable guide too.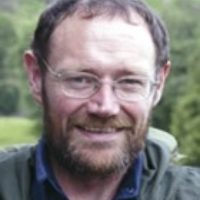 Paddy Dillon
Paddy Dillon is a prolific outdoor writer with over 90 guidebooks to his name, and contributions to 40 other publications. He has written for a variety of outdoor magazines, as well as many booklets and brochures for tourism organisations. Paddy lives near the Lake District and has walked in every county in England, Scotland, Ireland and Wales; writing about walks in every one of them. He enjoys simple day walks, challenging long-distance walks, and is a dedicated island-hopper. He has led guided walks and walked extensively in Europe, as well as in Nepal, Tibet, Korea, Africa and the Rocky Mountains of Canada and the United States. Paddy is also a member of the Outdoor Writers and Photographers Guild and President of the Backpackers Club.​
View Articles and Books by Paddy Dillon