Across the Eastern Alps: E5
The E5 from Lake Constance to Verona
From Lake Constance in Germany, this guidebook describes walking the E5 trek that runs 600km through a remarkable kaleidoscope of landscapes and culture in Switzerland, Austria and Italy, to its destination at Verona. It traverses the Allgauer, Lechtaler and Ötztaler Alps. There is a good network of alpine refuges and guesthouses on the route.
Seasons
Summer to avoid snow on high passes. Accommodation open late June through to late September.
Centres
Lake Constance, Bozen, Verona, Oberstdorf, Sölden, Moos, Levico Terme, Carbonare
Difficulty
600km route over 30 days. High-altitude alpine walking and simpler hill-walking. 21,000m height gain and 23,000m height loss.
Must See
Spectacular geological sites and First World War remains; varied traditional mountain cultures; stunning alpine and glacial scenery
Overview

Contents

Maps

Updates

Reviews

Where to Buy

Downloads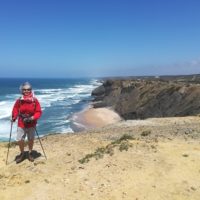 Gillian Price
Gillian Price has trekked throughout Asia and the Himalayas, but now lives in Venice and is exploring the mountains and flatter bits of Italy. Starting in the Italian Dolomites, Gillian has written outstanding Cicerone guides to walking all over Italy as well as Corsica and Corfu. An adamant promoter of public transport to minimise environmental impact, Gillian belongs to Mountain Wilderness and is an active member of the Venice branch of CAI, the Italian Alpine Club.
View author profile