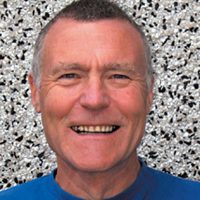 John Cantrell
Shortly after he was born in 1946, John Cantrell started to enjoy the outdoors. His progress through Sale Grammar School went surprisingly well considering all his spare time was spent roaming the hills of Snowdonia, absorbing its history almost unconsciously.

In his later life, John continued to explore the Welsh mountains as well as skiing, walking and climbing in mountains around Europe.
It was during a visit to Wales that he had the idea for his first book. Sarn Helen is about the wonderful walks and fascinating history of the Roman Roads of Wales.
Believing age is only in the mind (and a few joints) John is also a keen cyclist and the Lleyn Peninsula Coastal Path brings together his love of walking in this area with some of his favourite cycling routes.
John is now retired and lives in Snowdonia.