We have resumed delivery for International orders but there may be delays due to Coronavirus. Thank you for your patience.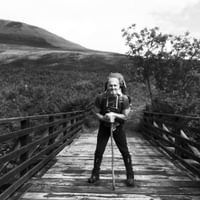 Mark Carr
---
Mark Carr is primarily a multimedia artist who uses the disciplines of print, paint, video, sound, and light. He has been creating alternative art and music for over 30 years, exhibiting in Australia, Japan, USA, Europe and across the UK. To support his practice he has worked in many capacities from light industry through to education. He continues to teach part-time at primary level, and lives in Co. Durham.
His love for the outdoors began as a teenager in the 1970's through the influence of dedicated teachers at Heworth Grange Comprehensive School, who organised walking and adventure trips during the school holidays. Since then, he has travelled widely in Europe, North America, Australasia and India; working two seasons as a white water rafting guide in Australia during the 1990's. However, his true heart always lies in the mountains of the Scotland, and it was this that led him in 2011-12 to create the 'East Highland Trail', which enabled walkers to circumnavigate the highlands of Scotland via the West Highland Way and the Caledonian Way.
Website: https://armchairanarchist.wixsite.com/mark-carr
East Highland Trail Website: https://mcarr910.wixsite.com/east-highland-trail