We have resumed delivery for International orders but there may be delays due to Coronavirus. Thank you for your patience.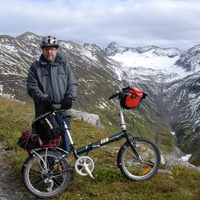 Neil Forsyth
---
Judith and Neil Forsyth are both Lancastrians and learned to cycle at an early age. Their trusty bicycles were much used, until they stopped cycling in their 20s.

Judith worked as a teacher in Manchester for 20 years before moving to Germany to marry Neil. He had left Britain some years earlier to work for a German engineering company. He was reintroduced to cycling by a group of colleagues who had formed a weekend touring club. When he wrote to Judith that he was planning a cycling weekend, she was perplexed... in 1980's Britain cycling for pleasure was difficult to imagine. Once in Germany she too, learned the delights of continental cycling. Together they explored much of southern Germany, eastern France and Switzerland by bicycle. They gained a reputation for British eccentricity with their neighbours when they cycled over the Alps from Heidelberg to Brissago on Lago Maggiore. This was further reinforced by Alpine cycling on Brompton folding bikes. They are both very fond of Switzerland, especially its superbly laid out and signposted cycle routes. Chance late-career moves into technical editing gave them enough courage to try to write a guide book. They published six guides about Germany and Switzerland under the Bergstrasse Bike Books imprint.