Coronavirus status – you can buy books and ebooks to plan, enjoy and dream. Please use the 'contact us' form for any essential messages. Thank you!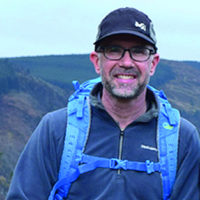 Simon Whitmarsh
---
Simon Whitmarsh is a keen walker, covering over 2000km a year. He has walked extensively in Britain, doing (at least part) of all the major trails, has hiked across England twice, and has walked in most countries in Europe. More recently his addiction to mountains has increased, with treks in the US (including many parts of the Appalachian trail), Australia, New Zealand, Hong Kong, and Nepal (Everest Base Camp).

When not travelling, Simon enjoys finding new routes with Andrew Mok near their village in Snowdonia.