BookSource is closed for stocktake and orders will not be processed until the 24th.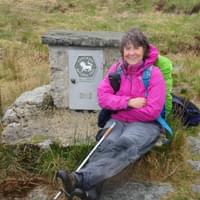 Sue Viccars
---
After gaining a degree in Geography and Archaeology at Exeter University Sue Viccars worked for a London map publisher before grabbing the chance to return to Devon, where she spent 20 years commissioning walking, equestrian and countryside books for David & Charles Publishers. She received her first walking book commission three weeks after going freelance in 2000 and since then has written or contributed to around 20 books (and edited dozens more), specialising in her home territory of southwest England, with particular reference to Dartmoor and Exmoor. She writes the walks for Exmoor: the country magazine, and has been editor of Dartmoor Magazine since 2008.
Further afield she has walked across Corsica; in Madeira, the Canaries and the Balearics; scrambled in Snowdonia and Torridon; scaled the heights of Skye's Cuillin and Morocco's Atlas Mountains. She has also trekked to Everest Base Camp and in the Kanchenjunga region of Nepal, and most recently explored the fascinating high-plateau landscapes of Upper Mustang. Her first love, however, will always be the rolling green hills and atmospheric moorland of Devon, where she has lived for 35 years.