Coronavirus status – you can buy books and ebooks to plan, enjoy and dream. Please use the 'contact us' form for any essential messages. Thank you!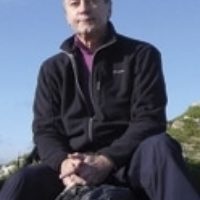 Terry Sleaford
---
Bred, born and still living in Nottingham, Terry was twenty three years old before he climbed his first proper rock routes at Lawrencefield Quarry in the Peak District and his climbing career soon peaked at leading v.diffs! After a few years of being dragged up harder routes, he decided that the life of a 'crag rat' was not for him.
A weekend away in Snowdonia in the late 70's opened his eyes to other possibilities and he began to restrict his climbing activity to trips to Wales, the Lakes and the highlands and islands of Scotland, gradually extending his skills to include winter snow and ice climbing. As he got older, the combination of a walk into the mountains, followed by a few hundred feet of steady scrambling to reach the summit, became his idea of a good day out. Adding some wild camping to the mix, to allow for a longer stay in the mountain environment, eventually became his preferred way of spending time in the outdoors. Fortunately his friend Tom, who he met through mutual friends about thirty years ago, developed a similar outlook and together they have shared some great mountain experiences throughout the UK.