Win a Hidden Snowdonia walking holiday
Sorry, this competition closed on 8 August 2019
Discover history and myth on easy walks in the mountains of North Wales. Enjoy a weekend of walking in the heart of Snowdonia, courtesy of Large Outdoors and guided by Alex Kendall, author of the Cicerone guidebook to Snowdonia: Low-level and easy walks.
The prize: One place on Large Outdoors' Hidden Snowdonia trip including accommodation in a Private Single room.
The dates: Friday 13th – Sunday 15th March 2020
The winner will also receive a copy of our new guidebook to Snowdonia: Low-level and easy walks - North.
In a nutshell:
Enjoy two days of easy guided walks exploring the hidden side to Snowdonia, with a friendly and knowledgeable guide.
Relax in the guesthouse and enjoy freshly prepared food, and hot drinks whenever you want.
Explore the beautiful mountains that make North Wales one of the most popular walking destinations in the UK.
Meet a friendly group of fellow walkers who are all here with the same objectives, to have a social weekend and enjoy the outdoors.
Keep a copy of the guidebook for future adventures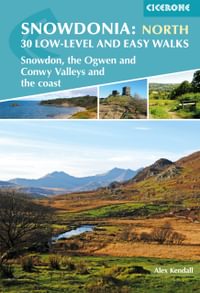 More details
Join Large Outdoors on a low-level social weekend in the heart of Snowdonia worth £185. The weekend is fully hosted and guided, and you'll be staying in a great guesthouse in the shadow of Snowdon. All the walks are easy, as we'll be focusing on exploring rather than heading to the peaks.
Snowdonia in North Wales is a land full of history and myth, as well as being one of the most stunning walking locations in the UK. On this sociable weekend you'll be taken out on easy walks to discover the hidden side to Snowdonia – to hear about the stories that shaped this land through King Arthur, Welsh Princes, sheep farming and the massive remains of the slate industry.
During this weekend, we take inspiration from a new guidebook to low level walks in the area and this trip will be led by the guidebook author Alex, who is also a regular walking guide.
Itinerary
Friday
You're welcome to arrive at the guesthouse at any time after 5pm, where your host will be there to meet you and introduce you to your fellow walking companions. From then on the evening is yours to relax with a cup of tea or a glass of wine in the lounge!
Saturday
Today it's all about a gentle walks and exploring some off the beaten track parts of Snowdonia. Some options of where we can visit include:
Cwm Idwal – One of the most striking glacial bowls in North Wales, Cwm Idwal is not far from the mighty peak of Tryfan, and is a nature reserve hosting a plethora of wild flowers (and feral goats!). We'll see how the geology inspired Charles Darwin, and gaze up at the impressive Devil's Kitchen.
Dinorwig Quarry – The great slate spoil tips that cascade down above Llanberis reveal what used to be one of the largest slate quarries in the world, and the powerhouse behind North Wales' industrial revolution. There is an accessible series of paths that lead up through the quarries so we can have a look around, and see what the inside of a mountain looked like!
Ancient Settlements in the Carneddau – There are something over 1000 ancient sites in Snowdonia, and the Carneddau, the range of hills overlooking the North coast, are a great place to explore them. We can find 4000 year old settlements and burial cairns, and wonder what life must have been like here when the trees reached right up to the mountain summits.
Cwm Llan – Snowdon's southern valley, Cwm Llan has a huge amount of history attached to it, from being one of the supposed last battles of King Arthur, to the place Gladstone opened the Watkin Path. There are also slate mines, a modern hydroelectric scheme, and the best views of Snowdon's South ridge.
Saturday afternoon onwards
When the walk is over we'll head back to the hostel, perhaps past a castle or one of the many excellent cafés. This evening we'll be heading out to dinner in the local town, please note this is not included.
Sunday
After breakfast it's time to pack up and leave the guest house and head out on our morning walk. We'll be out for a few hours, finishing at around lunch time. Our walk will depend on what we've decided to do on Saturday, and what the group finds interesting. We could be wandering past Iron Age forts, medieval castles, or modern forests!
After the walk we'll all head to somewhere for lunch before heading off. We hope the weekend will have given you a new insight into the history and culture of North Wales and the mountains, and show you that our great National Parks are for more than just summiting mountains.
About the Area
Snowdonia National Park
The first National Park in Wales, Snowdonia includes Wales' highest mountain, Snowdon, and a vast array of other peaks. Beyond the mountains, there are valleys, sandy estuaries, glacial lakes, forests and miles of walking trails. Bounded by the Rivers Conwy and Dovey in the East and South, the view to the North and West stretches over the sea, where on a clear day you can see the Llyn Peninsula, Cardigan Bay and even Ireland. Nestled among the mountains, you'll find the history of the area, in sheep farming, forestry and slate mining, and settlements dating back thousands of years.
Competition rules
We regret that we cannot accept entries from anyone below 18 years of age. By entering this competition you confirm that you are at least 18 years old.
All entries must be received by midnight on 31 July 2019.
By entering, you give your permission for Cicerone to publish your name if you are a prize winner.
One entry per person - duplicate entries will not be counted and you may be disqualified.
There are no cash alternatives available for the prizes listed.
Entry to the competition must be made on the Cicerone website.
Employees of Cicerone and of contributing prize sponsors are excluded from the competition.
The prizes are non transferable, non refundable and subject to availability. No purchase necessary.
Winners will be notified after the competition closes. All decisions are final.