We have resumed delivery for International orders but there may be delays due to Coronavirus. Thank you for your patience.
Thank You
---
Thank you for subscribing to the Cicerone Newsletter. We send an email every couple of weeks and you may unsubscribe at any time. We never send emails on behalf of third parties.
You can catch up on our latest newsletter below.
Our Latest Newsletter
January News: New guidebooks | Podcast | Live Events | Shipping news
Hello everyone,
We hope you are keeping safe and well as well as making the most of whatever outdoor space you can. We've decided that the uninspiring weather and travel restrictions make this the perfect time to start planning, albeit cautiously, for the summer. A little vicarious adventure through Extra, our Live Events and our Podcast is also helping to keep our spirits up.
Our next live event will be on Hiking and Trekking in Norway and Sweden with Ute Koninx and Mike Laing, so put 7.00pm on 2nd February in your diary now.
A less exciting piece of news is about issues with our EU Shipping - please see the note below from Jonathan. Unfortunately our January books have also been impacted by shipping delays. They are available to pre-order now and we will send them as soon as they arrive - hopefully very soon indeed.

Have a great week,
Hannah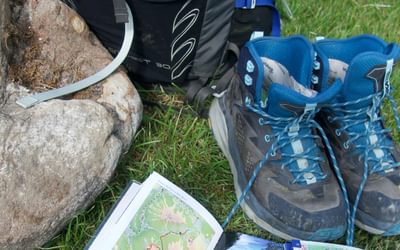 Focus · 8 Jan 2021
It's a good time for planning
Lockdown is serious, but with Cicerone there are guidebooks, articles, videos, podcasts and live events to keep goals and plans alive, as we help you discover new ideas, and bring new content to your attention. When all this is over, your 'tick...
New guidebooks
New on the podcast
Next Live Event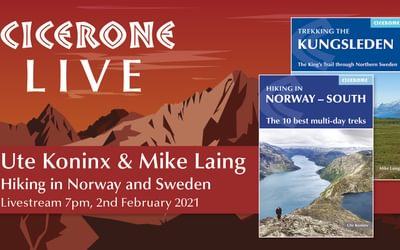 Live · 2 Feb 2021 7:00pm
Ute Koninx and Mike Laing on hiking in Norway and Sweden
In our February Cicerone Live event, join Cicerone and authors Ute Koninx and Mike Laing to discover the delights of hiking in Scandinavia.
An important note on EU Shipping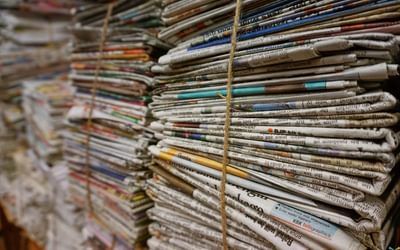 News · 20 Jan 2021
Website orders going to EU countries
It is probably not news that the UK has left the current trading arrangements with the EU from 1 January 2021. Things have changed a fair bit, especially around paperwork, customs clearances, VAT and international shipping. Unfortunately, these...
News · 16 Jul 2020
Can I go walking in Europe? Walking and trekking in summer and autumn 2021
Walking, trekking and other outdoor activity holidays in Europe, and Brexit and coronavirus-related restrictions. This page will help you find up-to-date information for walking,...
New titles and books now available to preorder
For Lake District fell walkers there are two 'new style' Fellranger guidebooks, Keswick and Buttermere now published, and the final two in this fantastic series of eight guides will be published in February. These will help you explore the fells around Coniston and Borrowdale, and are available to pre-order now.
We're really excited about the following books which will be publishing soon. You can pre-order them now to get them as soon as they arrive.
Have you used one of our guidebooks recently?
Help your fellow adventurers by leaving a review of your guidebook on our website. We'd love to know what you think, and any constructive criticism will go towards improving future editions of the book.