Plastic covers on Cicerone guidebooks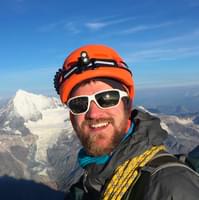 For 50 years, many Cicerone guidebooks have come in a PVC cover, designed to stop water damaging the paper and protect the guidebook from wear and tear. Cicerone's Business Development Director, Joe Williams, explains why, even though it's popular, we want to stop using PVC.
Which Cicerone guidebooks have PVC covers?

Cicerone has used PVC covers on many of our guidebooks over the last 50 years. Most guides to UK mountain regions, UK long-distance trails and international destinations were given PVC protection. Sometimes a technique called 'encapsulated PVC' was used, where the cover was fully encased in plastic. In more recent years, a detachable PVC sleeve has been used.

Day walking books to comparatively gentler areas tended not to get the PVC covers. This did lead to some apparent inconsistencies, which we fully accept and acknowledge. Depending on year of publication or reprinting, some day walking guidebooks currently in stock may have PVC covers while other guidebooks in the same series or to similar areas do not.

We also use PVC sleeves to hold two volumes that are sold together, such a map booklet to the Pennine Way with its parent guidebook. We are looking into solutions for this too.
What is PVC?

PVC, short for Polyvinyl Chloride, is the plastic material currently used for Cicerone's guidebook sleeves. The primary ingredient is crude oil. PVC is a very versatile plastic since its structure can accept a much wider range of additives than most plastics. This has allowed it to have countless applications from blood bags to window frames.

PVC is strong, resistant to oil and chemicals, sunlight, weathering and flame resistant. It's useful and effective at doing its job, but this comes at great cost.
What are the issues of using PVC?
PVC can take up to 1000 years to decompose. It does not degrade effectively; it simply granulates into very small pieces. These can be ingested by humans and other animals, before eventually becoming microplastics which can absorb additional toxins and continue to pollute the environment. Furthermore, PVC contains dangerous additives like lead. The manufacturing of PVC created dioxin, one of the deadliest man-made poisons.
Unfortunately, it is difficult and very costly to recycle PVC. In the UK, less than 1% of PVC produced is recycled.
What are the alternatives to PVC?
Sadly, in terms of a direct replacement, the answer looks to be 'none, yet'. Not economically, anyhow. There are a range of other plastics which are less harmful than PVC, such as Polypropylene, but this is still a plastic requiring recycling or extraction of crude oil.

Starch-based polymers (such as Acetate and Polylactic Acid) show potential as they are composed of organic materials. There are concerns that they may biodegrade too quickly, defeating the object of having a protective covering in the first place.
One of our preferred solutions is to print more books with front and back cover 'flaps' (where the cover is folded back on itself). We have found that flaps can protect the inner pages of guidebooks very well. We think that the good cover board and lamination does a relatively good job anyway, which is enhanced somewhat by the flaps. Flaps can also improve the usability of our guidebooks, especially for finding your place in the book.
We are working closely with our printing partners to ensure that we are at the forefront of technologies and solutions available to publishers.
Are guidebooks at risk without the PVC sleeves?
Whether made with an encapsulated PVC sleeve or without, guidebooks are made of paper which obviously gets wet and damaged in the rain. We've found that the PVC sleeves are good at protecting the cover from direct rain, but it makes little difference to protecting the main body of the book from water.
Where a PVC sleeve certainly does help is in protecting the edges of the book from becoming creased or rounded over time with typical outdoor use (going in and out of rucksack top pockets, into jacket pockets, etc).

Our plans for reducing PVC use and protecting our guidebooks
In 2019, Cicerone commissioned a project with a student attached to Lancaster University's Eco-Innovation program. The resulting report presented Cicerone with the stark realisation that our use of PVC must cease as soon as possible. We cannot continue to contribute to the creation and existence of this appalling plastic any longer than we must.
Most of our efforts concern improving paper-based options, such as publishing more books in the 'flaps' format. Our own durability research has left us quite happy with how flaps protect a guidebook, and we already use flaps on guidebooks including Snowdonia: 30 Low-level and easy walks - South and our updated Walking in the Lakeland Fells Fellranger series.

We are also looking at plastic-free methods to hold together our guidebook and map booklet sets for the UK national trails and other two volume guides such as the Skye's Cuillin Ridge Traverse and the Camino de Santiago: Camino Frances. This is currently in development.
We know that many of you love the protective sleeves, so we will be making PVC sleeves available on the Cicerone website, to be added to uncovered books if you wish.
We understand that it is hard to tell whether a book you buy online will have a PVC sleeve or not, and it can come across as inconsistent as to which books get a sleeve and which don't. We will endeavour to make this clearer for Cicerone website customers in the future.
Cicerone guidebooks are well-recognised for their PVC covers. We understand that this change may not be entirely welcome as well, as the sacrifice of durability is traded for sustainability. We do recognise that this move may take some time for everyone to get comfortable with.
While we have an office full of crisp, dry, sharp-cornered guidebooks here in Kendal, we love it when we look at our own used books or see those of our friends. The worn edges, coffee stains, scuff marks and folded page corners tell stories of our personal adventures in the beautiful places that we love. And it feels good to look across to the bookshelf and see that well-worn copy of Trekking the Tour of Mont Blanc and remember the journey and the people we shared it with.
Cicerone is fundamentally committed to reducing its negative environmental impact. We will continue to announce further sustainability measures being taken (and those already in action) to demonstrate our commitment to protecting the planet we all love to explore using our own two feet.
Are there any experts out there who know more? We would love to learn from you!
If you've got strong feelings about this issue, we would really welcome your comments on the contact form.
To read more articles like this get our newsletter
Sign up today for a 20% discount on your next purchase. Join over 30,000 enthusiasts from around the world. If you don't love our mix of new books, articles, offers and competitions, you can unsubscribe at any time. We will never spam you, sell your data or send emails from third parties.