The Birth of the Hebridean Way
The Hebridean Way, opened by Scottish Natural Heritage at the end of April 2017, is the fifth official long-distance route in Scotland stretching 247km (155 miles) along the length of the Outer Hebrides.
From Vatersay (Bhatarsaigh) in the south to Stornoway (Steornabhagh) in the north. Crossing 10 islands linked by six causeways and two ferries – if these numbers do not appear to add up it is because the so-called 'Isles' of Harris (Na Hearadh) and Lewis (Leòdhas) share the same landmass. What's more, Richard Barrett's Cicerone guidebook –The Hebridean Way – became available within days of the route being officially opened. How did he do that, you may ask? Well, fairly easily, as he was a permanent resident on the Outer Isles at the time the path was being developed so was able to walk parts the route as they were completed and waymarked.
What makes it so special?
The stunning landscape, varied geology, exceptional wildlife and numerous antiquities of the Outer Hebrides are truly awe-inspiring.
The route traverses a variety of different terrains, passing over rugged hills, along dazzling white shell beaches and across seemingly empty moorland. The Outer Hebrides retain a distinctive culture too, with Gaelic spoken as a first language in many communities.
Unlike many other long-distance paths there is considerable variety along the way. The terrain can change rapidly: in the morning you can be walking across a wild moor, then in the afternoon along a blindingly white beach beside turquoise seas. There are also cultural differences: the islands at the southern end of the chain are predominantly Catholic, and their communities are considerably more relaxed about religious observance on Sundays. Their leisure centres and supermarkets open on Sundays, in total contrast with the mainly Presbyterian islands of Harris and Lewis, where communities are far stricter in observing the Sabbath.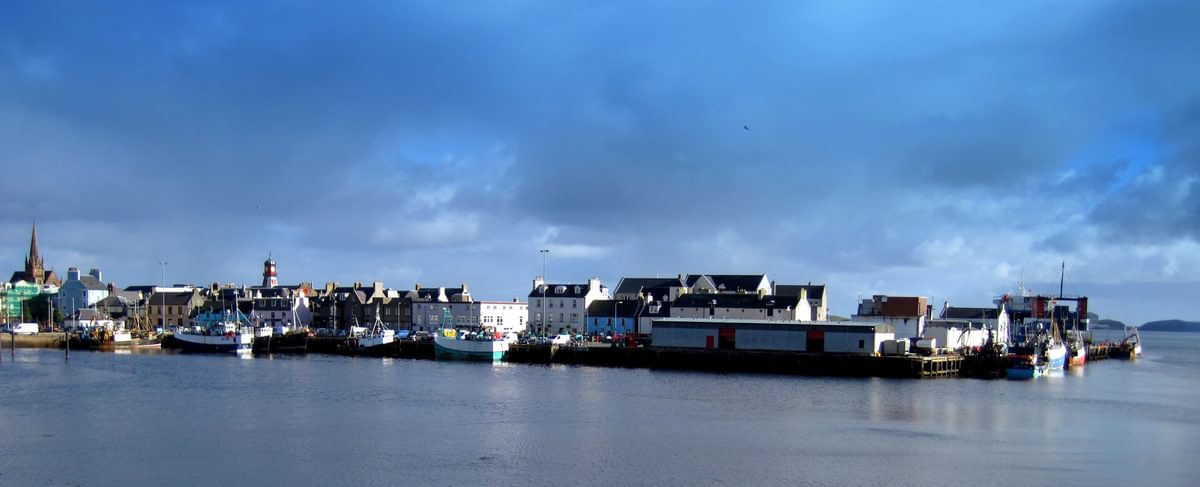 How it came into being
At the moment, the Hebridean Way is a work in progress. The route currently finishes at the newly restored Lews Castle in Stornoway. However, once further funding becomes available, there are plans to extend the route all the way up to the Butt of Lewis (Rubha Robhanais), with options running up both the west and east coasts of Lewis. Once constructed, these extensions will be incorporated into future editions of the Guide. For the moment, two additional stages are included between Stornoway and the Butt of Lewis, making best use of existing paths for those who want the full tip-to-toe experience.
A quick look at a map shows that the majority of settlements in the Outer Hebrides are on the coast, surrounded by a fertile patch of land for growing crops and grazing cattle but with safe access to the sea, which remained the main form of transportation until the early 20th century. By the time the first one-inch-to-the-mile Ordnance Survey maps of the area were published, in the second half of the 19th century, most of today's main roads were shown, many of them built as part of a relief programme during the potato famines of the late 1840s. Landlords paid for the construction of other roads, but it was not until the 1960s that many of the narrow paths linking the more remote villages were converted by local government into single-track roads, finishing with the construction of the road to Rhenigidale (Reinigeadal) in North Harris in 1989.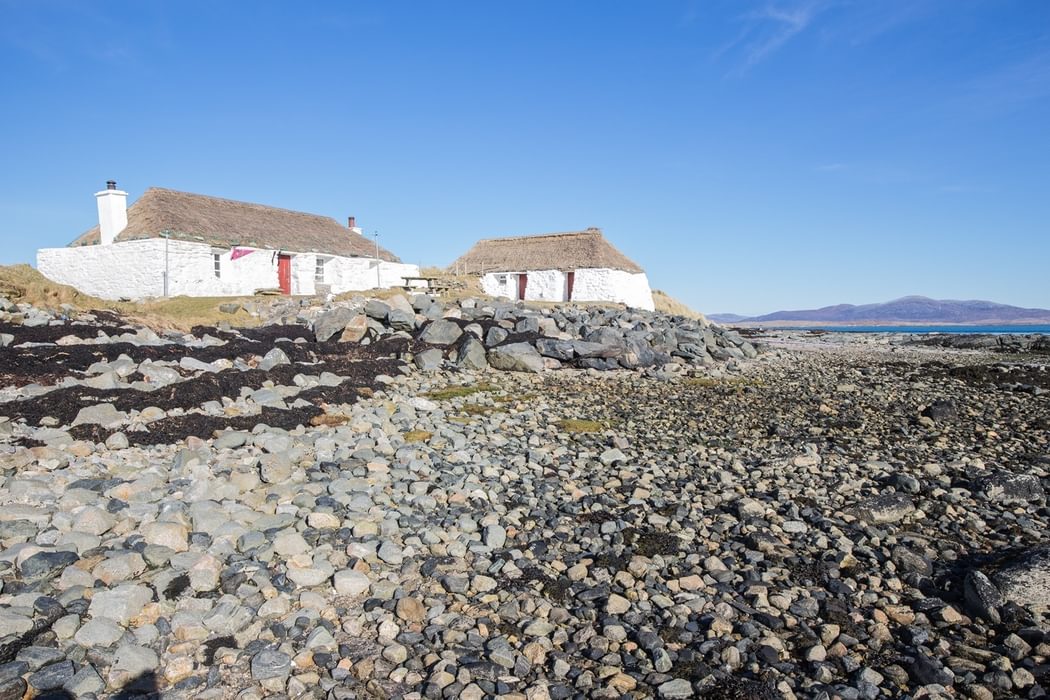 All this road building on the Isles has been both a blessing and a curse as today's walkers try to make their way through this sometimes difficult terrain. Where new roads have replaced old routes, such as along the west coast of South Uist and through Lochannan Lacasdail in North Harris, walkers now benefit from broad, well-drained paths through stunning countryside; but in many areas, such as the Bays in South Harris, roads were simply constructed on top of existing paths, so today walkers have to take to the tarmac.
This was exactly the problem that faced Peter Clarke, who, in the first years of the 21st century, set himself the challenge of walking 370km (230 miles) from the Butt of Lewis to Heillanish Point, the most southerly point of Vatersay, using existing paths and old tracks wherever possible. His book The Outer Hebrides: The Timeless Way describes the excitement of rediscovering some of these long-forgotten stretches of path, the interest of walking through islands rich in antiquarian sites and the joys of exploring an area of outstanding natural beauty. On the downside, he found that he had to walk half of his journey on roads.
Dr Clarke's unsuppressed enthusiasm for the route led to it being included in the Western Isles Council's outdoor access strategy, but it was not until 2012 that additional funding was received from the European Rural Development Fund and Scottish Natural Heritage. This enabled work to begin on identifying a route that would make the best use of existing paths, would cover a variety of terrain and antiquities, and could be achieved within budget. The resulting trail, which incorporates pre-existing paths, some of Dr Clarke's pioneering route and many miles of new paths, is rapidly becoming a must-do route for walkers from around the world. It stands as a tribute to those involved, from the politicians who seized the vision right through to those who shifted tonnes of rock and aggregate.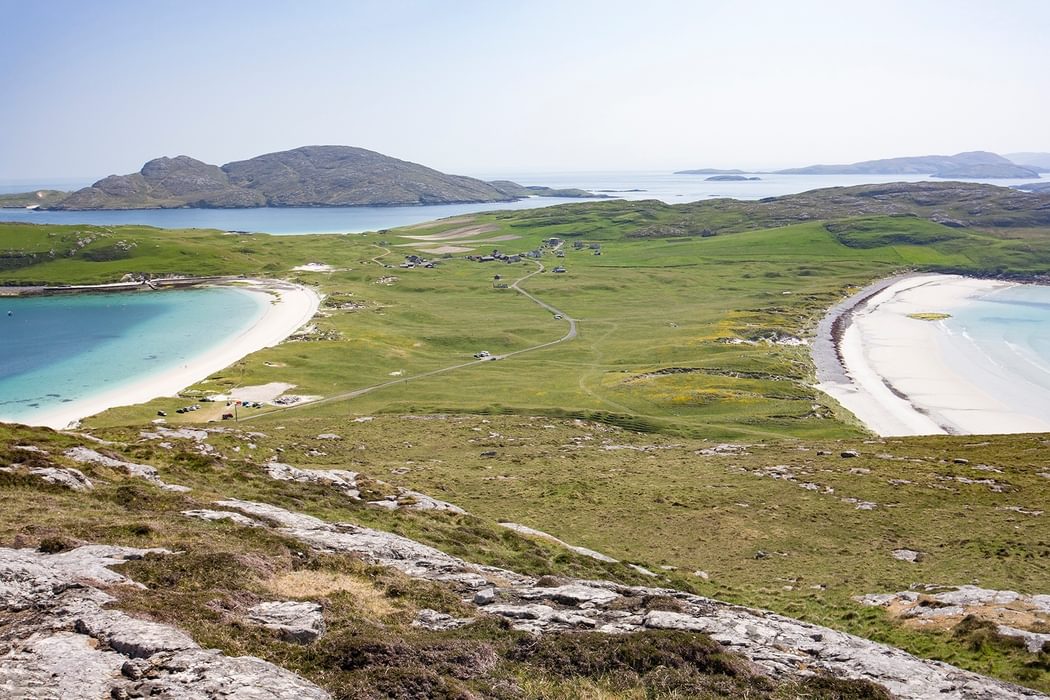 Building paths where paths don't want to go
There are more than 7500 freshwater lochs in the Outer Hebrides, with the Uists and Lewis in particular being pitted with a maze of irregularly shaped bodies of water. Loch Sgadabhagh, between Lochmaddy (Loch nam Madadh) and the central hills of North Uist (Uibhist a Tuath), has the most complex outline of any body of water in the UK. Although the maximum straight-line distance from shore to shore is only 2.3km, its extraordinary labyrinth of narrow channels, bays, promontories and islands makes for a perimeter of 54.6km. You will never be far from water anywhere along the route: even if you cannot see it around you, it will not be far below you, and this has presented some challenges in constructing new sections of path across deep peat.
Rock and aggregate sink into peat, so paths have been constructed using the traditional 'raised turf' method. This involves digging two parallel drainage channels a metre or so apart and layering the removed turves down the middle to create a path that is higher than the surrounding moor. It does the job. When I encountered sections of raised turf path, I soon discovered that it is best to focus on the walking rather than the scenery, as slipping off into one of the drainage channels could result in a wet foot or possibly a twisted ankle. Even though I don't routinely use trekking poles, I soon discovered they were a necessity in that they helped me keep my balance when the path became narrow, and they frequently stopped me from getting a wet foot.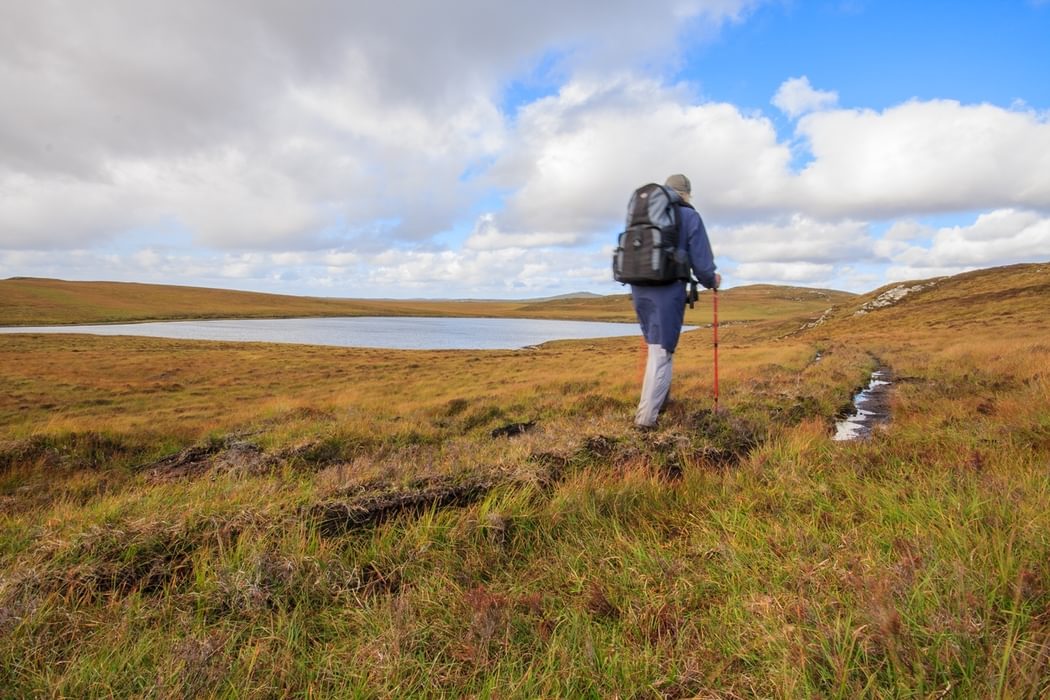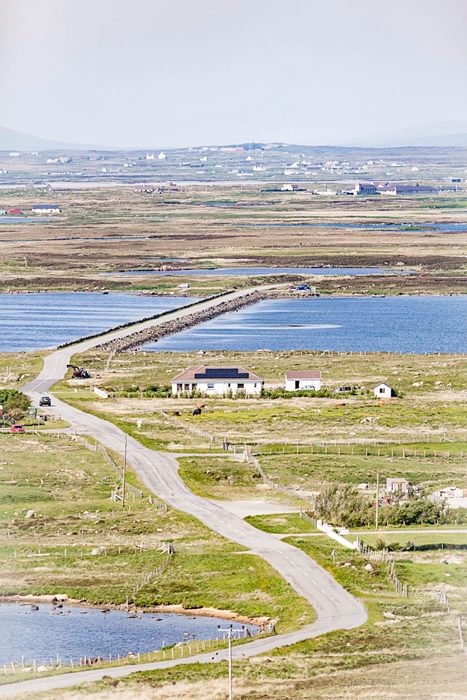 Walking a new and remote trail
Any experienced long-distance walker will tell you that to be enjoyable, a long-distance walk needs to be taken at a pace that allows you to cover the necessary distance in the allotted time, yet leaves time to enjoy the scenery, take in nearby attractions and stop for breaks. Given the length of this walk – 247km (155 miles), or half as long again as the West Highland Way – and given that most people will need to allow a day or two to travel to and from the Western Isles, the route is divided into 10 stages that can be comfortably accommodated during a two-week holiday, with a couple of days spare for rest days or sightseeing. However, faster and slower schedules are suggested in the Guide. Alternatively, the trail could be tackled over two separate holidays, walking first from Vatersay up to Berneray (Beàrnaraigh) and then from Leverburgh to Stornoway.
A second factor that needs to be considered when planning your walk is accommodation. As the Hebridean Way is relatively new it will take time before a sufficient infrastructure – hostels, B&Bs and campsites – springs up adjacent to the route. Where possible, each of the stages in the Guide begins and ends at locations with a high density of accommodation, but inevitably you will often need to detour off the route. Having a support vehicle, driven by a partner or friend who is happy to wait around to pick you up at the end of each day and drop you off each morning, will give access to a wider choice of accommodation and places to eat. However, if you are camping, being in Scotland means you can legally camp almost anywhere, as long as you have no motorised transport, stay no more than three to four nights and leave no trace.
A third factor is that of simply getting to the Outer Hebrides, which for many is a major undertaking. The distance from London to Oban is roughly 800km (500 miles), making it about the same as a trip from London to the Swiss Alps – and that's before a five-hour ferry trip over to Castlebay (Bàgh a' Chaisteil) on Barra (Barraigh) to get to the start of the walk! For most people, that probably means a two-day drive with an overnight stop. The easiest but most costly option is to fly, and this has been made easier since a new service was introduced between Manchester and Stornoway earlier this year. If you've got the time you can also get there using a combination of rail and public bus services.
Using your own vehicle is perhaps the most convenient way but will entail some planning if you are walking alone or as a group without backup support. The quandary then becomes where to leave your car and how to get back to it at the end of the walk. Decades of sharing personal experiences with fellow travellers have helped me identify options that are not always obvious, even to residents of the islands: these are detailed in the Guide.
Which Hebridean Way are we talking about?
As soon as you mention the Hebridean Way to someone you risk talking at cross purposes, because a number of routes for different modes of travel share exactly the same name. First on the scene was a tip to toe, mountain biking holiday, now offered by various providers, which uses a mix of roads and old tracks, such the one that runs up Gleann Tamanasdail in West Lewis. Thankfully most of these holiday companies have renamed their offerings as The Hebridean Trail to minimise confusion.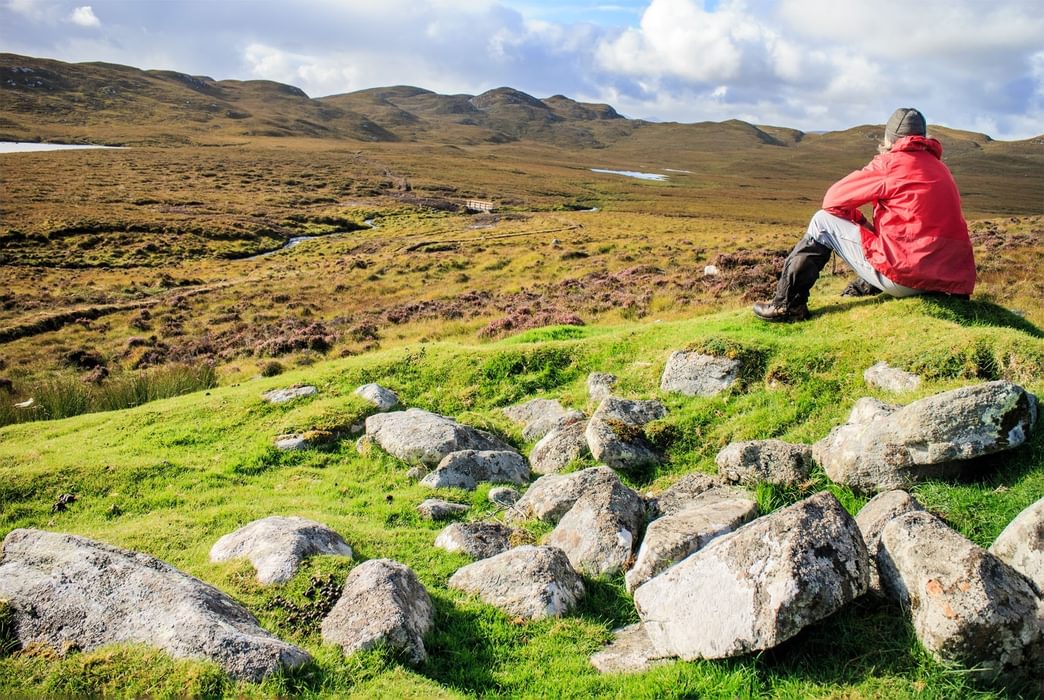 Next came The Hebridean Way on-road cycle route, (NCN 780), that runs from Vatersay to the Butt of Lewis as described in the latest edition of my Cicerone guidebook Cycling in the Hebrides. Then came The Hebridean Way walking route, as described here and in my new Guide, which is published as part of Cicerone's National Trails series. This can be confusing: my only advice is to always add the tag 'on-road cycle route' or 'walking route' to refer to route you are talking about – and make sure you are following the correct route. Along sections of road follow the blue and red Sustrans signs for NCN 780, for the cycling route, and the green signs for the walking route.
In terms of getting there, and getting about, the Hebridean Way is not the easiest long-distance walking route in terms of logistics, although you will find plenty of tips and advice packed into the Guide. But it is a jewel that you will remember every time you see a map of the UK.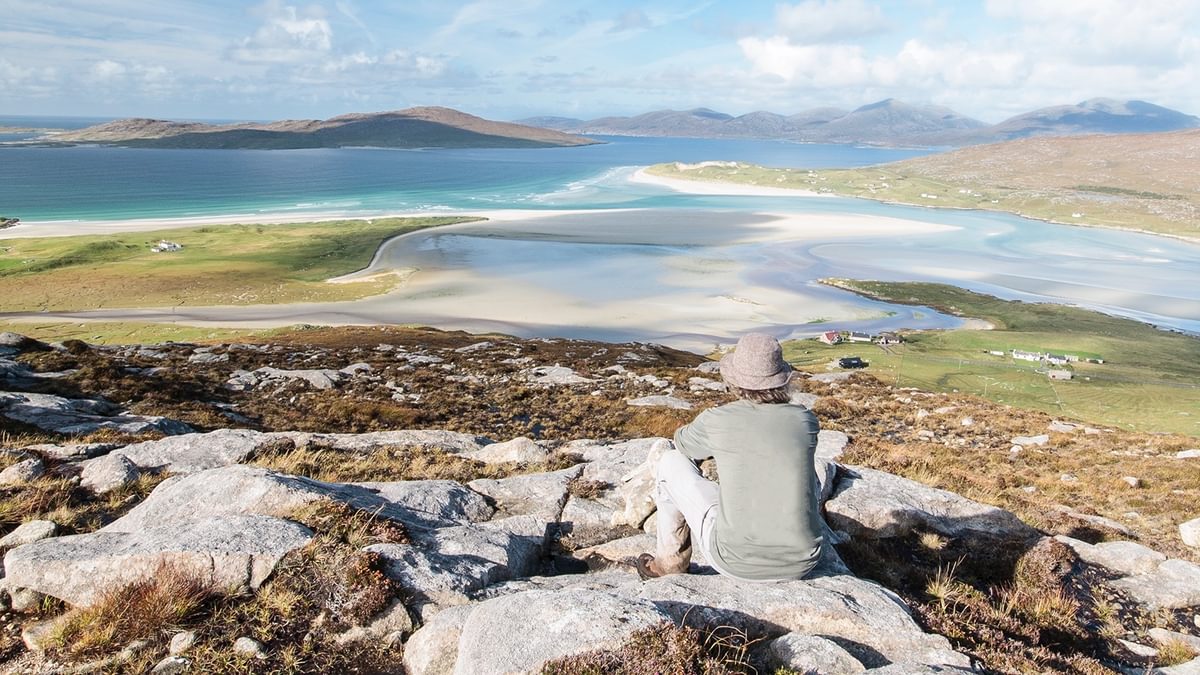 To read more articles like this get our newsletter
Sign up today for a 20% discount on your next purchase. Join over 30,000 enthusiasts from around the world. If you don't love our mix of new books, articles, offers and competitions, you can unsubscribe at any time. We will never spam you, sell your data or send emails from third parties.