Tour of the Matterhorn
A trekking guide
A guide to the 145km Tour of the Matterhorn, described anti-clockwise from Zermatt and visits 6 valleys via Zinal, Arolla and Breuil, offering spectacular views of 25 peaks of over 4000m. The route also links up with the Chamonix to Zermatt walkers' Haute Route and the Tour of Monte Rosa. Includes two glacier crossings and takes 8 to 10 days.
Seasons
July/August recommended. Snow possible well into June. Huts open from late June / early July. Lifts open early July to early September.
Centres
Gruben, St Niklaus, Zermatt, Breuil-Cervina, Prarayer, Arolla, Zinal, Les Haudères
Difficulty
For experienced alpine walkers. Requires glacier-travel skills/equipment and a good level of fitness. Altitude above 3000m.
Must See
wildlife, views of Matterhorn and 4000m+ summits, Swiss and Italian traditions/culture, glacier traverses, Italian hut food
Overview

Table of Contents

Maps

Updates

Reviews

Downloads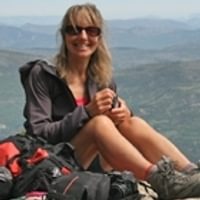 Hilary Sharp
Hilary Sharp is British, a qualified Accompagnatrice en Montagne (International Mountain Leader), and is based permanently in France. After 23 years living in the Alps she now lives in northern Provence, within easy driving distance of the southern French Alps. She runs her own trekking business, Trekking in the Alps and Provence, guiding walks in winter, spring and summer (hilaryalp@gmail.com; www.trekkinginthealps.com; www.trekkinginprovence.com). Her love of walking and climbing has taken her to many parts of Europe and further afield. Hilary occasionally contributes to British walking magazines and is author of Trekking and Climbing in the Western Alps (New Holland, 2002).
View author profile