3 Counties Challenge cycle sportif
What better way to spend a sunny Sunday than pedaling around some of the quiet and beautiful lanes of Cumbria, Lancashire and the Yorkshire Dales. Jonathan and Caroline decided to have a go at the 60-mile option of the 3 counties challenge. Find out how they did...
Jonathan (partnered by David Stephens from Lovell Johns, our mapping partners in Oxford) and myself (partnered by my sister-in-law Heather Milligan and Gill Sharples) decided to have a go at the 60-mile option of the www.3countieschallenge.org organised by the Rotary Club of Kendal and Kent Valley Road Club, with proceeds going to local charities. There's also 109-mile option for the superfit, or a 25-mile option for families.
The conditions were perfect and our two groups set off just a few minutes apart, starting with an early morning blast through Arnside and Silverdale, then over the M6 and a good warm up on the first hill out of Burton towards Kirkby Lonsdale. Turning off the busy A65 onto tiny lanes through High Casterton, we then had a gradual climb up to the peace and quiet of Barbondale, then a steep drop down to Dent for welcome sandwiches and a cuppa!
We took a deep breath and tackled the steepest section up into Kingsdale. It was a real thigh and lung-buster with the reward of a cracking view to Ingleborough and an exciting ride down to the Marton Arms near Ingleton. The rest of the ride took in pretty villages of Burton-in-Lonsdale, Wray, Hornby (more tea and cakes), Gressingham, Capernwray and then back home to Milnthorpe via Holme and a chance to compare notes on sunburn and saddle sores! It was a very friendly, low key but top-notch event with a dedicated band of volunteers who gave up their Sunday to make it all possible. Thanks to them. I for one will definitely do it again next year…. Are you tempted?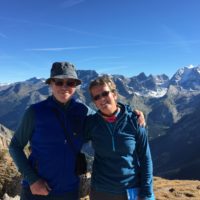 Jonathan Williams
​Jonathan is Cicerone's publisher and managing director. He spends far too much time in the office but escapes whenever possible to explore mountains, routes, trails and regions and to collect ideas for the future guides and improving existing ones.
View Articles by Jonathan Williams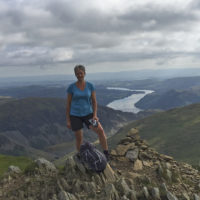 Caroline Draper
Caroline works at Cicerone as a designer. She grew up on the edge of the New Forest and studied publishing at Oxford Polytechnic before working in a beach hotel in Corsica, teaching art in an international school in Papua New Guinea and moving to Perth Australia for a few years. She settled back in Cumbria in the 90s and built up her portfolio as a freelance designer before joining Cicerone in 2006. Always happiest outdoors, Caroline has always enjoyed cycling and walking, and has been known to break into a run, head to the hills on horseback, ski or windsurf. She and her partner have done many lightweight cycle touring trips over the years - exploring the quiet, hilly regions of the UK, Corsica, Ireland, France, Switzerland, the Alps, Spain and Portugal.
View Articles by Caroline Draper