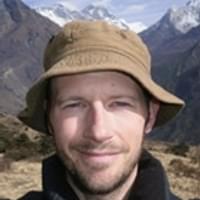 Damian Hall
---
Damian Hall is a freelance outdoor journalist who grew up in Nailsworth and still lives in the Cotswolds.
He has completed many of the world's famous and not-so-famous long-distance walks, including Everest Base Camp trek for his honeymoon and Australia's Six Foot Track, where a hungry possum stole his walking boot.
He contributes regularly to outdoor and fitness publications, including Country Walking and Outdoor Fitness, and writes walking guidebooks, including the official Pennine Way guide, a guide to the Somerset Coast Path and Cicerone's Walking in the Cotswolds.
Damian is a member of the Long Distance Walkers Association, the Backpackers Club and the Outdoor Writers and Photographers Guild. And there's plenty more about him where all this came from, at damianhall.info and on Twitter, @Ultra_Damo.