Coronavirus status – you can still buy books and ebooks to plan, enjoy and dream, but any essential messages should be to info@cicerone.co.uk. Please do not phone, as our offices are closed. Thank you!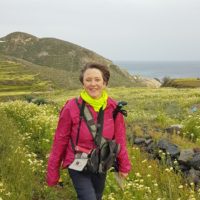 Gilly Cameron-Cooper
---
Gilly Cameron-Cooper's main career was as a journalist, non-fiction author and editor, but in 2002, she and her husband Robin gave up demanding London jobs and turned their hiking hobby into a lifestyle business. They set up Walking Plus Ltd, the first company to offer guided and self-guided hiking holidays on the Greek Islands, initially on Naxos, and later on Paros, Amorgos and Tinos. At the time, the islands offered untapped potential for adventure and exploration, as waymarking and mapping were minimal, and there was no competition from other tour operators. Gilly already had a foothold in Greek language and culture from living in Athens, where she wrote for the English language press, ran a weekly magazine, and produced consultation documents on sustainable tourism for the Greek government and the island of Chios. She has hiked all over the world, publishing articles for national magazines and newspapers, and books on mythology, walking London's waterways, and Beatrix Potter's Lake District.