Walking on the Greek Islands - the Cyclades
Naxos and the 50km Naxos Strada, Paros, Amorgos, Santorini
Guidebook to 35 walks exploring the Greek islands of Naxos, Paros, Amorgos and Santorini in the Cyclades. Walks range from 4km to 17km, many using traditional working paths but some challenging sections. Includes the 5-stage Naxos Strada coast-to-coast route.
Seasons
April-May for wildflowers, while September, October and early November for generally calm weather and clear paths. February-March can offer calm sunshine days and fabulous flowers, but can also be cold and wet.
Centres
Each of the four islands has its own main towns; Parikia on Paros, Chora on Naxos, Egiali and Katapola on Amorgos, Fira on Santorini.
Difficulty
Walks vary from 4km to 16km, easy to challenging. Traditional paved paths can be rough underfoot.
Must See
Wildflowers and aromatic shrubs; 2500 year old giant statues abandoned in their quarries; 9th century BC stone circles; Archaic citadels and medieval hilltop forts; remote monasteries and chapels embedded in mountains and cliffs; Cycladic villages; Mount Zas on Naxos, highest peak in the Cyclades; Santorini's sea-filled crater and layer-cake cliffs; 'The Big Blue' Cycladian ocean
Overview

Table of Contents

Updates

Reviews

Downloads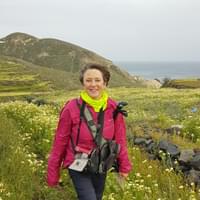 Gilly Cameron-Cooper
Gilly Cameron-Cooper's main career was as a journalist, non-fiction author and editor, but in 2002 she and her husband Robin set up Walking Plus Ltd, the first company to offer guided and self-guided hiking holidays on the Greek Islands. While living in Athens, Gilly wrote for the English language press and produced consultation documents on sustainable tourism for the Greek government. She has hiked all over the world, publishing articles for national magazines and newspapers, and books on mythology, walking London's waterways, and Beatrix Potter's Lake District.
View author profile